Who Photographed that Colin Kaepernick Nike Image?
Nike and Colin Kaepernick broke the Internet this week with an ad campaign celebrating the 30th anniversary of "Just Do It."


Believe in something, even if it means sacrificing everything. #JustDoIt pic.twitter.com/SRWkMIDdaO

— Colin Kaepernick (@Kaepernick7) September 3, 2018
Reaction to the ad campaign was (unsurprisingly) highly polarized, and although Nike's stock tumbled 3%, most marketing pundits have suggested that the controversy around the campaign is a win for the sneaker manufacturer.
But who took the photo?
Hint: It's in the eyes.
The image has the classic two Kino Flo lighting pattern employed by Martin Schoeller, and indeed the image is from a 2017 shoot – likely from work that Schoeller did with GQ magazine for their November 2017 Citizen of the Year issue.
The original image was shot in color, but converted to black and white for the ad campaign. The campaign image seems to contain more blue channel information resulting in a generally darker tonality and higher contrast in the skin tone.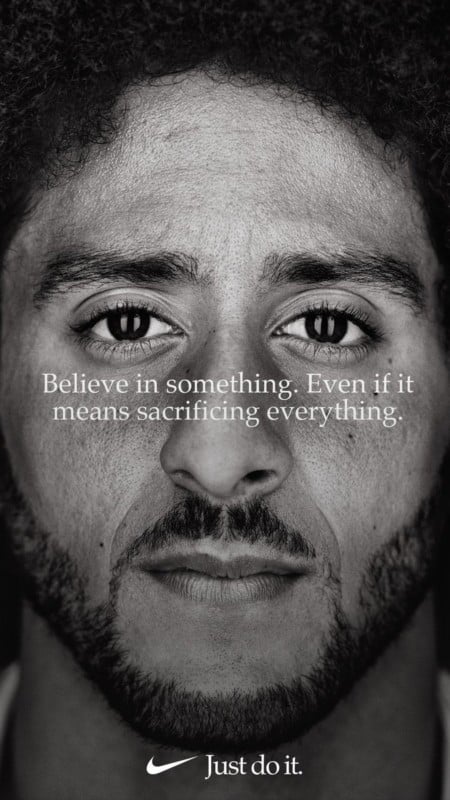 Nike commissions its fair share of original photography, but like National Geographic, they aren't opposed to using stock photography in the right situation. All the more reason to license your valuable photos as rights-managed stock.
---
About the author: Allen Murabayashi is the Chairman and co-founder of PhotoShelter, which regularly publishes resources for photographers. The opinions expressed in this article are solely those of the author. Allen is a graduate of Yale University, and flosses daily. This article was also published here.