Canon Posts Cryptic Teaser Message Complete with Countdown Timer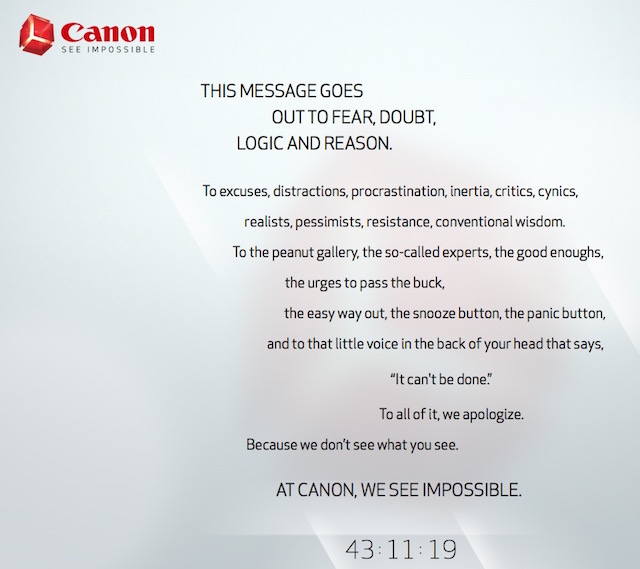 If you're looking to add a bit of confusion to your weekend, Canon has you covered. A teaser ad from Canon has just appeared on the New York Times, pointing to the website seen above whose cryptic texts and countdown leaves us rather perplexed… it a bit inspired.
Pointed out first by a reader of Canon Watch, the website and message reads:
THIS MESSAGE GOES

OUT TO FEAR, DOUBT,

LOGIC AND REASON.

To excuses, distractions, procrastination, inertia, critics, cynics,

realists, pessimists, resistance, conventional wisdom.

To the peanut gallery, the so-called experts, the good enoughs,

the urges to pass the buck,

the easy way out, the snooze button, the panic button,

and to that little voice in the back of your head that says,

"It can't be done."

To all of it, we apologize.

Because we don't see what you see.

AT CANON, WE SEE IMPOSSIBLE
As of this writing the countdown timer is showing 43 hours left, which means an early morning announcement on Tuesday. No clues as to what this might be — maybe that high megapixel DSLR we've been hearing about on the rumor mill? Maybe some new glass? — but there's still plenty of time to speculate, so drop your ideas in the comments down below.