Centr Cam Offers 4K 360º Footage Out of a Hockey Puck-Shaped Device
In the never-ending chase to create the most unique camera around, San Francisco-based Centr Camera Inc. has launched a Kickstarter for a new style of camera. Called Centr, this 360º, 60fps, 4K-resolution panoramic camera will allow you to capture incredible footage all around you, in a device roughly the size of a hockey puck.
Centr was created by former members of the iPhone camera team, and uses of four separate 1080p cameras to capture and stitch together 360-degree video in real time using the company's proprietary software. The result is an interactive video experience that you can try out for yourself below:
The tech behind the stitching is extremely precise, using 20 different variables run through algorithms to ensure the smoothest and highest quality video possible. It doesn't stop at video though, because the Centr camera also has a 20-megapixel time-lapse mode that will allow you to make some incredible 360º time-lapses if you so choose.
Centr sports a quick-release and splash proof battery that is good for two hours of continuous shooting, even in wet situations; and because of its donut shape, you can hold the camera through the middle, ensuring that you don't get any unwanted limbs in your shot.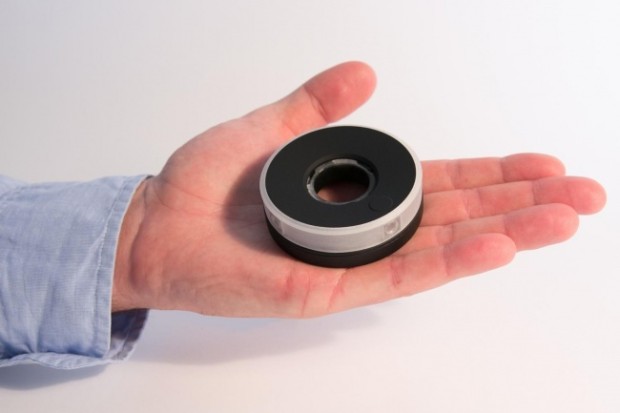 Controlling the settings and keeping an eye on the live-view footage is done through a smartphone or tablet paired via bluetooth, and as you might expect, you can view footage across all devices granted you're using their application or the Center Interactive Player embedded above.
It's a unique device, kind of like a 360-degree GoPro, which is very exciting when you think about using this camera in the same way you might use your favorite action cam. That climbing adventure or drone footage is elevated to new heights when you can actually explore the video in every direction.
For those of you interested in getting your hands on one of these, you can grab one by making a pledge of $300 over on their Kickstarter campaign. At this point they've already raised about 20% of the $900k they need, and there's still 28 days to go, so successful funding looks promising.
For more detailed information, head on over to their Kickstarter campaign page by clicking here.