Picsart Challenges Canva with Ignite, a Suite of AI-Powered Tools
Picsart Ignite is a new suit of new AI tools designed to allow for the easy creation of ads, social media posts, logos, and more and is billed as being able to empower any creator, from "marketer to meme maker."
Ignite is positioned as a solution to a growing need for accessible and easy to use tools that give creators of any skill level the ability to make unique, personal content.
"At Picsart, we believe that everyone is a creator. Our editing experience reflects this philosophy by providing users with powerful, yet fun and easy to use tools to express their unique visions," Hovhannes Avoyan, Founder and CEO of Picsart, says.
"We developed these features to ignite creativity and enable users to turn their ideas into stunning visual content – whether they're posting ads for their business, memes for their friends, or anything in between."
The stance is in line with what Avoyan told PetaPixel last year after Picsart raised $130 million in Series C funding at a valuation of about $1.5 billion. His stance, and the stance of Picsart, is that creativity and content generation are so valuable that they can't be locked only to those with a highly-trained skill set.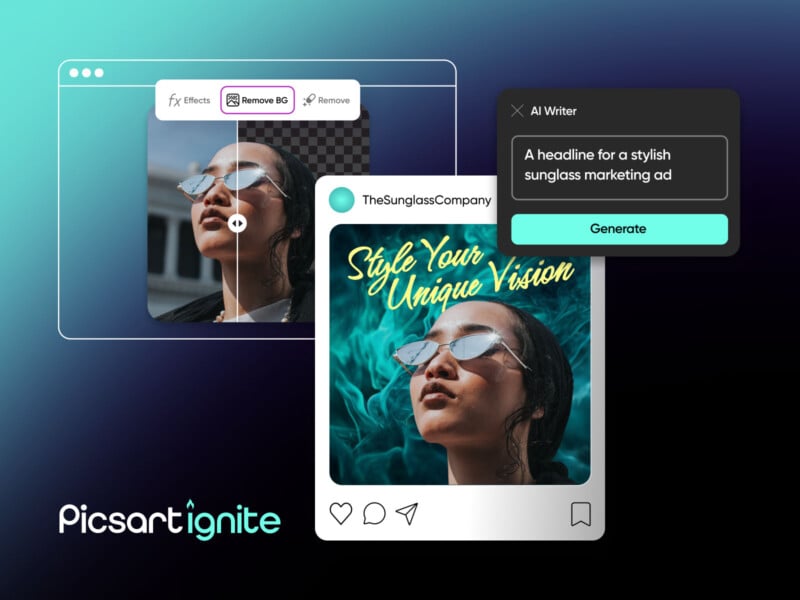 "Rather than being a niche and targeting only professional creatives, creativity became such a wide skill it's almost like driving or reading. It became a universal and must-have skill," he said to PetaPixel.
Ignite is yet another step in that direction and features over 20 tools for both image and video editing that address a huge range of use cases. While not explicitly stated, the tools appear as though they are positioned to assist Picsart users who are either entering the workforce or striking out on their own, as the company is positioning the tools to support "business."
The complete list of tools in Ignite is as follows (descriptions courtesy of Picsart):
AI Image Generator: Create compelling, custom images effortlessly to enhance your brand's visual appeal.
AI Writer: Streamline content creation with intelligent writing assistance.
AI Replace: Instantly replace objects or elements in images with anything you can imagine.
AI Background: Transform your existing image's background into something new while keeping the subject of the image.
AI Background Generator: Create a brand new background from a text prompt
AI Logo Generator: Craft a distinctive logo that encapsulates your brand's essence using AI.
QR Code Generator: Create custom QR codes effortlessly to highlight your product or message.
AI Object Remove: Erase unwanted objects from images swiftly for a cleaner, more professional look.
AI Object Remove – Video: Maintain a clean, distraction-free video by removing undesired objects effortlessly.
AI Text Styles: Customize your text with creative styles to enhance your brand's visual identity.
AI Expand: Add additional elements to any image using AI prompts, expanding the scene further.
AI Style Transfer: Apply artistic styles to your visuals for a unique brand aesthetic that captivates.
AI Video Generator: Produce short videos from any text prompt.
AI Avatar – Headshots: Generate realistic avatars for a modern, friendly business portrait.
Remove Background: Remove the background of an image in one click for a sharp, focused visual.
Admaker: A standalone product created by Picsart, Admaker allows anyone to design captivating ads using AI.
Picsart Ignite also has five tools designed to "ignite the group chat":
AI Sticker Generator: Create fun, personalized stickers to add a lively touch to your group conversations.
AI Filters: Turn any image into a museum-worthy work of art.
AI Video Filters:Transform and animate your videos with artistic filters.
AI GIF Generator: Produce amusing GIFs from a text prompt.
AI Avatar – For couples and pets: Turn couples and pets into superheroes, royalty and more.
The addition of these tools within the Picsart interface positions the company to hold on to users instead of losing them to Canva or Adobe Express, platforms that to this point have given off a more professional air. Adobe added Firefly AI and better integration with its Creative Cloud apps this past spring and launched its web-based platform to the public two months later. Canva has been hard at work too and added multiple AI-powered tools to its platform this year.
Now Picsart has a whole pipeline of tools that can work for young, new creators and then follow them into the workplace, too.
Picsart Ignite is now available to all users across Picsart web, iOS and Android.
---
Image credits: Picsart