Picsart's Free Photo Editing Tools Are Now Integrated into Google Drive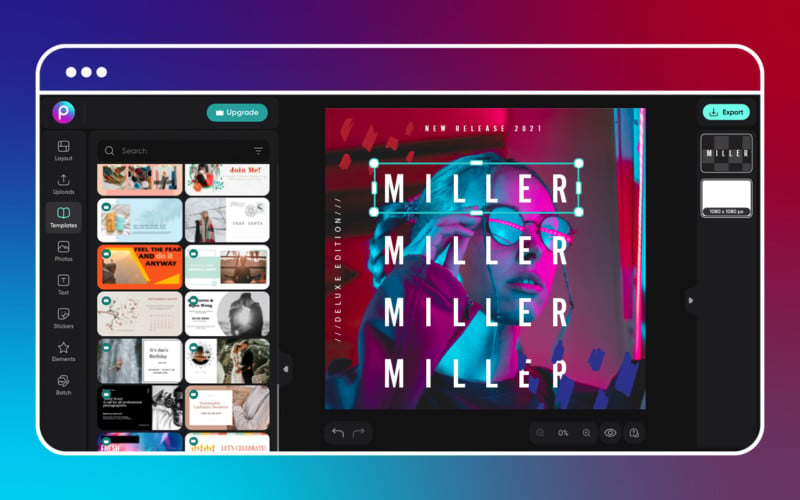 Picsart has announced that its entire web-based photo editor is available directly integrated into Google Drive. The app enables users to edit Google Drive images in Picsart's Web Editor and save them back to Drive in one connected interface.
Picsart, which is mostly known for its wildly popular smartphone app, expanded with a web-based photo editor in October of 2020. The company has worked with Google to make those tools available as Drive extension. This enables users to edit images using Picsart's engine without having to leave the Drive platform.
Integration within Drive means direct access to a host of editing capabilities including background removal, templates, filters, effects, stickers, and text. In short, if it's available in Picsart's browser editor, it's available in Google Drive.
Picsart says that the integration with Google Drive is part of a wider push to better serve the creator economy at large and comes after Picsart rebranded last year to appeal to this audience.
"Bringing Picsart to our creators right where they work is a true time saver and friction reducer," Peter Butler, Director of Platform Partnerships at Picsart says.
"By offering Drive users a way to enhance their content with our editing tools just a click away, we further our mission to empower the creator in everyone."
Anyone can install Picsart for Google Drive for free from the Google Workspace Marketplace. The free version has a lot of functionality, but Picsart's "Gold" tier has the best of what the company offers, including tools like background removal, the ability to edit in batches, access to templates, and select stickers and fonts are only accessible through the $4.66 monthly paid subscription.
Picsart says it remains the #19 most downloaded app worldwide with at least 150 million active monthly creators and over one billion edits created every month. The company says its platform features thousands of image editing tools, including advanced AI-powered tools and a massive library of free-to-edit content, and says that makes it one of the largest open-source content collections in the world.
In August of last year, Picsart secured $130 million in funding with a post-money valuation of roughly $1.5 billion that it said it would use to dramatically expand. Its availability within Google Drive is one such step.
---
Image credits: Photos courtesy of Picsart.