Viltrox Signals Its Commitment to Pro-Quality Lenses at Affordable Prices
Viltrox appears as though it strongly wants professional photographers to take its optics seriously, as it plans to release three more fast prime lenses before the end of the year.
This year, Viltrox has released three lenses that marked a turning point in its focus from super-affordable lenses to optics that photography enthusiasts would be excited to buy. In February, it launched a 75mm f/1.2 lens for Fujifilm mounts that performed extremely well, far better than the $545 asking price would lead photographers to believe it was capable. It brought that lens to Sony and Nikon mirrorless mounts in August.
In May, Viltrox brought a 16mm f/1.8 autofocus lens to Sony E-mount that produced results way better than is to be expected from the $550 asking price. In his review for PetaPixel, Ryan Mense noted that it had no business being that cheap based on how well it performed.
This past month, the Chinese lens manufacturer added a 27mm f/1.2 lens for Fujifilm cameras to its lineup which yet again reviewed very well and, just as the other high-performance lenses that came before it, cost a fraction of what photographers are used to paying at $545.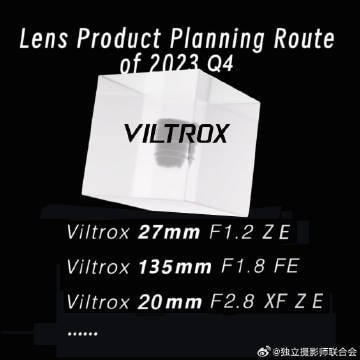 What appears to be an updated roadmap published in China — spotted by Asobinet — shows that Viltrox is pushing itself to release three more lenses that would fall into the same high-quality "pro" category. The company is now committing to launching a 27mm f/1.2 for Nikon Z and Sony E, a 135mm f/1.8 for Sony E, and a 20mm f/2.8 for Nikon Z, Sony E, and Fujifilm X by the end of 2023.
It should be noted that Viltrox already planned to release the 27mm and 135mm this year, which was already ambitious, and the addition of the third is not 100% confirmed by the company. However, if true, it would further underscore the company's commitment to producing high-quality optics at an unusually low price.
Viltrox has a couple of factors working against the widespread acceptance of its lenses by western professional photographers and enthusiasts. For one, its name is not well known and is still associated with very cheap, entry-level manual focus lenses. The company also does not distribute widely in the west at key photography retailers, and the low price of the lenses might actually have the opposite effect on buyers who will assume that there must be some tradeoff for it to be so affordable.
Regardless, Viltrox seems committed to producing lenses that are far higher quality than is usually expected from manufacturers outside of Japan. At this rate, it might not be long before it reaches the status of Samyang and nip at the heels of Tamron and Sigma.