Viltrox AF 75mm f/1.2 XF Lens Review: The Bokeh Monster
The Viltrox AF 75mm f/1.2 doesn't slot neatly into Viltrox's existing prime lens lineup for APS-C cameras (and currently for Fuji X-mount) – in fact, I'd call it an aberration, an experiment, possibly even a mistake. But what a wonderful mistake.

This is a truly extraordinary lens that will whet the appetite of any photographer that enjoys shooting with primes. It has a focal length I'd never considered before but – my oh my – is it worth trying out just to see what it is capable of.
Some preamble before we get into the nitty-gritty of the review itself. Over the last few years, Viltrox has garnered a positive reputation for building good – verging on very good – lenses at low prices. Like many recent Chinese lens manufacturers, it evolved from producing manual focus lenses to full autofocus models.
The core of this range is based around APS-C system cameras, principally Sony E-mount and Fuji X-mount, although there has been some expansion into other mounts more recently afforded by their early expertise in mount adapters (although Canon is protecting its IP around the RF-mount). The principal offerings are prime lenses, typically at the wide end of the lens range, and include cine options: it's a range that has rapidly filled out as it has found success in sales.
That said, the 75mm f/1.2 is clearly a deviation from this tack and the first of a new line.
Lens Specifications
The 75mm f/1.2 is the first in a new line with "Pro" badging that shows aspirations above the budget end of the market. The all-metal body is designed around Hoya glass from Japan and claims near APO levels of correction. The design uses 16 elements in 11 groups, including 4 high-refractive elements, and 3 extra-low dispersion elements. There is an 11-bladed diaphragm.
As you'd expect, there is a focus ring, with an entirely internal focusing mechanism, along with an AF/MF switch on the side of the barrel. The latter is a nice addition as it saves you from having to dig around in your camera menus. Alongside this, we see 9 points of weather sealing to prevent dust and water ingress (along with a nano-coating on the outermost element) to really lift this lens above the ordinary.
As a reminder, this is designed for APS-C which means the 35mm equivalent of the 75mm is (around) 115mm.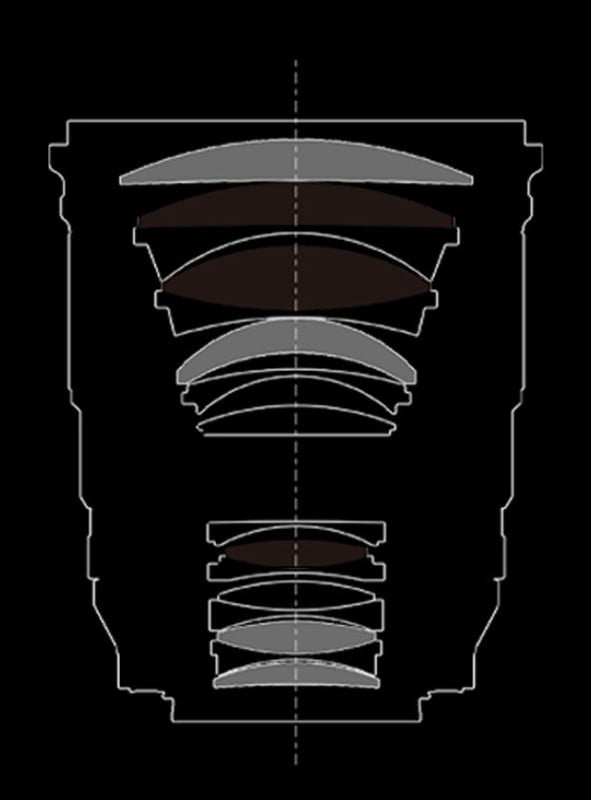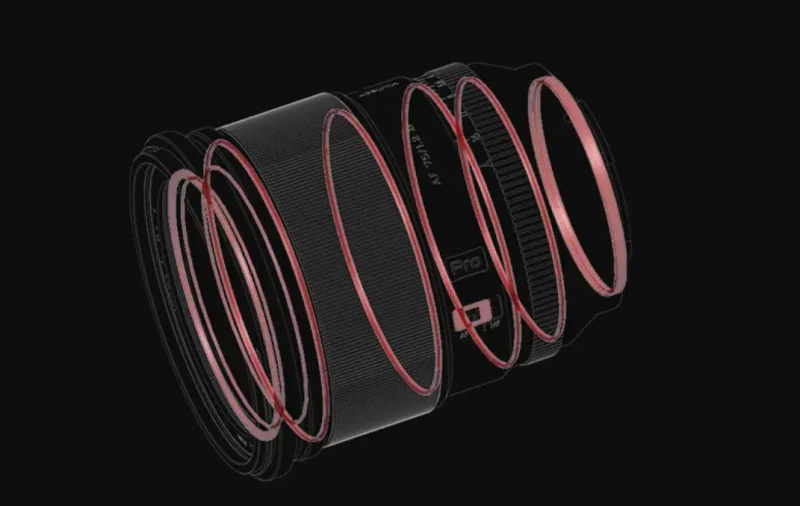 At 87mm in diameter and 101mm long, this puppy weighs in at a fairly significant 670g, using a common 77mm front thread. There is a fairly uncompetitive minimum focus distance of 88cm giving a 0.1x magnification; in short, you won't be using this lens for macro work. It comes with a reversible plastic petal-shaped hood; this is unlike earlier lenses which used metal hoods although I'm ambivalent on material as they both do the job (and you can't dent a plastic hood).
As is becoming increasingly common there is a USB socket for firmware updates; this has been updated from earlier lenses to USB-C and mine shipped with v1.0 firmware. Viltrox has been good at issuing updates which is encouraging. Finally, there is a padded leatherette pouch to protect it.
Build Quality and Design
The all-metal body is reassuringly solid and I can't fault the construction quality. This is a weighty lens with lots of glass in it and there has clearly been considerable care taken in its design, construction, and ergonomics. If there's one thing you can say about big lenses it's that it quickly becomes obvious if they are difficult to handle; even on the relatively svelte body of my X-E3, this was a nicely balanced lens albeit larger and heavier than any other X-mount lens I've used. It's slightly bigger than the Fuji 90mm f/2 – its closest comparison – and a fair bit heavier (the latter weighs 540g).
That said, while it's obviously a big lens, it isn't as big (or expensive) as a classic 70-200mm full-frame lens. Maybe that's an unfair comparison, but finding full-frame comparisons is actually quite difficult. Nikon doesn't have anything in their range as it seems that 85mm is the preferred prime focal length. While not directly comparable, Sony has a 100mm f/2.8 which weighs 700g and is 118mm long.
The focus ring is pleasantly smooth and nicely weighted but the latter will probably depend on how heavy you like these things. There is a clicked aperture ring that incorporates an Auto setting that also has a slightly stiffer click which means you know you've found it and it's less likely to be knocked off, however (for videographers) there is no de-click option.
One detailed design improvement is the barrel locator for engaging with the camera body – previous Viltrox lenses used white dots and these have now changed to red. It's a small change which – for me – makes a massive psychological difference as I can always see it for no errors when attaching the lens.
If everything in the last few sections sounds like a no-holds-barred design for a portrait lens then you'd be right; it is. In fact, you may well be thinking of a wafer-thin depth of field (DoF) and, just to emphasize the point, Viltrox has named the lens the "Air Cutter". If you do the calculations for a portrait shot at 2m – wide-open – then it gives you a DoF of just 4cm; reduce that to the minimum focus distance (0.88m) and you are sub-centimeter.
Interestingly, the DoF is almost identical to the Fuji 90mm f/2, except – of course – the Viltrox 75mm has that f/1.2 which is great for those low light situations such as weddings and other "on-the-hoof" events. Conversely, if you switch to the Viltrox 56mm f/1.4 then the DoF drops to 10cm… except of course it doesn't, because if you shoot your portrait to fill the frame then you step closer which brings the DoF into a similar range. Of course, the field-of-view changes compression in the image and this is demonstrated below.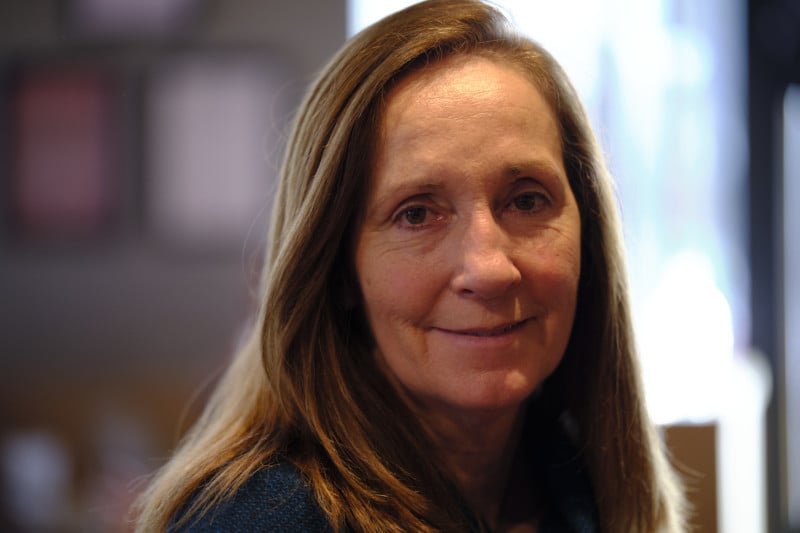 Image Quality and Performance
You've read the specs, so how does the lens actually perform? This is a real-world test which means I'm not stuck in a lab shooting test charts to argue over minuscule differences, but actually out with the lens shooting a mix of personal landscape and portrait projects, alongside actual events. I use a Fuji X-E3 for unobtrusive event jobs and while the lens obviously isn't small, the total package remains pleasant to use. Not gigantic and reasonably well balanced.
First up is the focusing that's delivered from the Lead Screw-type STM (stepping motor) – in short, it's fast, quiet, and smooth with no obvious stepping. There is a lot of glass it has to move so whether there is enough torque for focusing remains to be seen. It's not quite as instantaneous as – for example – their own 56mm f/1.4 or, indeed, my Nikon 70-200m f/2.8. That said it's not obviously laggy and I certainly wasn't unhappy with the speed of focus when shooting an indoor event in dark conditions.
The implementation of eye-AF in the X-E3 is only partially successful and doesn't work when you've got multiple subjects in the frame; as a result, I tend to use spot focus, controlling the point with the joystick. The lens was spot on with focus – assuming that I had focused correctly on the person! There was, however, a tendency for some "hunting" which was frustrating when trying to shoot "in the moment". Whether this was to do with the camera, the lens, or a combination, remains to be seen.
When there was enough contrast in the scene, focusing was instantaneous. I have had no dissimilar problems with an early iteration of the Viltrox 56mm f/1.4, and during testing new firmware was released which all but fixed the problem. Given that this is a significantly different lens from the rest of the lineup, I would expect to see some incremental firmware improvements, so check their site regularly.
If you look at the published MTF chart for the lens then you can see great sharpness at f/8 across the frame; this remains very good in the center at f/1.2, dropping slightly at the corners. This is a great performance and mirrors other own-brand manufacturers for contrast/resolution. Suffice it to say, this shows the lens is sharp – very sharp.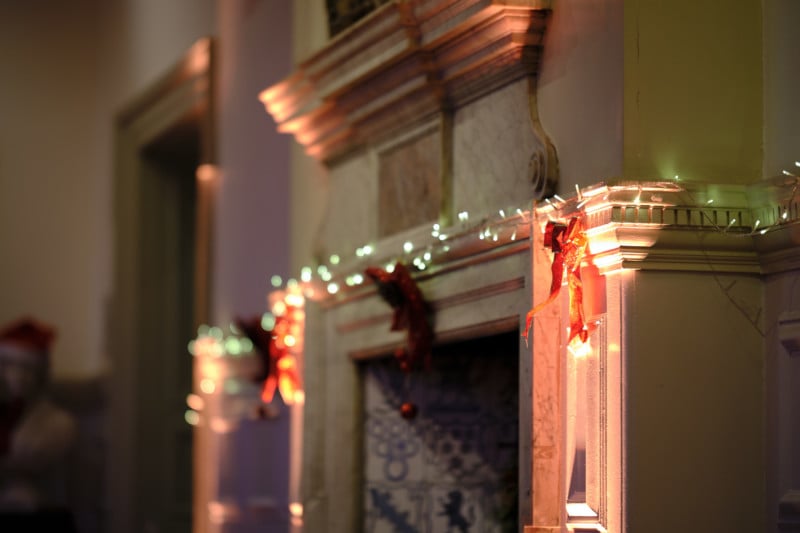 Of course, if you do shoot wide-open (and why wouldn't you with a lens like this?!) then you will get beautifully creamy bokeh. It is smooth and buttery, dropping off pleasantly with generally circular bokeh although there can be a hint of "cats eyes".
I saw no real impact of flare which was well controlled with no real veiling (contrast loss) and limited ghosting. This was while shooting both directly into the sun as well as at 45 degrees. Likewise, there was limited evidence of chromatic aberration, vignetting, or distortion although there will undoubtedly be in-lens corrections applied.
A Special Lens
Viltrox is attempting to "step up a gear" by using better glass puts inside its lenses, improving the build quality, and displaying its proof-of-concept with a flagship portrait lens. In doing so, it wants to move from low-cost budget lenses to low-cost premium lenses, eating into the margins of own-brand manufacturers as well as premium lenses from the likes of Sigma and Tokina. And there's no denying that this is a specialty lens, evidenced by the fact that so few manufacturers opt for this focal length, but that's to miss the point.
Viltrox has ridden on the back of offering specialty lenses and it's about reaching a volume of sales, which doesn't necessarily mean the most popular ones… because there are lots of those on the market! The 75mm f/1.2, therefore, allows it to dip its toe in the water, test out what is undoubtedly a new production setup for possibly a lower volume of lenses and refine it for the next model. In that respect, perhaps the most interesting outcome will not be this lens, but the next one. This review, however, is obviously not about that lens because it's probably still on the drawing board!
Given all of the above, how do I view this lens? Shooting with it over a period of weeks has been a great experience and time and time again it's shown a remarkable ability to produce crisp photos that have sharpness and contrast… when you get the focus right. As the DoF calculations above show, you need to be pinpoint accurate to get the best results but that goes without saying. I've always been a fan of the 85mm equivalent focal length, but shooting with a 115mm equivalent has been refreshing. Maybe it's because it is less common, but the portraits have a nice isolation to them which brings out the subject. And the smooth, nicely transitioned, bokeh just adds to the effect. This is a lens you want to shoot with.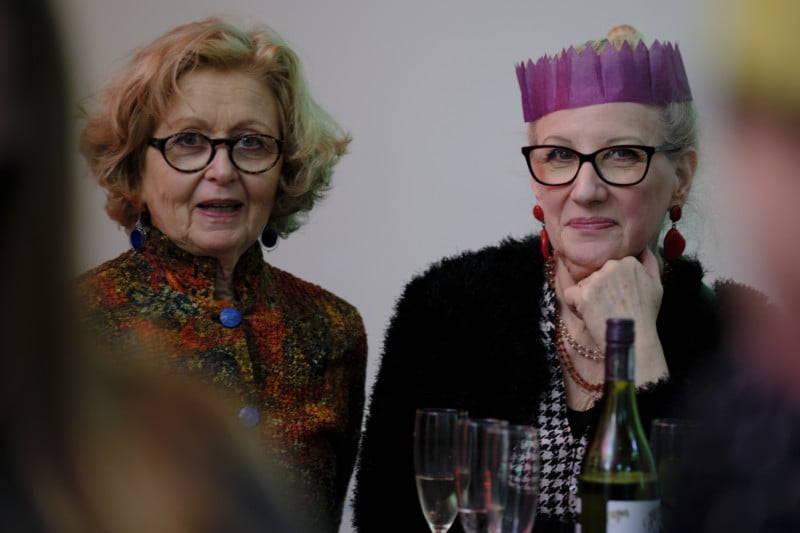 Are There Alternatives?
Sort of… I've briefly mentioned other options, the most direct comparator being the slightly smaller and lighter Fujinon 90mm f/2 LM WR or Viltrox's own 85mm f/1.8. If you step down to the 56mm segment then there is the Fujinon 56mm f/1.2 R or the Viltrox 56mm f/1.4. None are the same but all fall within scope if you are after a portrait lens.
Should You Buy It?
The Viltrox 75mm f/1.2 was released at $549 and is still available from some vendors at this price, although note that Viltrox now has it listed at $659. More pertinently the Viltrox 56mm f/1.4 is $299 and this is where the difficult decision comes in. The 75mm is a wonderful optic: I love shooting with it and it's my "go-to" of choice over the 56mm focal length. The bokeh is subtly better, it's faster, and its sharpness across the frame is great. It's undoubtedly better value than the Fujinon 90mm ($949) but is it better value than their own 85mm and – particularly – the 56mm?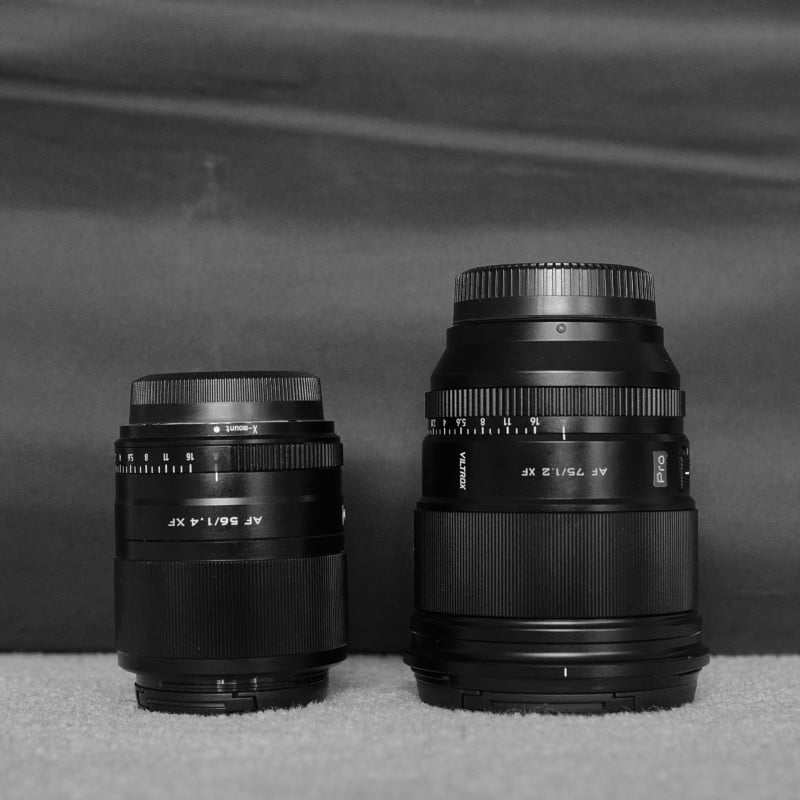 That's a difficult decision as it's a bigger and heavier lens, but gives options that – at least for Fuji – you can't get otherwise. If I'm traveling and size is important, then the 56mm wins out through sheer portability as the image below demonstrates. However, if I know I'm shooting portraits I won't let it off the camera as it offers an extra edge that is obviously visible.