A Guide to Third-Party Chinese Lens Brands
Lenses are big business: while we have seen the value of camera shipments nose-dive year-on-year, lens value has slowly increased and is now equal to about a third of the camera market. It's for this reason that third-party manufacturers have increased their stake in this market and particularly at the low-cost end where Chinese manufacturers proliferate. Who are these companies and what does their appearance presage in terms of the camera market as a whole?

You've heard the names, seen the lenses, and goggled at the astonishingly low prices – at least low compared to their original equipment equivalents – so who are the pretenders to the throne vying for the hard-earned cash that will allow you to flesh out that bare camera gear cupboard? Before we get to that point, let's take stock as to
why
we are seeing new manufacturers popping up on what seems like an almost annual basis.
3rd-Party Lenses Are Nothing New
It's worth pointing out that third-party manufacturers are not a new phenomenon and date back to the birth of photography. In fact, many of the main camera manufacturers of today started out producing lenses before moving on to cameras and systems. For example, every photographer of a certain age will have a Vivitar lens and you will see them lining the shelves of second-hand stores. These were well-made lenses, with good or good-enough specs for considerably less money than their Canon or Nikon equivalents, back during a time when anything and everything to do with cameras cost a lot of money.
Of course, to produce a third-party lens it needed to target an interchangeable lens camera (ILC) system, and during the early 2000s, this took a back seat to the vast compact camera market. DSLRs were still important, but lens sales formed a relatively small part of the overall whole. The demise of the compact camera and the gradual increase in lens sales has allowed them to take on increased significance and attract interest from third parties.
Nikon's pre-COVID estimate of the market was 17 million units, which doesn't quite square up with CIPA's 14 million shipped units. The discrepancy is a result of CIPAs reporting which only counts production from its German and Japanese members and suggests that other (principally Asian) manufacturers make up about 20% of the market and likely increasing.
Samyang Paved the Way
First, we should note the contributions of Samyang, which is perhaps the most well-known Asian manufacturer, but it's a Korean company and not a Chinese one. Samyang helped pave the way for other Asian 3rd-party lens brands because the manufacturers noted below are trying to mimic its success.
Founded in 1972, Samyang has a long history of producing optical components although the production of low-cost lenses is a much more recent offering. The starting point for all third-party manufacturers is a low-cost, low-risk, entry into the market. The simplest way to achieve this is to begin manufacturing manual focus primes with simple optical formulas; IP-free designs are readily available, requiring relatively simple production and assembly.
By selling at low prices, in large volumes, there is an opportunity to gain sustainable market share. Samyang began this journey in 2008 with the release of the 85mm f/1.4 for DSLRs and has garnered a reputation for good optical results across a range of slightly more esoteric products, particularly at short focal lengths. Its lenses have appeared under a range of different brand names, including Rokinon, Vivitar, Quantaray, Bower, Opteka, and Phoenix.
Chinese Manufacturers On the Up
So who makes up the new wave of Chinese manufacturers? Let's look at some of the more prominent names you'll see making waves in photography today.
Zhongyi Optics
Zhongyi Optics, also known as ZY Optics (and officially Shenyang Zhongyi Optical & Electronic Co., Ltd), was founded in 1984 as a joint venture with a Japanese investor providing startup capital. The company has since grown to become a leading 3rd-party lens manufacturer based in Shenyang, China, which is about 60 miles west of North Korea.
The company sells products both under the Zhongyi brand as well as the better-known Mitakon brand. The Mitakon brand includes the Speedmaster line that was launched in 2014, which consists of relatively affordable fast prime lenses with large maximum apertures for a wide range of camera mounts, including Canon, Nikon, Sony, and Fujifilm.
The Speedmaster line "allows everyone from beginners and hobbyists to try a higher-end spec but at an affordable price," the company says. "We are passionate to make every photo truly memorable and unique."
Viltrox
Viltrox is one of the new kids on the block, making optical accessories since 2009. In addition to lenses, this has included lights and video monitors. Based in Shenzhen, People's Republic of China (PRC), lenses were a later addition likely due to the specialist nature of sourcing the optical components. Their initial foray was actually in the design of mount adapters and teleconverters, with lenses a natural progression from this. This early technical expertise has actually held it in good stead because it has made the development of AF lenses easier. Like Samyang, initial products were MF lenses however they very quickly produced their first AF lens – the 85mm f/1.8 X-Mount – which was competitively priced and well received.
Viltrox is able to leverage low manufacturing costs and has found success in designing for the APS-C mirrorless systems of both Fuji and Sony, which encourage third-party manufacturers, and this allows the use of the same lens design across different mounts. As sales have ramped up – and they have managed to maintain good quality manufacturing – their sights have moved up to auto-focus lenses and full-frame designs for Sony, Nikon, and Canon systems. This is where the volume in sales is increasingly shifting, but IP constraints of new mount designs and, in particular, electronic communication has hampered initial growth. For example, PetaPixel reported that Canon had sent a "cease-and-desist" to Viltrox for its RF-mount lenses.
Meike
Meike is a not-too-dissimilar brand to Viltrox, having started producing its own-brand camera products around 2007, although its roots as a business date to 1997. That said, it had a nascent lens division that didn't really make a notable appearance until around 2017 and it's possible that the intervening period was marked by low-volume, unbranded, direct-to-customer sales.
However, it was the 2018 appearance of its Micro Four Thirds (MFT) cine lenses – remarkably similar to Kickstarter funded Veydra – that led to speculation that they were copied before Veydra eventually folded. It is certainly unusual to begin lens production with MFT cine lenses, although there is now a wide range of MF lenses in all the principle mounts, targeting short focal lengths. There is one AF lens (85mm) in E, EF, and Z mounts, although in this regard it is lagging behind Viltrox significantly.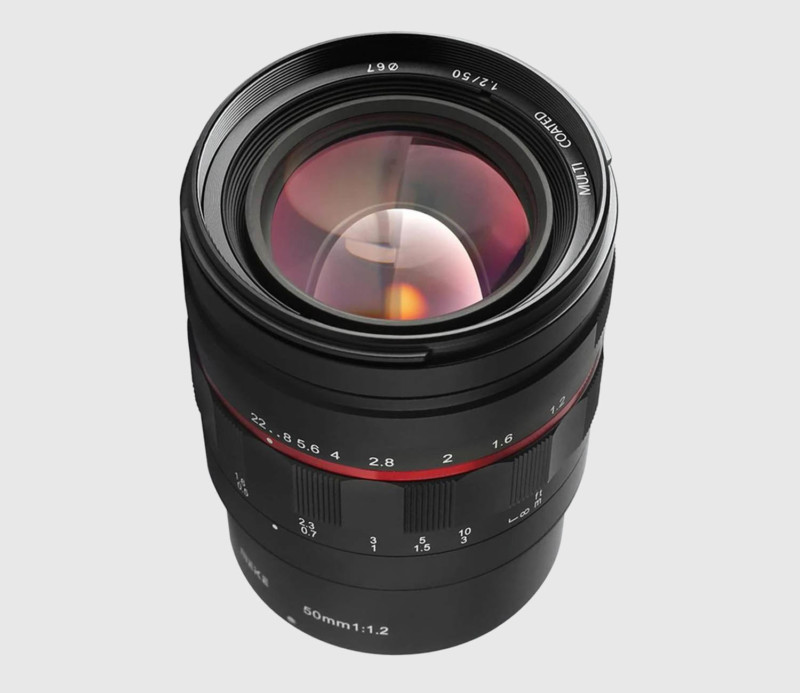 Laowa
Laowa is the brand name of Chinese manufacturer Venus Optics (headquartered in Hong Kong), another recent startup having begun operations in 2013. They claim their design team has worked for Japanese and German manufacturers and – presumably – has good knowledge of their lens designs.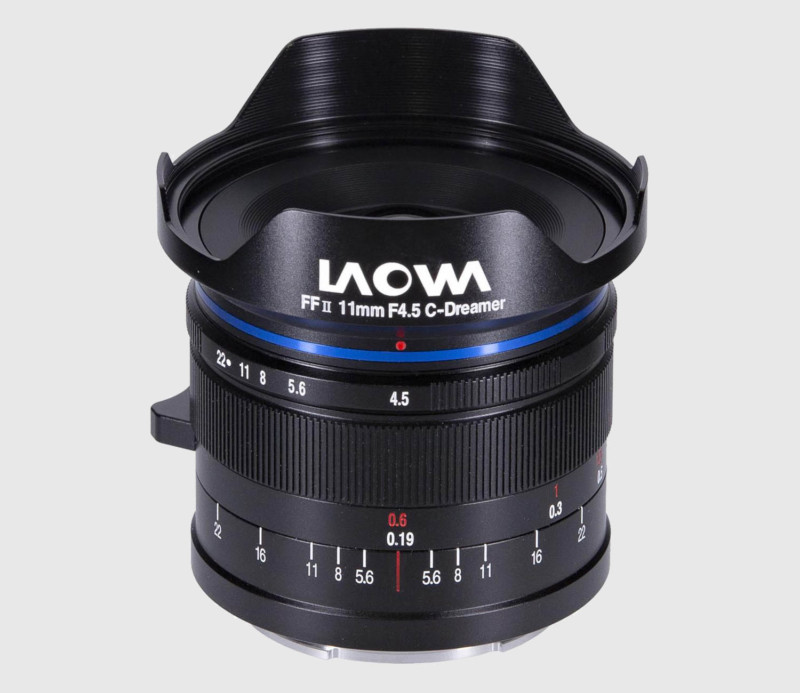 Venus Optics has trodden a similar path to Viltrox in that they have focused upon MF stills lenses – generally wider angle – with simple, but good quality, optical designs. Using this approach they have targeted a range of lens systems from MFT, through APS-C to FF. This approach, unlike Viltrox, has not included AF lenses but instead seen them push the breadth of their expertise into cine (like Meike) and tilt-shift lenses, as well as low distortion designs, zooms, and ultra-fast primes. This niche appears to have served it well as its global profile has risen, presumably on the back of increased sales.
Yongnuo

Moving on to a name familiar to any aspiring portrait photographer: Yongnuo. Beloved by many for their low-cost, big "pop" for your buck, lighting, Yongnuo has become well known for its strobes and triggers, delivering a lighting system that can produce fantastic results at a fraction of the cost of the brand names. Founded in 2006 and also hailing from Shenzhen, it has scored significant success with its lighting but hasn't garnered much of a reputation – either way – for its lenses (or cameras).
Starting in 2014, it attracted attention for producing a series of cheap – even alarmingly cheap – lenses that were basically clones of well-known lenses such as the Canon 50mm f/1.4. Yongnuo's "cloning" efforts initially focused on the EF and F DSLR mounts before expanding to E, RF, and Z mounts (although interestingly not the Fuji X mount).
Other manufacturers that have gained more prominence recently include 7artisans, AstroHori, and TTartisan, but their products are new and haven't garnered the same exposure as those mentioned above. And like some of the names above, there is an eclectic mix of lens types listed on their sites at a range of prices.
7artisans
7artisans, founded in 2015, goes for a broader range of mount support, again wide angle, fast, and cine lenses all at noticeably very low prices.
TTartisan
TTArtisan was founded in 2019, and it makes a range of Leica-M full-frame lenses along with mount adapters, as well as a number of APS-C mount lenses, and two AF lenses. These tend to be a mix of wide-angle, fast, or esoteric designs.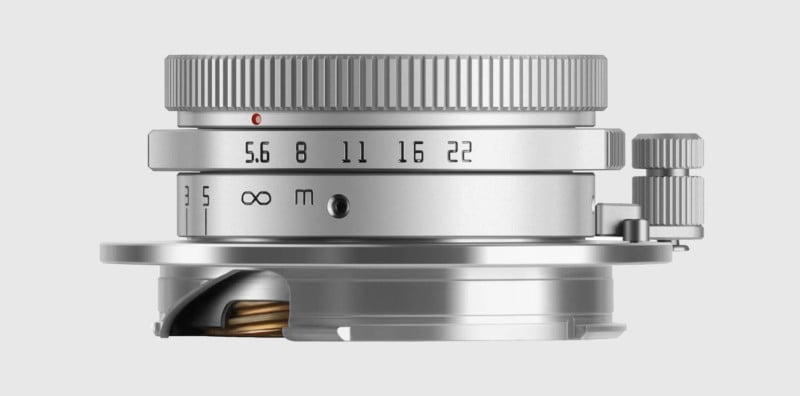 While the names TTartisan and 7artisans may suggest a relationship between the two companies, the link is in their history only – Fotobargain writes that TTartisan was founded by one of the co-founders of 7artisans who decided to split off and form a rival brand (perhaps similar to the Dassler brothers feud and the creation of Adidas and Puma).
After TTartisan was launched, 7artisans posted a notice on its website to make sure its customers wouldn't be confused by the new company.
AstrHori
AstrHori, founded in 2018, likewise treads a multi-mount path but also includes Fuji's medium format GFX amongst its offerings. AF models are scarce although the 85mm f/1.8 recently arrived.
Pros and Cons of 3rd-Party Lenses
Third-party Chinese (and Asian) camera lenses have become a popular way for photographers to obtain certain specs and features that would be otherwise out of reach with pricier products by big-name brands.
Here are some pros and cons of choosing a 3rd-party Chinese lens over one by a more prominent lens brand:
Pros
Affordable: Third-party Chinese lenses are often significantly more affordable than lenses from major camera manufacturers.
For example, the Mitakon Zhongyi Speedmaster 90mm f/1.5 for Canon RF costs $650 while the Canon RF 85mm f/1.2 L USM costs $2,500.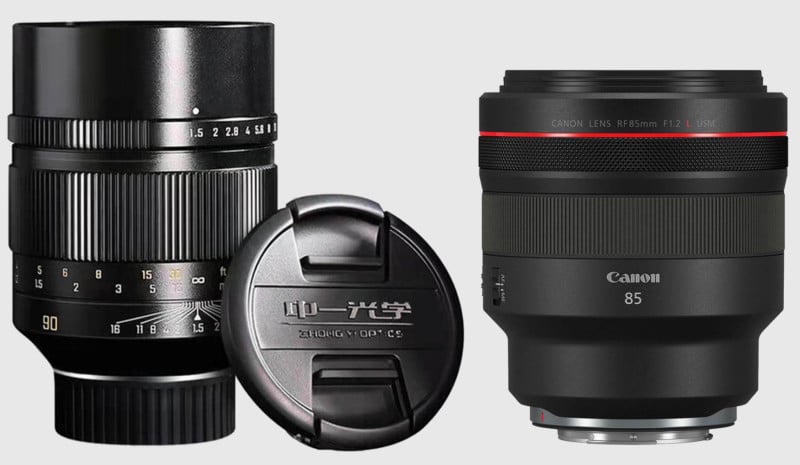 Both lenses can capture portraits with a shallow depth of field and beautiful bokeh. While the Mitakon Speedmaster does have the downside of lacking autofocus, photographers who are primarily looking for an ultra-fast portrait lens may be willing to make that tradeoff for a Mitakon lens that's about 1/4th the price of the Canon lens.
Innovation: Third-party lens manufacturers often try new things, like producing niche lenses or lenses with unique features that are not found in major brand lenses.
One example is the Laowa 24mm f/14 2x Macro Probe lens that Venus Optics announced in 2018. It's an unusual lens not offered by any mainstream camera brand that opened the door to all kinds of creative shots.
Quality: Some third-party Chinese lens manufacturers are known for producing high-quality lenses that can rival those made by major camera manufacturers.
Compatibility: Third-party lens manufacturers produce lenses for a wide range of camera brands and models, providing photographers with more options to choose from.
Cons
Quality control: Smaller lens manufacturers may have lower quality control standards than larger brands. There may be more quality variation between copies, focusing problems, compatibility shortcomings, and more build or image quality issues, especially when purchasing very affordable 3rd-party lenses.
Customer support: Third-party Chinese lens manufacturers may not have the same level of customer support as major camera manufacturers, which could make it difficult to get repairs or support if the photographer runs into defects or problems.
Longevity: Products created by third-party manufacturers, particularly lenses considered to be very "cheap", may not be as durable over the long run as mainstream products. It is often said that "you get what you pay for," and what you save in your pocketbook you may pay for in reliability. Just as off-brand clothing may fall apart more quickly than quality garments, you may need to lower your expectations for how long a third-party lens will be able to serve you.
Resale value: Third-party Chinese lenses may not retain their value as well as lenses from major camera manufacturers, which could make it more difficult to sell them later if needed. And if you do manage to find a buyer, you may only be able to recover a fraction of the amount that a big-brand lens can resell for.
Overall, third-party Chinese lenses can be a great option for photographers on a budget or those looking for unique features out of the reach of their budgets. However, it is important to carefully weigh both the pros and cons before clicking that "buy" button.
The Future of Third-Party Manufacturers
What's noticeable from this brief tour through some of the manufacturing names that regularly appear in the photography press is that they are all recent additions, hailing from the tech hotbed that is Shenzhen, China. In the current market, anything before 2010 is positively ancient, but this raises the obvious question as to why there is so much going on. This is undoubtedly a coalescence of factors that relate to the opening up (in terms of business) of China as part of the chain of global production and – particularly from 2000 onwards – the increasing manufacture of tech goods. This has coincided with the boom in digital camera and smartphone production that has simply "uptooled" the capacity and capability of Chinese production lines and their staff.
The global expansion of the camera market occurred at the same time, but the proliferation of manufacturing from 2015 onwards has coincided with a contraction of this market. Nevertheless, there is plenty of scope for targeting the low-cost end of the market where own-brand manufacturers are costly. It has remained a largely nascent sector as the likes of Tamron and Sigma have targeted the pricier own-brand end of the market in an effort to attract greater margins. The gap between CIPA-reported shipment data and the size of the wider market suggests that there is a significant proportion of sales that could move to Chinese manufacturers who have the right products at the right price.
This highlights one key factor – there are a burgeoning number of new camera systems, many with limited budget options available. In fact, if you look at RF and Z mount lenses, then there are just limited lenses available! When you add in Fuji X, Fuji GFX, Sony E (APS-C and full frame), Leica L, and Micro Four Thirds the scope for expanding the sales of budget lenses into these systems is large, particularly if you can use the same design across multiple systems as Viltrox has shown with its Fuji and Sony offerings. MF designs were an obvious place to start but the majority of customers will be looking for AF models and this is a key area new manufacturers can differentiate themselves. If they can use sharp optical designs with good AF, then they should have a winning formula. Again, it has to be at the right price.
Talking of price, you only have to search on eBay for new MF lenses to see the number of direct sellers shipping at low prices. It's really a buyers' market with one large caveat. Is the lens you are looking at any good? I remember being sent a new brand 50mm MF lens for testing. It certainly looked the part, except when I shot with it on the camera it had horrible refraction that reduced contrast across the frame through a wide range of angles. Not only that, but for many of these frames a hot spot appeared in the center. It was a truly horrible design.
The key for up-and-coming manufacturers is not only to have the right lens at the right price but to develop trust with customers in order to build the brand. Perhaps the best proponent of this so far has been Viltrox, which has been particularly forthcoming in sending samples to photographer magazines, websites, and bloggers for testing. It is upfront with its products and lets them speak for themselves. This creates "volume" in terms of column inches spent discussing their products, although again choose your review with care. Not all reviewers are created equal.
Notwithstanding the above caution, this is an exciting time for photographers. We have a plethora of mirrorless systems offering remarkable features, with own-brand manufacturers taking advantage of the situation to build out enticing lens ranges. Into this mix throw some increasingly good, if not great, budget lenses from new Chinese manufacturers, and the scene is set for an interesting few years ahead.