Sony Didn't Have a Clever Mirrorless Plan to Fool Canon and Nikon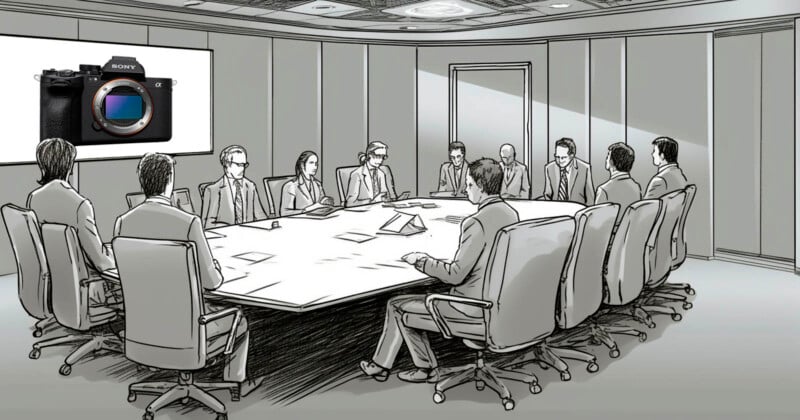 Long-time Sony executive Shigeki Ishizuka recently gave an interview in which he candidly spoke about early developments in the imaging division and how the flip to mirrorless was part of a longer-term plan to unsettle the camera market. Was this really a clever strategy or a re-writing of history to fit the narrative?

We can never know what happened behind the closed doors of the senior executives at Sony's imaging division and how they came to make decisions about product development. In particular, how individual products fed into a longer-term strategy about camera systems and vying for market share. However, we can look at which cameras were released when, the features they had, and how Sony's (camera) fortunes changed over time.
Given Sony's emergent success as a camera manufacturer, it's easy to retrospectively paint a picture of strategic planning that outwitted the rest of the industry, but is that really what happened?
Note: The opinions expressed in this article are solely those of the author.
Sony's Journey in the Camera Industry
It's perhaps worth remembering that Sony hasn't historically been a (stills) camera manufacturer and while it did introduce the first still video camera in the form of the Mavica back in 1981, it is a consumer electronics company.
With the expansion of the digital camera market in the 1990s, the Mavica line was supplemented with the CyberShot, but Sony didn't have a prosumer camera system and so they did what any self-respecting business that wants to compete quickly would do… they bought one!
Minolta fit the bill in that they were technologically class-leading in the 1980s and 1990s but had singularly failed to transition to digital after Nikon and Canon had already pivoted. Snapped up by Konica in 2003 – who then wanted to move away from the camera sector – the company was eventually acquired by Sony in 2006, two years after the digital Maxxum 7D had arrived. Sony now had the beginnings of a digital system with a camera, the A-mount, and a range of lenses.
The lineup was built out rapidly so that by 2008 there were six cameras available from entry-level to professional. This isn't surprising as Minolta would have had these in development, so it was more a case of Sony supporting their production. It should also have been a surefire bet; there were plenty of Minolta fans and camera sales were exploding.
The camera market (in terms of value) peaked in 2008 while the DSLR market carried on expanding through to 2012. In fact, DSLRs made up 43% of the market by value and probably more of the margin, meaning that even a small piece of this was worth having, while mirrorless had just 8.5%.
What's the Mirrorless Deal?
Ishizuka was approached by the Micro Four Thirds (MFT) group around 2007, but it seems likely Sony wasn't interested given that it had just picked up Minolta. However, several cameras deep into what appeared to be a poorly selling system, and Sony was still looking for answers and it seems it wasn't afraid to experiment with the market.
The first single-lens translucent (SLT) camera, the Sony Alpha 33, arrived in 2010 and picked up a dedicated following for its use of a semi-transparent fixed mirror to allow for full-time phase-detection autofocus while the user is employing the electronic viewfinder, live view, or video recording.
But it is likely the appearance of the Panasonic Lumix G1 (2008) that interested Sony executives because the stripped-back format appealed to their consumer design ethos. Of all the manufacturers, Sony blinked first and responded with the NEX-3 in 2010.
This was a much bigger investment – and so gamble – than the SLT range because a new mount, and so new range of lenses, was needed. Part of Sony's problem was that DSLR sales were largely split between Nikon and Canon, who had a technical lead and (more importantly) a well-established and diverse lens lineup.
At the time, camera manufacturers were flush with cash and riding high on the back of booming sales. This period was pivotal to the successes of manufacturers going forward because their mount designs largely impacted the future direction of the industry. Sony made a punt for APS-C, alongside Canon, Pentax, and Fuji. Nikon went CX while Pentax also released a 1/2.3″, and Leica went full frame. This was a "bonfire of the lens mounts" and probably the most intense period of system innovation over the previous half-century.
What nobody predicted was the demise of the DSLR and there was a good reason for this: camera sales were at an all-time high. Every manufacturer designed their systems to sit alongside professional DSLRs (where they had them) and Sony was no exception.
The obvious validation of this point is that the E-mount was designed for an APS-C sensor, in the same way it was for Canon, Pentax, and Fuji. In fact, Pentax genuinely had an innovative offering with a K-mount APS-C system and the smallest mirrorless mount in the form of the Q. Sony brought its consumer electronics nous to the design camp and then changed the industry forever with the release of the a7.
The Sony Alpha 7 and Beyond
The a7 was released in late 2013 to what Sony hoped would be a mirrorless future, but the seeds for the prosumer market had already been sown. The Fuji X-100 had arrived in 2011, followed by the X-Pro in early 2012; these demonstrated that "serious" photographers would be attracted to mirrorless models that delivered on image quality and portability. It was the 2012 arrival of the Olympus OM-D E-M5 that was arguably a milestone and consolidated Olympus' claim as the mirrorless manufacturer to beat.
The winning formula would subsequently prove to be a full-frame sensor inside a mirrorless camera, fleshed out with a range of top-notch (as well as second-tier) lenses and supplemented by third-party manufacturers, but there were two significant technical problems: battery life and auto-focus.
It's clear that Sony embarked on a full-frame strategy after the nascent success of its E-mount cameras, but also in the shadow of Fuji and Olympus. With the a7, Sony incorporated hybrid phase/contrast AF (first introduced in 2012) to offer relatively good focusing, although the battery life remained modest at best.
It released a single full-frame zoom in 2013, but the professional G.Master series didn't arrive until 2016 with the paired 24-70mm and 70-200mm. It's a slightly better story for primes, with a 2013 release for the 35mm and 55mm, with f/1.4 staples (50mm and 85mm) arriving in 2015 and 2016.
It was perhaps the unexpected success of the a7 that led to the release of the a7 II, which fine-tuned the formula and introduced in-body image stabilization (IBIS), all sitting alongside the development of those G.Master lenses.
To cap off an open strategy of expansion, Sony had made the E-mount specifications available to third-party manufacturers from 2011 with the first lenses announced the following year. The list of lens manufacturers now exceeds 20 and the ecosystem offers a rich choice for consumers.
Old Systems, New Systems
Developing a new mount and camera system is a big deal – remember that Nikon has stuck by the F-mount since 1959. While Canon has been happier to bounce mounts in favor of technological improvements, new systems remain relatively rare for an obvious reason: it's expensive for the manufacturer and customer!
The exceptional mount innovation that occurred a decade ago was unparalleled since the introduction of auto-focus and even then the mirrorless format wasn't a foregone conclusion. That Canon and Nikon were so entrenched in the DSLR market says as much about their products as it does about the customer. However, the introduction of the smartphone perhaps not only killed the volume camera market but changed the types of cameras that people wanted to purchase.
By 2016, it was clear that the DSLR had had its day as shipments plunged while mirrorless remained relatively static. Sony didn't go "professional" until 2016, yet what's more remarkable is that Nikon actually shipped a Z-system camera two short years later. Yes, the lens lineup has taken longer to materialize but it's filling out with a far more strategic focus. Even more remarkable, is that (according to the BCN Awards) Canon now holds 31% of the mirrorless market to Sony's 29%.
All of the above suggests that Sony didn't have a clever strategy that was designed to double-bluff Canon and Nikon.
Ishizuka said in the recent interview that part of Sony's mirrorless strategy was to catch DSLR manufacturers off guard by getting them to think that mirrorless development was "not a big deal."
"I wanted them to think, 'Sony still has a long way to go,'" Ishizuka said. "I hoped that the common sentiment in the world of professionals and advanced amateurs, mirrorless cameras are no match for digital single-lens reflex cameras would be maintained until we were ready for our reversal."
But history seems to go against this claim. Sony continued to invest in developing a broad range of products trying anything that would sell in volume using their acknowledged expertise in consumer electronics. The change to mirrorless marked a period after the acquisition of Minolta where they produced DSLRs (both traditional and translucent models) and mirrorless focused on the amateur and professional markets. This was at a time when sales began to plummet and manufacturers exited the market.
It is clear that Sony's reaction to the success of the a7 paved the way for the professional mirrorless camera as we know it today and perhaps this was all predicated on the initial success of its consumer models. That Sony was a conglomerate that designed and manufactured its own sensors only provided greater force to the gathering momentum; the perceived inertia of the DSLR suddenly flipped as it ground to a halt.
The full-frame camera remains the sweet spot for manufacturers and if Fuji had opted for this setup maybe the story would now be different, but the fortunes of camera manufacturers continue to evolve. Nikon remains weakened in the market while Canon goes from strength to strength, with the re-emergence of Olympus and the fortunes of the L-Mount Alliance unknown.
How Sony will fare remains to be seen and the a7 will retain its place in history as a tipping point. However, it wasn't a clever long-term strategy that defined this moment, but a broad brush approach to consumer product development and a little bit of luck.