AI-Powered Meta Cataloging Mac App Peakto Adds DxO Compatibility
Peakto, an artificial intelligence-powered (AI) app for Mac that provides photographers a centralized view of all their images across numerous popular photo editing apps, has announced new compatibility with DxO PhotoLab and DxO PureRAW.
Developed by Cyme, Peakto has rapidly expanded its compatibility in recent months. The app recently added Instagram compatibility and Pixelmator Pro integration. Peakto also added cross-app photo annotation in March, allowing photographers to annotate images across compatible apps.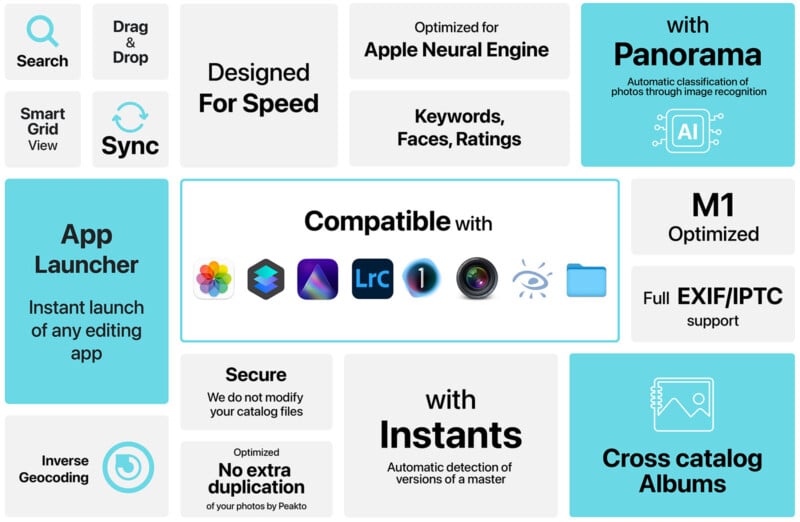 Thanks to the updated version of Peakto and its new compatibility with popular DxO apps PhotoLab and PureRAW, Peakto is now compatible with a wide range of photo editing software, including Apple Photos, Adobe Lightroom Classic, Luminar AI/Neo, Capture One, Pixelmator Pro, Apple Aperture, iView Media, Instagram accounts, all folders and image file types within macOS, and of course, DxO's all-in-one PhotoLab and RAW processing app PureRAW.
Now within Peakto, users can visually access all versions of their images created with DxO PhotoLab, and create new DxO PhotoLab versions from any image in their unified library. Within Peakto's dedicated, inclusive workspace, users can quickly jump from editing images within PhotoLab, Lightroom, Capture One Pro, and even Apple Photos, all from within Peakto.
Peakto's existing features, including AI-generated categories and cross-app annotation, are also available for DxO PhotoLab users. Peakto helps photographers organize and categorize their photos using AI, regardless of the images' locations. Peakto also identifies duplicate files and edited versions, grouping them to help photographers keep track of images easier.
The DxO PureRAW compatibility lets photographers trigger DxO PureRAW conversions from any RAW file in Peakto and receive the resulting output image. Peakto tracks all versions of an image along the way, so there's no concern about losing the original file. DxO PureRAW is a popular solution for photographers aiming to get the best quality from their RAW files before continuing their post-processing workflow. The latest version, DxO PureRAW 3, promises even better performance thanks to AI-powered DeepPRIME XD RAW processing.
"We want to offer photographers the possibility to use the photo editing software of their choice, or even to use several. DxO PhotoLab is a very compelling alternative to editing images in Lightroom, and DxO PureRAW is a very powerful tool for denoising RAW files. By pairing them with a smart cataloger like Peakto, professional and amateur photographers alike get a very powerful toolbox," says Matthieu Kopp, Cyme's co-founder and CTO.
Peakto is available now for macOS via subscription ($9.99 per month or $99.99 per year) or a one-time purchase for $189. For a limited time, new users can use the discount code "DXO20" for a 20 percent discount on Peakto.
Peakto is optimized for Apple silicon and requires macOS 11 (Big Sur) or later. For the full system requirements, visit Cyme's website.
---
Image credits: Peakto