MacOS Photo Organizer Peakto is Now Compatible with Instagram
Peakto, a universal photo organizer for macOS, now features Instagram compatibility.
Peakto was already compatible with Apple Photos, Apple Aperture, Capture One, Lightroom Classic, Luminar 4/AI/Neo, plus standard photo folders on Mac. Peakto is developed by Cyme, a Mac developer who also developed the photo migration app Avalanche. With new Instagram support, Peakto promises to be the ultimate photo management solution for Mac users.
"Managing all your photos is a real challenge for a photo enthusiast. They are quickly scattered in folders, editing software like Lightroom or apps like Instagram," says Claudia Zimmer, co-founder of Cyme. "Peakto is designed to be the control tower that gives photographers back the big picture and provides tools to manage, analyze, automatically sort, and create multi-sourced albums. Instagram has been part of the photographer's universe for many years, and it was necessary to reflect the Instagram activity in our smart photo cataloger."
As described in PetaPixel's coverage of Peakto's launch last year, Peakto synchronizes all photos across compatible apps, plus standard photo folders on Mac. The app preserves the organizational structure of the photos, including collections, folders, face data, and annotations. Even in the case of Aperture, which Apple no longer supports, Peakto can work with old Aperture libraries and their included metadata. Peakto's compatibility list is available on Peakto's website.
When a photo is edited in a connected app, Peakto will automatically stay updated. All changes in a catalog are tracked without creating additional copies of images or changing the user's organizational structure.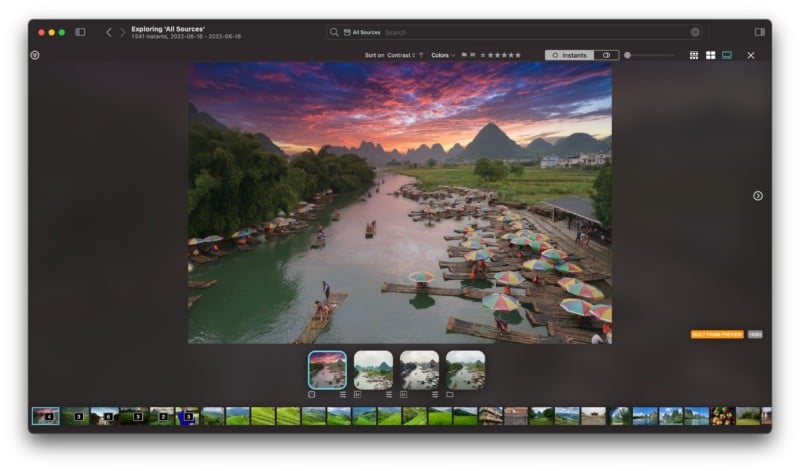 Peakto not only keeps all images in a unified app, it automatically sorts images by content, style, and color. Peakto uses artificial intelligence (AI) to filter and search photos and even uses AI to apply keywords to photos. Users can filter by EXIF data, such as camera model and lens, search by location data, locate faces, utilize color codes, keywords, and tags made in other apps, and much more.
Peakto also includes a feature called Instants. This compiles a master file and all modified versions of the original into a single location, allowing the user to view the editing history of an image side-by-side.
Concerning the new Instagram support, Peakto displays Instagram photos and tracks "likes" in real time. It places Instagram images with their original files and different versions. All Instagram photos are automatically sorted and classified like other images in Peakto. Cyme says, "With its centralized view and search, Peakto becomes both the hub from which to organize images into share-ready or print-ready albums, and the control tower to find the right photos or discover forgotten treasures."
Peakto is available now for macOS through Cyme and the Mac App Store. Peakto is available by subscription ($9.99 per month or $99 per year) or as a one-time purchase for $189. Peakto is optimized for Apple silicon chips and requires macOS 11 (Big Sur) or later.