DXO PureRAW 3 Adds Powerful New Noise Reduction and Fujifilm X Support
DxO's 3.0 update to PureRAW adds the company's latest artificial intelligence (AI) technology "DeepPRIME XD" which improves noise reduction, RAW enhancements, and gives better control over which corrections are applied through the DxO Optics Modules without reducing the "one-click" functionality.
In addition to the features listed above, the company says the PureRAW 3.0 software will feature several massive interface modifications to offer users an improved integration for any individual workflow. With the addition of DeepPRIME XD (which uses a more extensive neural network than the regular DeepPRIME), uses can expect a much greater level of detail, improved color accuracy, and smoother, noise-free bokeh when shooting at high-ISO settings.
According to the company, photographers who have tested this service have reported improvements of more than 2.5 stops in noise performance, and say that "images shot at ISO 4000 more closely resemble those captured at ISO 500 in terms of noise, color, and clarity."
Since the application applies the noise reduction as part of the RAW conversion process, the improved DeepPRIME XD will also improve the dynamic range of images processed with it which should allow photographers to have greater flexibility for shooting in difficult and low-light situations.
"DeepPRIME almost surprised us when we first saw the results," explains DxO's VP of Marketing and Product Strategy, Jean-Marc Alexia. "We quickly realized that a larger neural network could boost performance, and that's what we've delivered with DeepPRIME XD. This technology pushes the boundaries even further, and DxO PureRAW 3 will revolutionize any photographer's images — and without disrupting their existing workflow."
The PureRAW 3 update also brings support for Fujifilm X-Trans sensor cameras for DeepPRIME XD, which DxO says is a development reflected in PhotoLab 6.4, also released today. With this update, images created with Fujifilm X-Trans sensor systems can finally take advantage of the DxO DeepPRIME XD noise reduction, color restoration, and detail enhancements for high ISO images.
The PureRAW 3.0 update gives users more control, as well as more power with how they work on their images through a series of workflow and interface updates. According to DxO, the software now offers options for levels of lens softness correction as well as the ability to toggle vignetting and chromatic aberration corrections with simple clicks. Additionally, users will now be able to access the entire image area captured by the camera sensor, giving more pixels and avoiding the crop typically enforced by other RAW processing software when correcting deformations.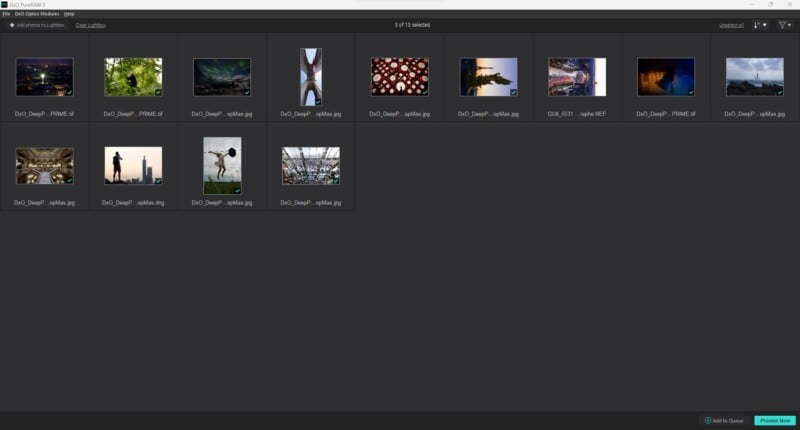 DxO PureRAW 3 also adds a number of simple workflow improvements including the ability to create multiple queues when batch-processing large numbers of images, with the additional option to edit, re-order, and prioritize both images and queue lists while the image-processing is in action.
Finally, photographers can also choose to export files in TIFF Format along with the existing JPEG and Linear DNG formats previously available, and the overall interface has been revamped to "bring it closer in line with other DxO software."
DxO PureRAW 2 is available for $129 for new users and as a $79 upgrade for existing DxO PureRAW users from the company's website.
---
Image credits: DxO