Xiaomi 13 Pro Review: Reaching for the Crown
The Xiaomi 13 Pro may be a successor to the previous 12 Pro, but it's just as easy to argue that it's more a continuation of the 12S Ultra that was only released in China. That was the first to use the Type 1 (13.1 x 9.8mm) Sony IMX989 sensor — the same one from the popular Sony RX100 — only customized to Xiaomi's liking. 

It was also the debut device showcasing what a partnership with Leica could deliver after it had parted ways with Huawei. Coupling a larger sensor with Leica's software and visual taste made for an intriguing combination in the 12S Ultra that raised expectations (at least for me) over how the 13 Pro could compete against the industry's best.
While the phone will either be lost as an unknown to many in North America, it's not one to ignore if you care about taking quality images.
Xiaomi 13 Pro: Design and Build
Xiaomi went with a slightly different design this time around, sort of blending together the straight lines from the 12 Pro with the circular module of the 12S Ultra. It results in a pronounced bump but not obtrusively so, and the Leica branding is etched into it to make the collaboration clear. The glossy finish on the ceramic back looks nice, but it can pick up fingerprints and smudges. Thankfully, Xiaomi includes a thin silicone case for at least some protection.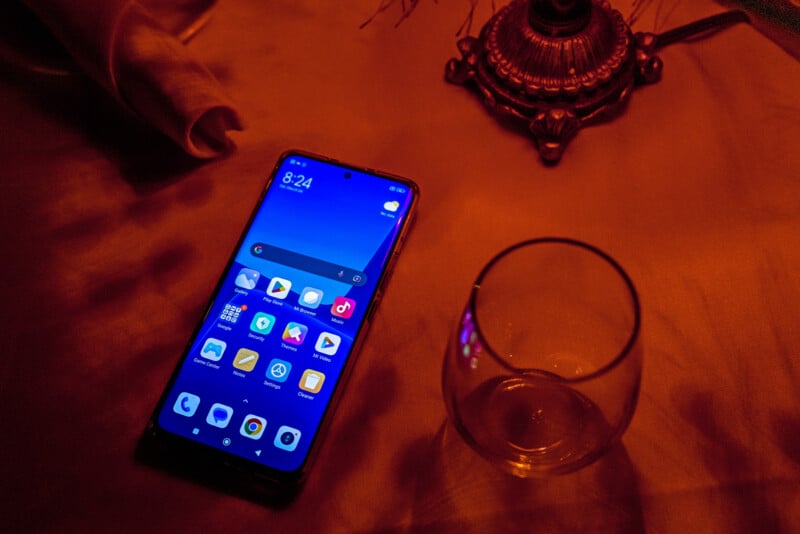 The 6.7-inch AMOLED (3200 x 1440) screen is essentially the same as that of the 12S Ultra, including the 120Hz refresh rate, curved edges, and Gorilla Glass Victus protection. It's a bit heavier than an average phone this size, and the silicone case plays a key role for stability when holding it to take photos. Mind you, the curved edges are less pronounced than they otherwise would've been years ago, and Xiaomi wisely reduced the curve in the rear for a more ergonomic finish. Not to mention the IP68 protection, which is notable because the 12 Pro never had that official designation.
The 13 Pro runs on the Snapdragon 8 Gen 2 chipset with variants starting at 128GB storage and 8GB of RAM. My review unit was the 256GB/12GB model, which also makes it compatible with UFS 4.0 fast storage (it's UFS 3.1 for the 128GB/8GB model). As expected, there's no memory card slot, though the dual SIM tray returns if you're looking to go with two cards at once time.
Xiaomi 13 Pro: Camera Features
Triple 50-megapixel sensors make up the rear camera array, with the wide camera's Type 1 sensor as the anchor featuring a Leica Vario-Summicron lens. It's a 23mm equivalent with f/1.9 aperture, optical image stabilization, dual pixel and laser autofocus. The 12S Ultra showed what was possible with the IMX989 sensor, only Xiaomi and Leica suggest they've learned to do more with the software, so that's where we can expect the biggest change.
The wide camera uses pixel binning to shoot at 12.5-megapixels in Photo mode, capturing light with the same large 1.6µm. The only way to shoot at full resolution is to use the 50MP mode, which will naturally capture less light, but may turn out to be the best option when you want to work on certain shots in post.
The other two lenses shoot at the same resolution, with similar layouts compared to the 12 Pro. The telephoto uses Samsung's mid-range Isocell JN1 sensor again, providing a 3.2x zoom (75mm equivalent) and optical image stabilization through a Leica-treated floating lens made to reduce shake and jitter. It also happens to be the lens the 13 Pro uses for the Super Macro mode as well, which explains why it can focus on a subject both further away and as close as 10 cm.
The ultra-wide uses the same JN1 sensor, shooting at a 14mm equivalent with a 115-degree field of view and f/2.2 aperture — basically unchanged from the 12 Pro.
Xiaomi 13 Pro: Software Features
The mix of familiar hardware and collaborative software leads to a broader Leica presence in this phone compared to others. Leica Authentic and Vibrant are your two choices in several modes, including Pro and Portrait, giving the 13 Pro a decidedly Leica aesthetic out of the box.
That extends further when diving deeper into the options available. Tap the filter icon in Photo and Portrait mode, and you will see Leica Vivid, Leica Natural, Leica BW Natural, and Leica BW High Contrast.
The Master Lens System icon in Portrait also presents four bokeh shooting modes: Black and white 35mm, Swirly bokeh 50m, Portrait 75mm, and Soft focus 90mm. It's not entirely clear what role Leica may have played in the HDR settings in certain modes, but I wouldn't be surprised if it put its imprint on that as well.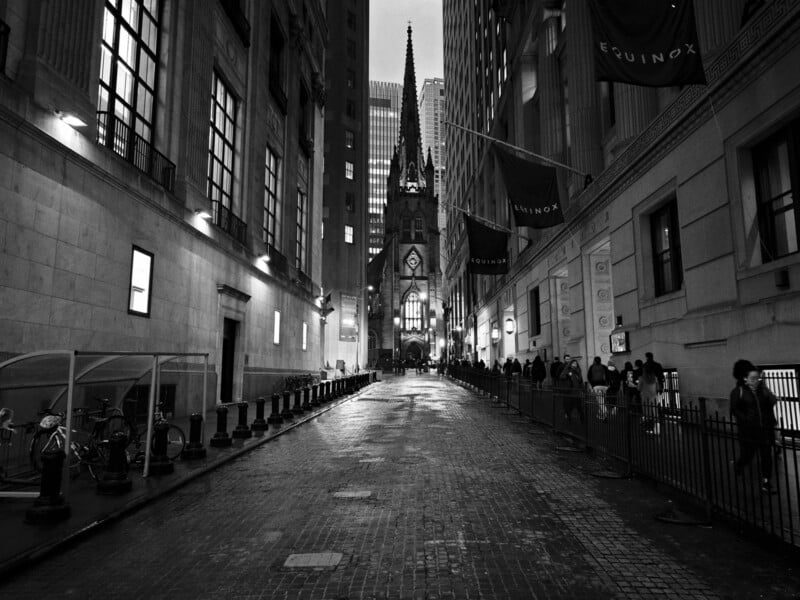 Xiaomi's input is easy to catch, like the AI camera setting that tends to add a little more saturation and contrast to images when enabled. The other filters, and especially the Beautify features, are all Xiaomi. Some elements are handy, though, like how Super Macro kicks in when getting close enough to a subject, or when recognizing a document in the frame and asking if you want to scan it, for example. Face and eye detection continues to improve, though it plays a bigger role for video than for stills.
Unfortunately, there's no way to shoot in RAW using Pro mode at the full resolution — a missed opportunity for Xiaomi. Samsung offers a 50-megapixel option for RAW photos that can lead to excellent results, and I was left thinking that could've happened here, too.
Xiaomi 13 Pro: Image Quality
Xiaomi 13 Pro: Main Camera
Like the 12S Ultra, the 13 Pro invites a fair amount of experimentation because Leica's color toning and filtering match well with the camera's dynamic range. The black and white filters don't feel generic, and the Authentic/Vibrant mix is a good compromise for most situations. If you feel Authentic mutes tones too much, switch to Vibrant and see how that goes. Colors will pop without oversaturating them to the point of making images look like they came out of a social media filtering system.
You can also apply any of the Leica filters onto a photo after you've taken it. There are limits, however, as in you can't take a black and white photo and switch it to a color one. Nor can you apply Vibrant to a photo shot in Authentic, for instance. Beyond the Leica ones lay countless others within the editing suite when viewing photos in the Gallery app. Many require a quick download, a few of which I found interesting, like Instant Film and Slumber. A slider lets you adjust how much of the effect you want to apply.
That's assuming you want to make changes or play around with the onboard tools available. Photos often come out looking good, as is, including in low-light and night settings, where contrast balances out nicely. I don't know if the restrained processing is due to Leica's influence, but it shows anyway.
Night mode is fine, though I found I didn't really need it if there was enough ambient light to shoot with. I still wish Xiaomi would allow users to control the exposure in Night mode, only because it sometimes leaves it on for too long when it's not necessary. This forces shooters to compromise by drawing down the exposure slider hoping they level it just enough to not blow out the brightest parts of the image.
Xiaomi 13 Pro: Ultra-wide and Telephoto
These two lenses serve their supporting roles admirably, with special attention going to the effectiveness of the telephoto lens. Integrating macro into the telephoto turns out to be a brilliant move because it all but eliminates the prospect of the phone casting a shadow by crowding the phone over the subject itself. Spreading out the proximity also means you have a better chance capturing something up close if you're dealing with a more challenging lighting situation.
Moreover, the lens produces impressive results when zoomed in, with clarity, detail, and noise reduction in cases where I initially thought otherwise while shooting. The ultra-wide, on the other hand, performed exactly as I expected, which is to say it produced images right on par with the 12S Ultra. Other than some improvements on the processing side, I'm not sure they looked that much better.
Xiaomi 13 Pro: Portrait Mode
Portrait mode's bokeh effects are clearly a carryover from the Ultra, and I felt the same way after trying them with the 13 Pro, which is to say I often liked what they could produce. Part of that is because of the versatility they manage, like when shooting in low-light to get blurred lights and strobes in the background. It is hit or miss because Portrait doesn't have the same bracketing or processing that, say, Night mode has, so you always have to consider how to light your subject.
You can choose how much bokeh you want between f/1-f/16, and shoot in Authentic or Vibrant. Selecting one of the effects removes the bokeh slider, though you can still shoot in either Leica mode. There's also a full body setting in the menu above, plus a "smart HD portrait" option you should use sparingly. Both features are also optional when using any of the bokeh effects.
Xiaomi 13 Pro: Special Modes and Editing Tools
Long Exposure is still the best special mode, in my opinion, and the one I used the most with the 13 Pro. It still has the same six presets it had before, all of which are worth trying if you want to capture otherwise tough long exposures either handheld or with a tripod. Other modes from prior models are back again, including Supermoon, which garnered some indirect controversy from Samsung's own moon capture on the Galaxy S23 Ultra. Xiaomi has not commented on the type of processing it uses for Supermoon when PetaPixel inquired about it.
I admittedly neglected them in past Xiaomi phones, but the Gallery app has a pretty robust editing suite in this one. Google's Magic Eraser gets well deserved praise for its prowess, but there's a similar feature in the 13 Pro. Open a photo from Gallery, go to AI -> Erase and there will be options to remove objects, people, lines, and shadows (from food shots). These removal tools perform better than you might expect, but aren't at Google's level — at least not yet. Part of the problem is how hard it is to be precise, as well as the fact you might have to draw over the sections again to remove the shadows or darkened pixels the feature leaves behind.
Xiaomi 13 Pro: Pro and 50-Megapixel
Normally, I would defer to shooting in RAW and use the full-resolution mode more sparingly unless conditions were brighter, but I found myself often doing the opposite with this phone. Granted, light capture is better when you have larger pixels, but after working on a bunch of RAW and full-resolution images in Lightroom, I felt the latter ones were better in finding the look I wanted.
There is a catch here that's worth noting. If you go to the 50-megapixel in the main menu, you lose out on shooting in either Leica mode, though you can use the four other Leica filters. But if you go to Pro and tap the settings in the top corner, you will see 50 megapixels available there, letting you not only use the Leica modes, but also all the manual controls otherwise available in Pro mode.
While not truly RAW, it's the closest you can get to composing a shot the way you want with more tools and more pixels. Even better, this also applies to the other lenses, letting you also shoot at full resolution when you switch to either of those.
Xiaomi 13 Pro: Video Features
I focused on still images, but video is worth looking at with this phone as well. The larger sensor helps create a larger depth of field, which is welcome when you can shoot in the same 1080p, 4K, or 8K resolutions. As with photos, you choose between Leica's Authentic or Vibrant modes to start when capturing footage, mirroring how the 12S Ultra did the same thing. You can try your hand at using the existing filters, including the Leica ones, or the movie effects for a touch of Hollywood. Either way, not a lot changed here. The big catch is all the filters will only work up to 1080p and 30fps.
The only change I could find was Teleprompter, where you can copy and paste a script to read as you shoot your video. This works with both the rear and front cameras, so whether you're narrating a scene or doing a selfie presentation, you can change the size of the text and text window to suit what you have in mind.
Xiaomi 13 Pro: Taking on the Best
The Xiaomi 13 Pro is the real deal. It proves its worth as one of the top camera phones of 2023, competing against the best on the market now and almost certainly what's to come over the course of the year. The phone, and by extension, the brand itself, still aren't on the map for most in North America, but seeing what it can do should raise a few eyebrows for those in the know.
Partnering with Leica lends further credibility to what is fast becoming one of the most versatile mobile shooters available. While I'm not as bullish on Xiaomi's MIUI software overlayed on top of Android, I can appreciate seeing Leica's influence bear fruit in the quality images this phone can produce.
Are There Alternatives?
The Vivo X90 Pro comes to mind as another example of a phone from a Chinese brand that continues to push the envelope on what and how a phone shoots photos. It uses the same Sony IMX989 image sensor and comparable telephoto and ultra-wide cameras, offering a deep set of software tools to work with on top of that. Plus, there's the Zeiss partnership that is finally starting to show its potential.
Then there's the Samsung Galaxy S23 Ultra, which took a real step forward, and is a current rarity in that it lets you shoot in RAW at 50-megapixels. The Google Pixel 7 Pro remains one of the best for low-light shooting, and free of the kind of bloat that can blight a platform like Xiaomi's MIUI. I wouldn't rule out the OnePlus 11, given its improved imaging performance, either. If you're thinking iOS is an ideal alternative, the iPhone 14 Pro and Pro Max are still your best choices.
Should You Buy It?
Yes, because this is what the 12S Ultra was and more. Moving beyond China means Google Play services are readily available, making the 13 Pro just as accessible as any Android phone. It's pricey at $1,299 USD, but you will get what you pay for.