The Xiaomi 13 Pro and its Leica Cameras are Coming to the West
On the eve of Mobile World Congress 2023 in Barcelona, Xiaomi has finally unveiled its plans to launch its 13 Pro flagship to markets outside of China, where the device first debuted in December 2022.
Headlined by a Type 1 Sony IMX989 50-megapixel image sensor with f/1.9 aperture, the device is also a showpiece for what Xiaomi's collaboration with Leica could deliver in its latest go round. This particular Type 1 sensor isn't exclusive, as both the Leica Leitz Phone 2 and Vivo X90 Pro use the same exact one. It's also the same one Xiaomi and Leica worked with in the 12S Ultra, which only released in China.
New Bump, New Sensors
The squarish bump is a design departure from the circular modules we've seen in other phones, including the 12S Ultra. To complement the main 50-megapixel wide camera, Xiaomi made it a trifecta of sorts by going with 50-megapixel sensors in both the ultra-wide and telephoto shooters, sticking to a formula it adopted in the 12 series. The telephoto uses a "floating lens" meant to reduce shake and jitter when using the 3.2x zoom (75mm equivalent), while the ultra-wide (14mm equivalent) has a 115-degree field of view.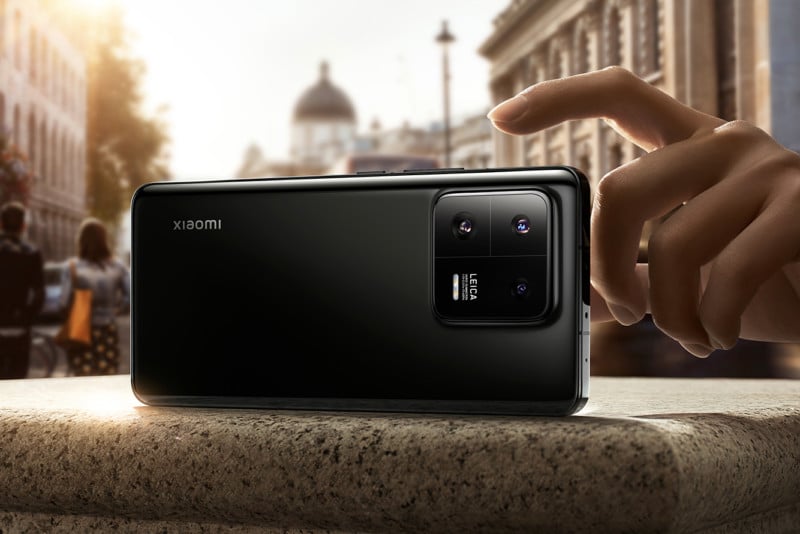 Leica designed the lenses and plays a bigger role in how the software computation works to process and render images. It also lent its own look to some of the filters available in several of the camera app's modes — including when using any of the three rear lenses. It's not clear exactly how much Leica's influence rolls into the broader camera app and its variety of features, but we'll try to glean that in our upcoming review at PetaPixel.
The rear cameras will default to the same two Leica-developed styles introduced in the 12S Ultra: Authentic and Vibrant. These are otherwise known as "Leitz Looks" in Leica's own parlance, aiming to produce a look that stands out from others. The Portrait mode will have its own focus and bokeh effects to choose from, all influenced by Leica. There is no shortage of modes, features, and settings on the Xiaomi 13 Pro. Even Super Macro, Tilt-Shift, and Timed Burst appear in the camera settings on top of the various other modes available.
There is a 32-megapixel front camera with a set of its own settings and features to cater to the selfie crowd. Video will play a bigger role with the 13 Pro, courtesy of 8K recording, 4K at 60fps in Dolby Vision, and movie-centric features to stir some creativity. There's also HDR10+ support
Outside and Inside
The Xiaomi 13 Pro doesn't offer too many surprises on its spec sheet. It will run on the latest Snapdragon 8 Gen 2 processor with Qualcomm's Adreno GPU. You can opt for either 256GB or 512GB of storage to go with the 12GB of RAM. It will run on Android 13 overlayed by Xiaomi's MIUI 13, where you can also expect three major Android updates and five years of security updates after launch.
The 6.73-inch AMOLED (3,200 x 1,400) appears to be the same screen used in the 12S Ultra, right down to the adaptive 120Hz refresh rate, though peak brightness gets a boost at 1,900 nits (1,200 typical). It's made with Gorilla Glass Victus, while the entire phone earns an IP68 protection rating. Apart from the increased brightness, much of the display's look and feature set is a carryover from the 12S Ultra.
The 4,820mAh battery and Xiaomi's 120W HyperCharge can recharge from zero to 100% in just 19 minutes using the included charger and cable. Unfortunately, there won't be a North American version, so European and Asian users will get to see those rapid speeds without adapters. Wireless charging maxes out at 50W, making good use of faster charging pads or docks, if you have them. Reverse charging also maxes out at 10W.
Converted into U.S. dollars, the Xiaomi 13 Pro will start at $1,363 for the 12GB and 256GB version, with two color options in ceramic white and ceramic black.
---
Image credits: Xiaomi