M2 Max MacBook Pro Review: Same Experience, Better Performance
Apple got so much right when it launched the M1 Max MacBook Pro in 2021 that it didn't need to do much to make a compelling successor other than beef up the performance. And, honestly, that's exactly what the company did in the M2 Max MacBook Pro.
The 2021 M1 Max MacBook Pro shifted the paradigm regarding what should be expected from a mobile workstation to the degree that no one has yet caught up to. Sure, there are more powerful CPU and GPU combinations now, but those come with three major caveats: battery life, heat, and noise. Apple then, and still today, provides a unique value proposition because of that.
With its successor to that marvel of a laptop, Apple's M2 Max MacBook Pro changes nothing about the build quality or user experience and only adjusts its under-the-hood performance. That also means that another factor also doesn't really change: the price.
The unit in this review is the 16-inch MacBook Pro model featuring M2 Max (12-core CPU, 38-core GPU), 64GB of RAM, and 2TB of storage capacity. The final bill for this exact configuration will set you back $4,299. If you were to upgrade that to 4TB of SSD capacity to mimic the same build we reviewed in 2021 (other than the upgrade from M1 to M2), this year's model is actually $100 more expensive.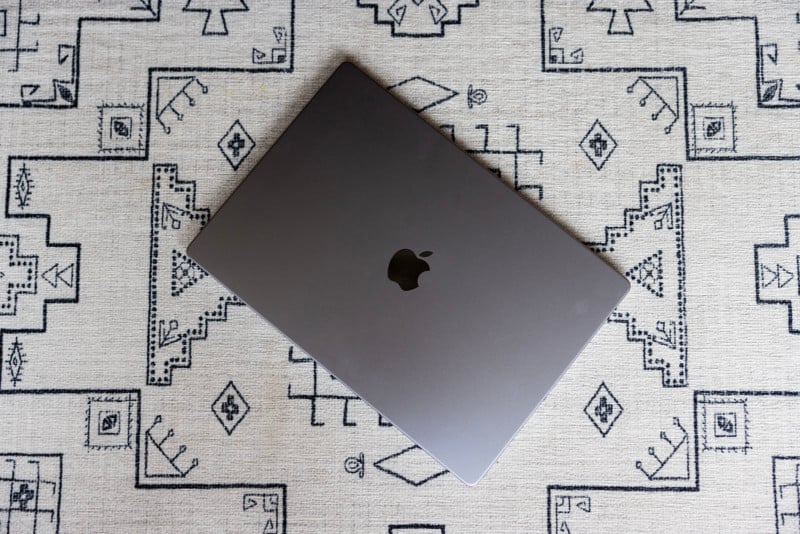 This is not the most powerful configuration you could go with either, as Apple allows an additional RAM upgrade to 96GB for $400 more.
Computing isn't cheap and buying Apple products is rarely an exercise in frugality, but when it comes to laptops of this caliber, you have to look at it from a perspective of value, not raw cost. So, is the new M2 Max MacBook Pro a good value? The answer is not quite as black and white as it was a year ago.
If It Ain't Broke…
I was not exaggerating when I said that Apple didn't change anything about the build quality or user experience between this M2 Max MacBook Pro and the M1 Max version. Side by side, these computers are physically identical outside of the color of the metal.
I'm also not saying this is a bad thing. If it ain't broke, don't fix it, the saying goes, and there was really nothing wrong with what Apple gave us last time. Additionally, I'm sure Apple has a lot of these parts hanging around and it makes sense to use them if possible.
Port Selection
On the left side of the MacBook Pro, you will find a MagSafe charging port, two Thunderbolt 4 ports, and a headphone jack that Apple says can automatically modulate voltage levels to drive high-impedance headphones.
The right side of the machine features a full-size HDMI port, another Thunderbolt 4 port, and a UHS-II SD card reader. The MacBook Pro can be charged via the MagSafe or through the Thunderbolt ports, which is a nice level of choice for the user.
While this layout is the same, the HDMI port now supports TVs and displays with 4K resolution at up to 240Hz or an 8K TV with up to 60Hz. It also supports variable refresh rate (VRR). These are both great upgrades that are becoming the standard, so I'm happy to see support for them here.
Overall, the M2 Pro MacBook Pro supports full native resolution on the built-in display combined with up to two external displays with 6K resolution. The M2 Max upgrades that and allows for the built-in display combined with up to three external 6K displays at 60Hz over Thunderbolt and one external display at 4K 144Hz via HDMI.
Display
The display is also unchanged. The 16.2-inch monitor has what Apple calls its Liquid Retina XDR display and features 7.7 million pixels and up to 1,600 nits of peak brightness (1,000 nits sustained), and the 10,216 mini-LED backlight provides 2,554 local dimming zones for a 1,000,000:1 contrast ratio.
In short, it's a great display that tests gamut coverage of 99.8% in sRGB, 83.9% in Adobe RGB, and 98.4% DCI-P3. Is it the best monitor we've ever seen for color-critical work? Absolutely not, but it is certainly above average in this regard when compared to laptops available today and gets a boost in value from the exceptional brightness. OLED would be better, but Apple hasn't given it to us yet.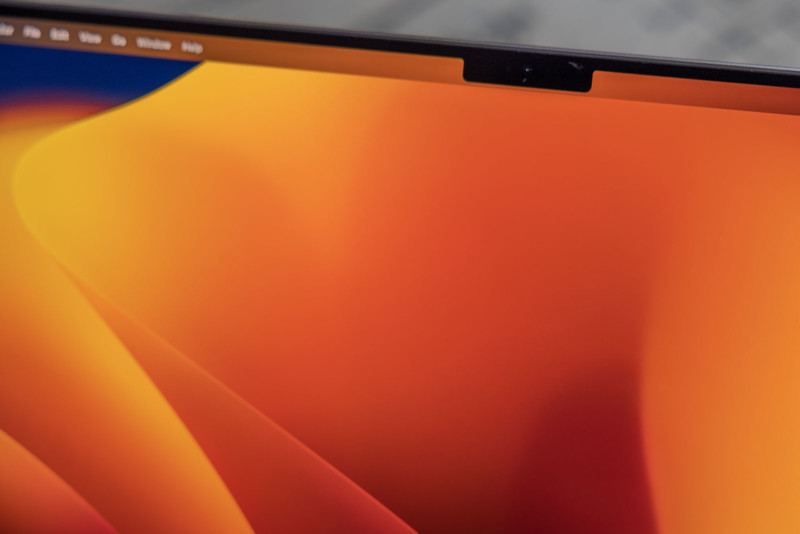 With the same parts in play here, it should come as no surprise that Apple has opted to leave the much-maligned notch at the top of the display. As I said in the predecessor's review, I'm not personally bothered by the notch because most of the time it disappears into the menu bar or into the darkness of a video's letterboxing. That said, I am a bit surprised that we don't have FaceID integrated into that space, since there is clearly enough room up there. Many Windows machines have Windows Hello in them now, so not having this when Apple's FaceID works so well on its mobile devices is still a bit of a head scratcher.
Also of note is that the webcam can record at up to 1080p Full HD via a four-element lens.
Keyboard and Trackpad
Apple's M1 MacBook Pro keyboard is fantastic and I applaud its unchanged return here. We also have the TouchID sensor in the upper right which is nice since, as mentioned, we don't have FaceID.
As before, the keyboard is relatively quiet to use, feels fantastic, and, overall, I highly recommend it.
Apple's trackpad is, I think, pretty much the perfect size. It's not so large that you accidentally hit it when you don't intend to but not so small that you're fighting to get enough room to perform any tasks. It is Force Touch-enabled, of course, and it is overall a very responsive experience.
Storage
The SSD that the MacBook Pro is equipped with is very speedy, as is tradition for Apple. The performance, as seen below, is basically the same as what we tested on the computer's predecessor and averaged 6,545.9 MB/s write and 5,319.7 read speeds.
To put that in perspective, the M1 Ultra-equipped Mac Studio we tested logged 5,910.3 MB/s write and 5,276.7 MB/s read speeds. The Razer Blade 15 Advanced from 2021 gets 4,321 MB/s read and 5,211 MB/s write speeds.
So, yes, again Apple's laptop storage speeds are blazingly fast.
Battery
Apple quotes the M2 Max MacBook Pro's battery as capable of lasting up to 22 hours (video playback) or up to 15 hours when browsing the web. While I'm confident in saying that in most cases, the laptop easily can get you through an eight hour workday — qualifying it as an "all day" battery — I did want to see how well it would do operating at its peak for an extended period. Let's be honest, content creators aren't just watching videos or browsing the internet all day: they're making stuff. Running Photoshop, Premiere, and other creative apps is far more of a power draw, so it would be helpful to know how long you can actually work without needing to find a wall outlet.
During an intensive 20-minute benchmark with the screen set to maximum brightness — which saw the temperatures of the laptop rise enough to hear the fans kick in — the MacBook Pro burned 7% of its battery. That means you'll very likely be able to run this laptop into the ground with the most intense CPU and GPU workloads constantly for about five hours before the battery says uncle. That's an hour more than the MSI Titan GT77 is able to give you when it's just sitting idle. I call that a win.
Photo and Video Editing Performance
The M1 Max MacBook Pro already astounded me with its capabilities, so I'm not surprised that we're seeing more of a step forward rather than a leap when it comes to performance gains. But don't let the incremental difference in capability you'll see below distract you from just how impressive this machine is. I'll get into why this is such a big deal after we look at the numbers, but I just want to first set the stage here.
Now, a note on our benchmarking: starting with this computer and moving forward, PetaPixel is going to be dropping Capture One benchmarking and replacing it with a Premiere Pro benchmark. We've chosen to do this because over the years, we have seen wildly oscillating numbers coming out of Capture One that are far from consistent. One of the reasons we ran the Capture One test was to evaluate GPU performance since Lightroom Classic doesn't do any sort of GPU acceleration. In contrast, Premiere Pro heavily taxes the GPU, especially at higher resolutions and framerates, so shifting our testing to it will still allow us to see that, and arguably better than before.
As part of this transition, we ran the Premiere Pro benchmark on multiple computers to provide some context for the numbers.
Lightroom Classic
As a recap, our Lightroom Classic benchmark consists of importing 110 61-megapixel Sony Alpha 7R IV and 150 100-megapixel PhaseOne XF RAW files, generating 1:1 previews, applying a custom-made preset with heavy global edits, and then exporting those same files as 100% JPEGs and 16-bit TIFFs.
What we're seeing here makes sense based on where the M2 Max chip fits into Apple's line. I would expect it to outperform the M1 Max but not the M1 Ultra, and that is exactly what happens here. What is nice is how much of a gain we're seeing compared to the previous generation MacBook Pro, which was able to process exports several minutes faster. Changes to import times are less major, but the new laptop still shows modest improvement.
Photoshop
Starting with Photoshop, we shift to running Puget Systems' industry-standard PugetBench benchmark, though we still use version 0.8 since it is the last version that includes the Photo Merge test, which is a feature we think is particularly valuable for photographers. PugetBench assigns an Overall and four Category scores after timing a wide variety of tasks ranging from the basics like loading, saving, and resizing a large .psd, to GPU-accelerated filters like Smart Sharpen and Field Blur, to heavily RAM-dependent tasks like Photo Merge.
Unlike in the Lightroom tests, the M2 Max MacBook Pro shines, racking up the highest overall score we've tested so far, beating out two desktop machines in the process — if only by a little.
Premiere Pro
Continuing on with PugetBench, this Premiere Pro benchmark looks at 4K video footage and applies heavy GPU and CPU effects to really tax the machine. Details on what it exactly is doing can be found on Puget Systems' website. As before, it provides an overall score and also provides four category scores that test the computer's ability in export, live playback, effects, and GPU.
The M2 Max comes back down to Earth here, and comes in under the M1 Ultra but just ahead of the M1 Max for some modest improvements over the previous generation. A dedicated GPU, which is found in both the MSI Titan and the Intel NUC 13 Extreme, still pushes their performance ahead of anything Apple currently makes when it comes to video editing.
Performance Takeaways
In two out of our three benchmarks, the M2 Max fits in pretty much where we expected: between the previous generation M1 Max and Apple's current king of performance, the M1 Ultra. Somewhat interesting, however, is that the M2 Max outperforms both in Photoshop, even going so far as to register higher scores than both PCs it was tested against.
Overall, these numbers are quite impressive for a laptop, especially considering what makes this computer special.
What Makes Apple Silicon Special
Is it possible to get a more powerful laptop than the M2 Max MacBook Pro? Yes, but that power comes at a cost. In our benchmarks, the MSI Titan GT77 hung with or outright beat Apple's latest laptop and if numbers on a performance chart were all that mattered, this would be an open and shut case.
But these performance numbers can't be looked at in a vacuum like that. What makes Apple Silicon special is how much power you get in exchange for the physical size of the laptop and how little power it takes to reach those numbers. Just look at how much smaller the MacBook Pro is compared to the MSI Titan — it's laughable. I don't own a single bag that the Titan actually fits into, but the MacBook Pro is easy to travel with.
Additionally, the MSI Titan only can get these performance numbers if it is physically plugged into wall power. Take that away, and I'm not certain that it would even have enough battery power to get through the Premiere Pro benchmark, let alone perform at a high level.
Conversely, the M2 Max MacBook Pro not only can provide great performance while plugged in, it can do so on battery power with no compromises. In testing, I ran the M2 Max both on wall power and on battery alone, and for both the Photoshop and Premiere Pro benchmarks, it actually scored higher on battery power than it did when plugged into wall power. That's probably due to variances in testing (that's why all our tests are an average of at least three benchmark runs), but it goes to show how much more usable Apple's laptop is than the competition.
Also, during benchmarking, the MSI Titan and Intel NUC Extreme both fired up their fans nearly immediately — both actually do that even during power-on — while I only heard the MacBook Pro's fans fire up during the most intensive portion of the Premiere Pro benchmark. And while the MSI Titan is doing its best impression of a hovercraft, the MacBook Pro give off just a gentle whirr.
That's not to say the MacBook Pro doesn't get toasty — it absolutely can get warm during extended uses — but it is a far cry from the space heater that is the MSI Titan.
So yes, sure, you can get a laptop that is capable of better performance outside of Apple, but you're going to be hard-pressed to find a laptop that is more usable in real-world situations than the MacBook Pro.
Still the King
After I reviewed the M1 MacBook Pro, I proclaimed "hail to the king" as I was blown away by what it could do. Now, a year and a half later, the market has caught up when it comes to performance but still dramatically lags behind when it comes to usability. Apple still reins supreme when it comes to overall value when you consider battery life, build quality, size, heat generation, and performance.
Apple didn't manage to blow my socks off with performance like it did jumping between Intel and it's own silicon and the changes to the MacBook Pro M2 Max versus the M1 Max are only on the inside, but what it still provides is the best overall laptop on the market for content creators.
If you currently own an M1 Max MacBook Pro, I don't think there is a strong reason to upgrade to the M2 Max — especially if your main work is video related. Yes, this new model is certainly better, but the gains are not so significant that you will find them life-changing. That said, if you have any other category of Apple Silicon (or prior) laptop, the M2 Max is a very compelling — if expensive — upgrade.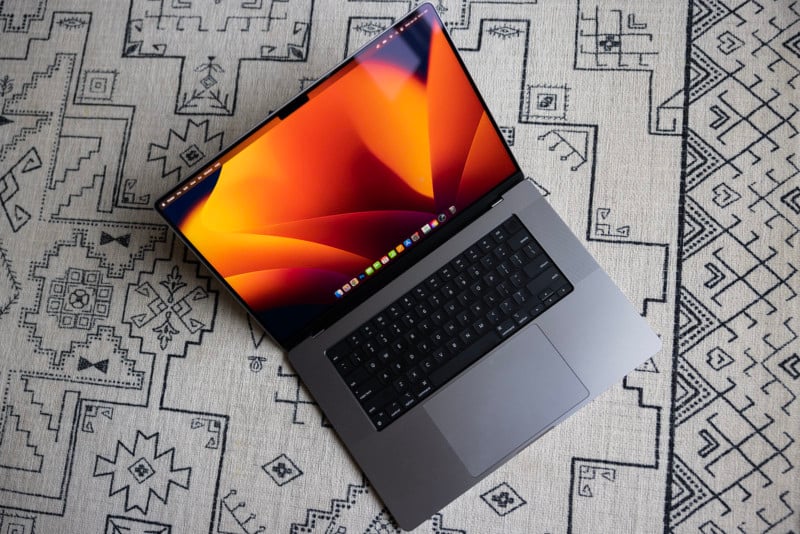 Are There Alternatives?
There is no shortage of laptops on the market and Intel's latest chipsets are very impressive. I'm a big fan of what the MSI Titan GT77 can do, even if it isn't really a very good "laptop" and it's horrible to travel with. Razer is probably more of a direct competitor given the mix of size and performance, and its new Razer Blade 16 and 18 laptops look very impressive, though we haven't gotten our hands on them at the time of publication to let you know how they stack up performance-wise.
Apple's lower-end M2-powered Macbook Pro and MacBook Air laptops are also very good computers, though expect them to perform about half as good as a fully-loaded a M2 Max MacBook Pro will.
Should You Buy It?
Yes, if you don't already own an M1 Max MacBook Pro. The M2 Max MacBook Pro is a beautifully designed computer made with high-end parts that performs extremely well with or without wall power.