Apple MacBook Pro with M1 Max Review: Hail to the King
It is extremely difficult to come into a review of the new MacBook Pro with a truly neutral mindset. The original M1 was just so darned impressive that a follow-up naturally has enormous shoes to fill. Somehow, not only does the MacBook Pro powered by M1 Max meet expectations, it exceeds them: this computer is a marvel.
When talking about the MacBook Pro, everything sounds like hyperbole. "This changes everything," or "the fastest ever," or "I've never been so impressed." None of that sounds grounded or real, but it's really hard to argue with the data and user experience. In the last week-plus of full-time daily use and hours of benchmarking, the numbers don't lie: this is the fastest and most impressive laptop we have ever tested and it smokes every single possible competitor in nearly every category, even the already impressive original M1.
You certainly pay a price for it: the machine we tested was nearly the highest-end model Apple makes: the 16-inch MacBook Pro with the M1 Max processor, 64 gigabytes of RAM, and four terabytes of SSD storage; the only way to spend more would be to increase the storage capacity further. To enjoy what we reviewed here, you're going to have to be willing to part with $4,700. If you want to match the performance but save a bit, you can do that by dropping internal storage down to 1 terabyte, which brings the price down to $3,700 — a choice we recommend should you decide this computer is for you. Cutting the memory in half shaves that price down to $3,500.
That is a lot to drop on any computer, regardless of class, but it's not the worst. We gave the HP ZBook Studio G8 grief for its extreme price, and rightly so: that computer is even more expensive if we are looking at 1 TB capacities and the best performance to match with the M1 Max.
But like we what we said of that machine in our review is the same here: it's not like the asking price isn't worth it.
A Return to Form
When holding the new MacBook Pro in hand, long-time Apple computer fans will notice that it has a lot more in common with the older models of the early 2010s than it does with the more recent TouchBar models. The edges are rounded much softer, the computer itself much thicker, and the overall heft far more noticeable — not to mention there are a lot more ports to be found on the sides of this device.
When I held it up to my first-generation MacBook Pro with TouchBar, my wife thought that the old model was an Air compared to this new model, the difference is that substantial. Honestly, I'm glad the MacBook Pro has its heft back. There is a lot to like about a thin and light machine, but the tradeoffs that Apple made to get me there with its older machines, to me, aren't worth what the new MacBook Pro brings to the table.
So while you could say that bringing back the port selection is a return to form for professionals, you can also say the computer itself literally returns to a form we haven't seen for nearly a decade. To that, I say, "Welcome back."
Ports
Regarding port selection, the MacBook Pro has almost everything a photographer could find themselves looking for. Aside from three Thunderbolt 4 ports, it also brings back the full-size HDMI port, the SD card reader, and MagSafe. It also has an upgraded 3.5mm headphone jack with support or high-impedance headphones.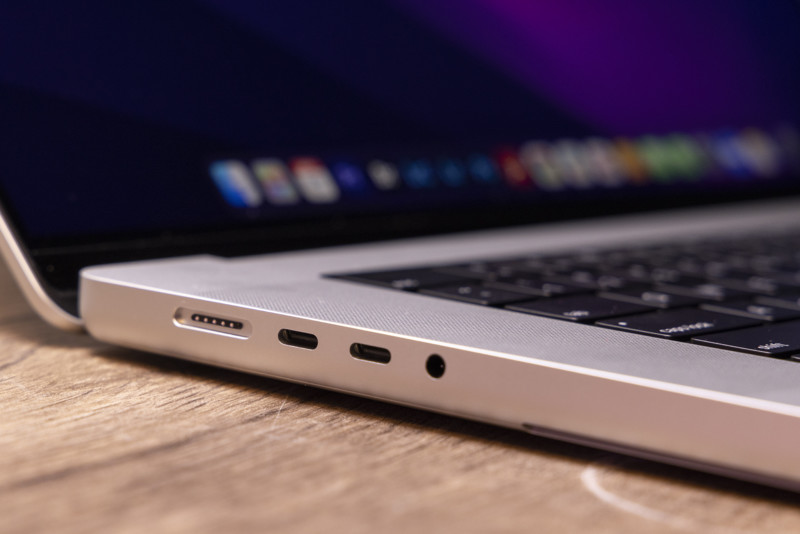 When not using headphones, I was really impressed with the quality of the speakers on the MacBook Pro. The additional size of the chassis over is being fully utilized here because the fullness of audio is really pleasant. Gone are the days of thin-sounding, "tinny" music in a laptop, as both midtones and bass are well represented. I actually forgot to plug in my full-size speakers on one occasion and didn't realize the audio was coming through my laptop until halfway through a YouTube video, that's how good they are.
For those who, for some reason, thought Apple was going to only pack a UHS-I SD card reader into its professional laptop line, I hate to disappoint you: it is indeed UHS-II. Some might complain that it should be UHS-III as other PC laptops in its segment offer, and while I agree this would have been nice, the actual real-world use cases of UHS-III are slim. Very few UHS-III SD cards exist, few if any current camera supports UHS-III (I believe it's none, but I could be wrong), and the market is moving towards CFexpress (no, SDexpress is not going to take off, stop pretending it will). Basically, it would have been a nice specification to have that a vast majority of MacBook Pro users would never find a need for.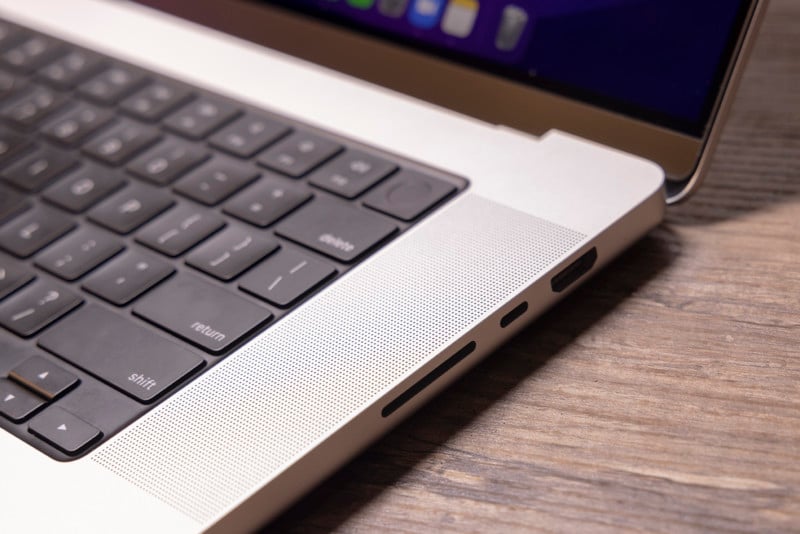 The other somewhat disappointing note on the ports is that the HDMI port is not HDMI 2.1, but rather the older HDMI 2.0 specification, which means that the MacBook Pro can't support 120Hz output through HDMI (though you certainly can through Thunderbolt). Apple very likely intended the HDMI port to be used to connect to televisions or presentation screens in office meeting rooms, so while the lack of HDMI 2.1 is disappointing, just like the UHS-III card reader, its exclusion is not likely to actually affect its users.
MagSafe is back, and the dedicated charging port is one of two ways to power the MacBook Pro — you can still power it through USB-C as before if you want to. The MacBook Pro supports fast charging specifically with the included power brick and MagSafe cable and can charge to 50% power in about 30 minutes. With the 16-inch variant that we tested, that is the only method that supports fast charging, but there are a total of five fast-charging options available for the 14-inch version.
On the note of MagSafe, the cable is now a woven type, which is great to see. It feels like the high-quality fabric woven charging cables I've been buying from third-party manufacturers for years because they were always better than what Apple was producing. That doesn't appear to be the case anymore.
Display
The new MacBook Pro uses what Apple calls Liquid Retina XDR, which is the company's implementation of mini LED technology. This means that the 16-inch laptop has 7.7 million pixels and offers sustained brightness of 1,000 nits and a peak brightness of 1,600 nits. That also means a contrast ratio of 1,000,000:1. It features 10,216 mini LEDs arranged in 2,554 zones. For reference, the iPad Pro with M1 features 10,000 mini LEDs arranged into 2,596 zones, and the Pro Display XDR has just 576 zones. More zones mean better contrast, better blacks, and less visible halo around bright objects.
That brightness is outstanding for viewing HDR content and also means that during the day, you'll very likely have no trouble seeing anything on the screen as it can compete with seriously bright ambient light. The display also refreshes at up to a fast 120Hz, though with ProMotion it varies depending on the content on screen. You can lock the refresh rate of between 48 and 60Hz, but Apple doesn't allow you to lock it to 120Hz.
Resolution-wise, the MacBook Pro does not quite offer a 4K display, but 3,456 x 2,234 pixels. For reference, true 4K would require 3,840 x 2,160 in widescreen (the MacBook is a bit taller than that as you can see), and seeing a computer this expensive come up short of true 4K is a bit disappointing on paper. In practice, I never noticed. The display has enough resolution and is stunningly beautiful and bright. If you found yourself wanting the excellent display from the latest iPad Pro on a computer, Apple delivers that nearly identically here.
It boasts almost 99% of P3 coverage with a maximum Delta E of less than one. The only thing we noticed was that in contrast with the iPad Pro, the white point wasn't quite right (Delta E of 3).
One last thing to talk about is the camera notch, which some have said is obtrusive and others say doesn't bother them. I'm in the latter camp. If you're looking for the notch, you will of course see it, and those who pack the taskbar with tons of icons will probably run into an issue of them disappearing behind the notch (which I agree is bad design). But I, and I think most users, will end up forgetting the notch is there at all. It usually just resides in the space on screen I don't use anyway and it doesn't affect my viewing of widescreen content since that area goes black anyhow. In short, I feel like the notch conversation is overblown.
Keyboard and Trackpad
The keyboard, which over the last decade has been a sore spot for Apple, is marvelous. I have been using the iMac Pro keyboard for a few years now and really grew accustomed to it, but I think I prefer the one on the MacBook Pro. It took me about an hour to get used to, but after that, it typed like a dream. Having TouchID in the upper right-hand corner is nice and is super responsive.
One of the problems some people have with Apple keyboards is that they can be loud, even the nicer ones like the dedicated iMac keyboards (but especially the early butterfly keyboards). The MacBook Pro types softly and quietly, and it's really just a joy to use.
The Force Touch-enabled trackpad is nice, responsive, and pretty perfectly sized: not too big, and not too small. I'm not a big trackpack guy (give me a mouse any day), so I'm probably not the best suited to evaluate its performance, but I found it to be inoffensive and perfectly serviceable.
Storage
I want to take a moment to briefly talk about the speed of the SSD, because it is absurdly fast. The PCIE 4.0 SSD blasts through the ceiling of previous benchmarks, boasting sustained 6,626 MB/s write speeds and 5,841 MB/s read speeds:
To put those numbers in perspective, the latest Mac Mini has an average of 3,100 MB/s write and 2,880 MB/s read speeds, and the Razer Blade 15 Advanced (which is one of the few computers we have tested that also supports PCIE 4.0) only clocks in 4,321 MB/s read and 5,211 MB/s write speeds.
Basically, editors should consider using external storage only for backups and storage, since the speeds of working directly off the MacBook Pro's internal SSD are going to be tough to beat.
Big Battery
This computer is noticeably heavy, likely due to the considerable hardware inside, including the giant battery: it is a massive 100 watt-hours.
With that big battery, Apple rates the 16-inch MacBook Pro as capable of lasting up to 14 hours for casual web browsing and 21 hours of watching content through Apple TV.
In testing, we found that those numbers were largely accurate, and through mixed use I got anywhere from between 10 and 12 hours. Overall, I had no issues with battery life when using it on those kinds of lightweight tasks throughout a full day without needing to worry about recharging it. For intensive work like photo editing, it's not quite as long-lasting and I was able to get between five and six hours before needing to plug back in.
I ran an additional test where I connected the MacBook pro to a 4K 120Hz monitor (as seen in the header image above) which asks the graphics cores in the M1 Max to work hard constantly (I also kept the integrated display at maximum brightness the entire time as well), during which I also performed a variety of tasks ranging from video editing, photo editing, and internet browsing. At no point did I have any less than ten Chrome tabs open and either Photoshop or Premiere were being actively used or open in the background. Under that strain, the laptop lasted just about exactly five hours before warning me that I had 10% power remaining and should plug it back in.
Those numbers are very impressive to me, and while I think the M1 Max isn't quite as efficient as the original M1 is, it still is capable of barely drawing any power unless it absolutely needs it, and when asked to go all-out, still manages to give outstanding performance for much longer than I expected. I am happy to exchange the power of this machine for slightly less efficiency.
And oh, what power.
Photo Editing Performance
Before I get into our raw photo editing numbers, I want to first share an experience I had with the M1 Max MacBook Pro that is more on the video end. I've been daily driving a 2015-era iMac that boasts a 4Ghz quad-core Intel Core i7 and 32 gigabytes of RAM since I bought it in 2016. It is by no means a slow machine, and I've been happily working on it for years now and edited hundreds of videos for clients when I operated my video production business in San Francisco.
But as video files have gotten larger, my old reliable has started to show her age. It can't even play back one 4K ProRes HQ file at one-quarter resolution in Premiere Pro without stuttering down to less than one frame per second.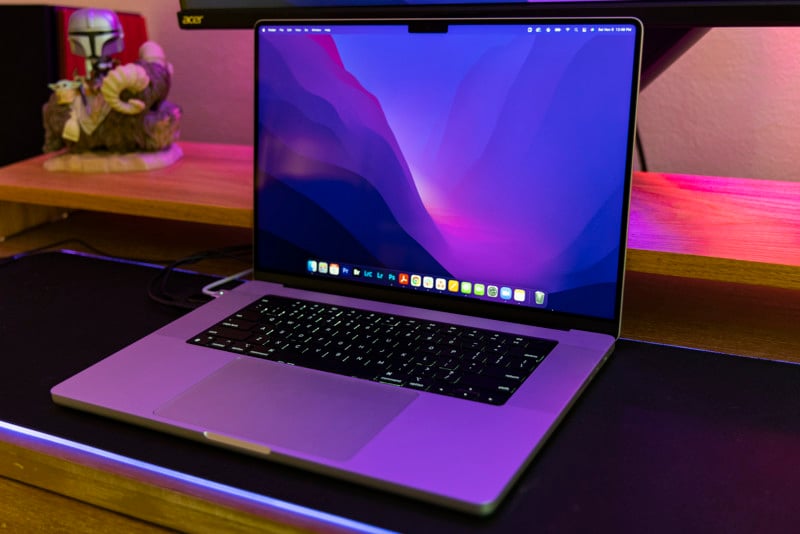 In contrast, the new MacBook Pro with M1 Max was able to play four 4K ProRes HQ clips on top of each other at original resolution without dropping a single frame.
Watching this laptop basically yawn at me in boredom with a task that would straight up crash my iMac still drops my jaw.
That in mind, it should come as no surprise that the M1 Max MacBook Pro absolutely shreds through photo editing tasks and is far and away the best laptop we have ever tested across almost every category.
As is the case with all our recent laptop reviews, the numbers below represent the same tests run on a host of systems, specifically the 13-inch Intel-based MacBook Pro, the Razer Blade 14, the ASUS Zephyrus G14, the Razer Blade 15 Advanced, the HP Zbook Studio G8, and the 2021 M1 iMac (which has identical performance to the M1 MacBook Pro and the M1 Mac Mini).
These tests consist of importing 110 61-megapixel Sony Alpha 7R IV and 150 100-megapixel PhaseOne XF RAW files, generating 1:1 (Lightroom Classic) or 2560px (Capture One Pro) previews, applying a custom-made preset with heavy global edits, and then exporting those same files as 100% JPEGs and 16-bit TIFFs.
Lightroom Classic
Across the board, the M1 Max MacBook Pro beats all comers. During imports, the M1 Max squeaks out a win over the Razer Blade 15 and the HP Zbook Studio G8 by a scant few seconds, but that's as close as it gets. M1 Max exports JPEGs at a pace that is at least three minutes faster than its closest competitors and exports TIFFs even faster.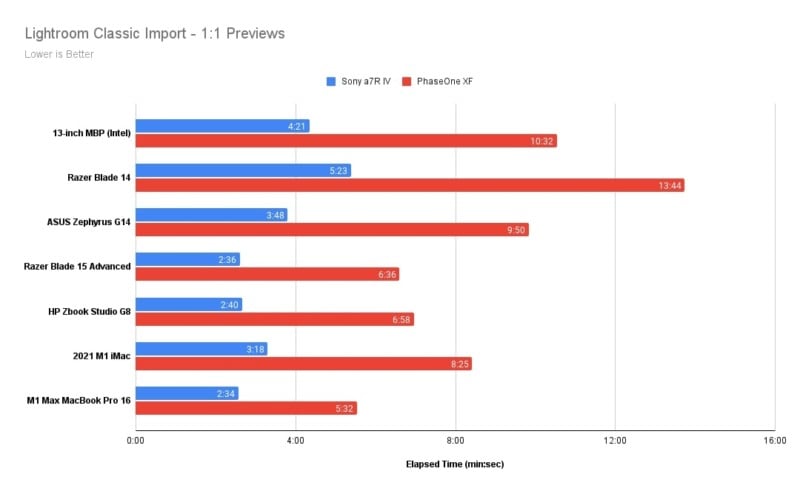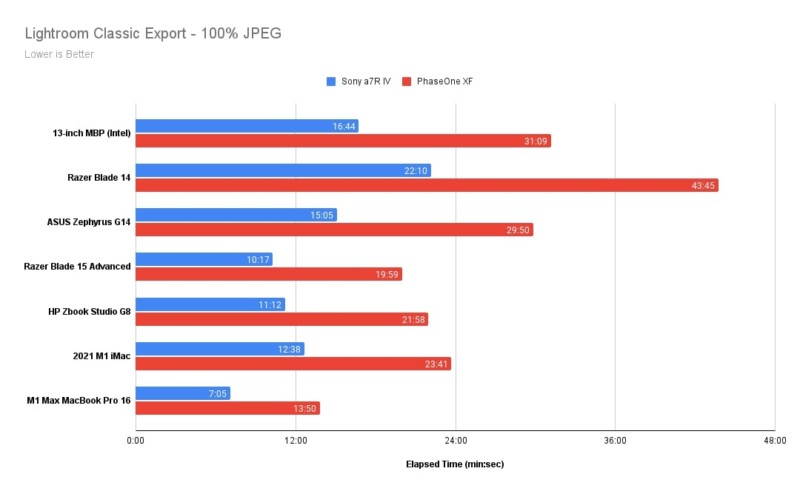 Capture One Pro
Capture One Pro is a bit of a head-scratcher in a couple of cases which leads us to believe there might be a bug present, as the M1 Max and M1 both perform poorly when it comes to imports of specifically the PhaseOne XF files, but both are also slower than non-Apple silicon computers with Sony files. We can't be sure, but we think there is an issue with how Capture One handles hardware acceleration when it generates previews. The software does much better with NVIDIA and Intel or AMD than with any M-series processor. There isn't really any reason why this should be happening, which is why we think it's a bug. We'll reach out to Capture One and report back should anything come of it.
Update: Capture One has confirmed that it is aware of this issue. "When it comes to overall preview generation performance (i.e., the overall time to generate previews for X images), we are aware of the issue, looking into it, and we cannot say anything on which improvements will be made and when," a company representative tells PetaPixel. The company does note that the design of the application does not necessitate waiting for all previews to be generated, however, since they will generate in the background.
As we have mentioned in our other reviews, Lightroom does not use any sort of GPU acceleration during import or export and instead relies on the performance of the CPU and RAM. Capture One, on the other hand, does take advantage of the GPU. Both the HP Zbook and the Razer Blade 15 both post wins over the M1 Max in Capture One on the Sony files (and everyone beats out the speed of the PhaseOne file import, hence our belief in a bug), but once those files are edited, the M1 Max once again takes front and center: it exports both JPEGs and TIFFs remarkably quickly. Specifically with exporting Alpha 7R IV 16-bit TIFFs, the sub-two-minute time is barely enough for me to run downstairs and refill my water bottle.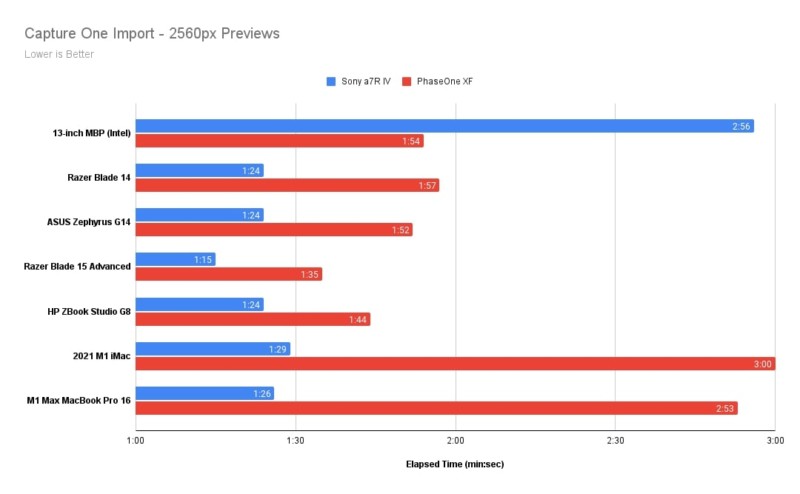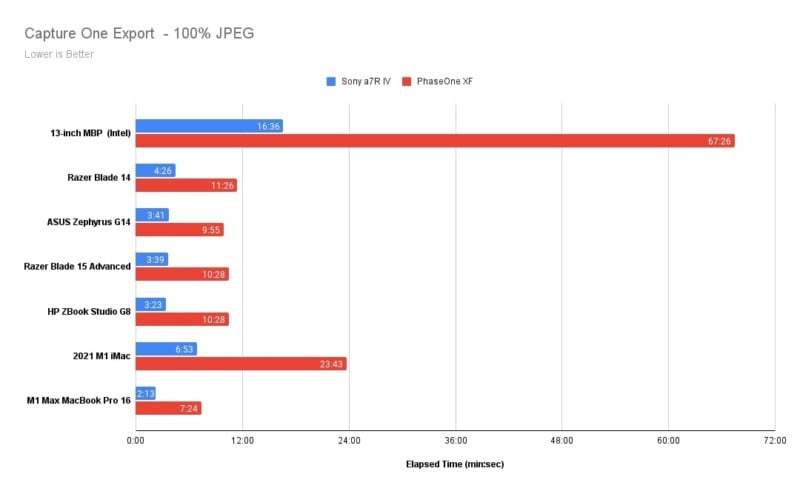 Photoshop
As always, our final test is running the Puget Systems' industry-standard PugetBench benchmark.
PugetBench assigns an Overall and four Category scores after timing a wide variety of tasks ranging from the basics like loading, saving, and resizing a large .psd, to GPU-accelerated filters like Smart Sharpen and Field Blur, to heavily RAM-dependent tasks like Photo Merge. As we have in the past, we ran version 0.8 of this particular benchmark, because it was the last version to include a Photo Merge test, a feature we find particular value in given our focus on photography.
Overall, the M1 Max MacBook Pro demolishes the competition and posts a stunning 1242.1 overall score, which is more than 200 points higher than the next closest competitor in the Razer Blade 15 or the M1 iMac. Broken down by category, the M1 Max wins across the board.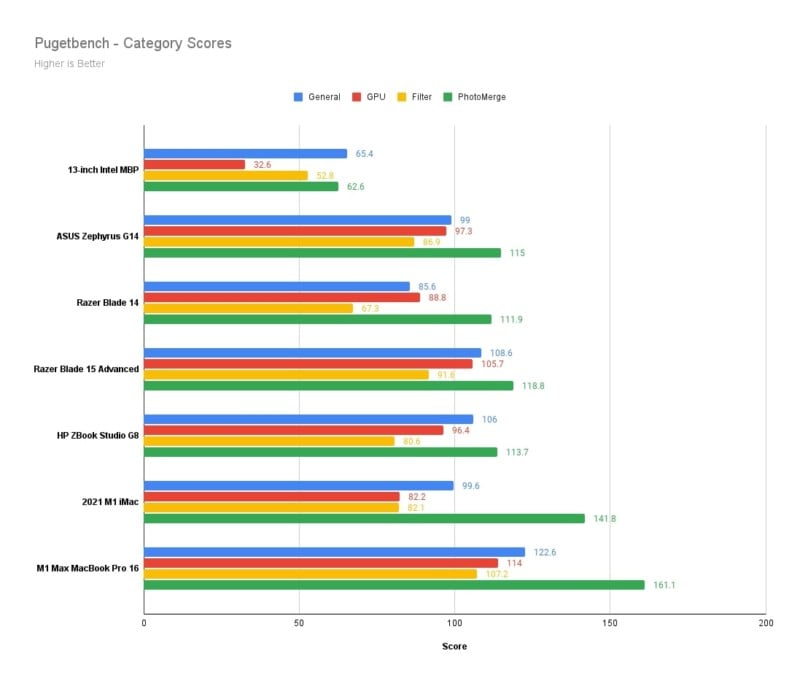 Performance Takeaways
Looking at the data, there is currently no contest: the M1 Max MacBook Pro is far and away the most powerful laptop money can buy. Outside of what we are fairly certain is a bug with file imports in Capture One, the M1 Max bests every laptop we have tested.
What's even more impressive is how the MacBook Pro doesn't care if it's plugged into wall power or not and hardly made a sound during any of our tests. This is in contrast to the Razer Blade 15 which needs to be plugged in to get the most out of the GPU; on battery alone, performance takes a nosedive.
If you paid close attention, you could hear the MacBook Pro fans come on during the particularly heavy workloads, but even when they did, they were very quiet. Overall, it runs basically silently through normal photo editing operation and won't make a peep during simple tasks like watching shows or browsing the internet. While using it outside of benchmarking, I cannot recall a time I heard it make any sound outside of the quiet clicks of my fingers on the keyboard. The chassis can get a bit warm, but nothing extreme, and is quick to cool back down.
From a pure performance standpoint, this is the most impressive computer we have ever tested. I feel like we just said that when the M1 originally launched, and yet Apple one-upped themselves again.
Hail to the King
Professional photographers and filmmakers who grew up using Apple products that just worked great for creator-focused tasks have felt let down in recent years by Apple's design choices in the MacBook Pro series. The company spent years focusing on form factor and design over function, and the "pro" in the product's name felt less and less apt.
Not anymore. The MacBook Pro with M1 Max looks, feels, and operates like a real professional machine, and it dominates the competition because of it. Apple never explicitly apologized to creatives for the what it did to the MacBook Pro line, but using the new M1 Max-equipped machine feels like I can hear the company telling me, "I'm sorry, let's make it right."
While you have to give up the ultra-thin form factor of previous MacBook Pros, I feel like the tradeoff we're seeing on computing power, silent operation, and additional port selection is well worth it. This computer is almost flawless, and the niggles about the slightly lower than 4K resolution and lack of HDMI 2.1 feel extremely insignificant in the face of everything else this computer is capable of. From the perspective of a working professional, it is everything they would ever need and more. So much more.
Are There Alternatives?
To be honest, the M1 Max MacBook Pro might be the best computer you can buy, but most photographers don't need this kind of computing power, especially for the cost. It becomes a conversation of value, and Apple's original M1, while slower, offers more value for more people, I think. The original M1 is still plenty outstanding, and the 13-inch MacBook Pro powered by the original M1 is still an excellent buy: 16 gigabytes of unified memory and 512GB of SSD storage costs, $1,700 — a substantial discount over what the M1 Max laptop will cost.
If you're looking beyond Apple, PetaPixel recently published recommendations for the best laptops for photographers, and the Dell XPS 15 and HP ZBook Studio G8 are both excellent options that are listed there. As you might have noticed from our benchmark tests above, the Razer Blade 15 Advanced is also a solid machine that can hang with both the M1 and M1 Max MacBook Pros in most performance benchmarks and has the fastest internal SSD of the PC group.
Should You Buy It?
Yes, if your work demands the best performance. If you already own an M1-equipped Apple computer, I don't know that you should shell out the cash for the upgrade. But if you've been hanging on to an older Intel-based MacBook Pro and it's long since shown its age, I'm confident that the 16-inch MacBook Pro with M1 Max will put a smile on your face.