M2 MacBook Pro is More Powerful Than Base Mac Pro, for $5,000 Less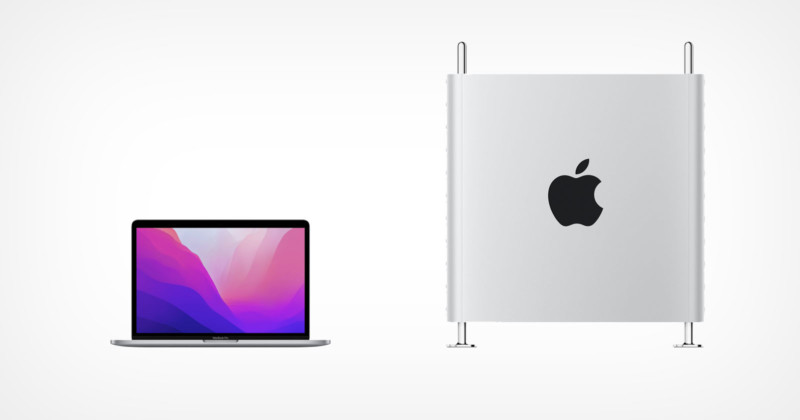 In a Geekbench 5 result that surfaced earlier this week, the new 13-inch M2 Macbook Pro achieved a score of 8,928, significantly better than the baseline Mac Pro with an 8-core Intel Xeon W processor that has a score of 8,027.
As reported by Mac Rumors earlier this week, a leaked Geekbench 5 score of the M2-powered MacBook Pro put Apple's new chip at about 20% faster than the M1 chip in multi-core performance. The 3.49GHz M2 MacBook Pro runs a bit faster than the 3.2GHz of the M1 for a single-core score of 1,919, about 12% faster than the 1,707 of the M1 MacBook Pro.
Apple says that the M2 is about 18% faster than the M1, which is in line with these leaked scores. Very little, if nothing, else is different about the 13-inch MacBook Pro with M2 versus the M1 version.
There are currently only two mainstream consumer chips that are faster than the M2 in terms of single-core performance. i9-12900K and KF. (basically the same chip but modified) Keep in mind that they're desktop chips that boost up to 5.2GHz according to Intel's claims. pic.twitter.com/7nEaWQWbRo

— Vadim Yuryev (@VadimYuryev) June 15, 2022
That performance boost is great, but it's even more impressive when looked at in the context of what Apple has produced in the last few years. Mac Rumors notes that the M2 is now more powerful than the baseline Mac Pro tower which costs $5,000 more than the new laptop and is significantly larger and heavier as well.
The Mac Pro is one of the last computer models that Apple has in its lineup that has not yet switched to Apple Silicon. It along with the higher-end Mac mini is still running on Intel processors. Apple has said that it will revisit the Mac Pro and upgrade it to its in-house silicon, but as is typical of the tech giant it did not provide any indication of when that might happen.
While it does outperform the baseline Mac Pro, the higher-end 12-core version still beats the baseline M2 on Geekbench with a score of 11,919. The 28-core Mac Pro goes even beyond that with a score of 20,029.
The M2 is only in its baseline offering and if it follows the path of the M1, it will only get more powerful over the next year. The M1 Ultra in the Mac Studio has a Geekbench score of 23,366, which goes to show how powerful Apple's silicon can be when pushed to its current maximum.