Razer's New Blade Laptop Displays Have Dual 'Gamer' and 'Creator' Modes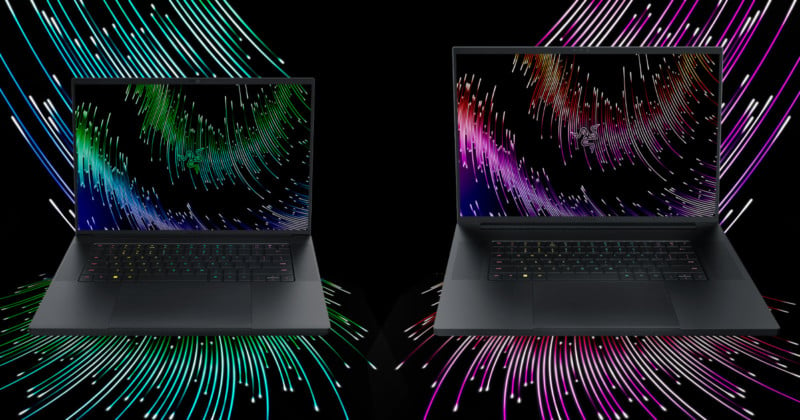 Razer's CES 2023 announcements are led by the Blade 16 and Blade 18 laptops, the former which brings the world's first dual-mode Mini LED display and the latter which is positioned as a desktop computer replacement.
Razer hasn't always said it openly, but now mentions that some of its gaming-oriented computing products can fit well into a photographer or videographer's workflow — a fact PetaPixel has noted now for some time. Speaking to company reps, they have started to point out how the gamers the company has been building for are also clamoring for tools to create content. That's where these particular products sit, easily straddling that line between the demand for top-end gaming performance and precisely timing a jump cut in a video.
The New Razer Blade 16
The latest duo of Razer Blade laptops come with either 16-inch or 18-inch screens. They aren't the same exact displays though, as the Blade 16 is the first with a dual-mode mini-LED panel capable of hitting up to 1,000 nits peak brightness and a super speedy three-milliseconds response time.
To mark the duality of use Razer has in mind here, the screen enables users to switch between a Gamer or Creator mode, shifting the refresh rate from 240Hz in FHD+ (1,920 x 1,200) resolution for gaming to 120Hz in UHD+ (3,840 x 2,400).
There are caveats depending on the configuration. The Blade 16 has five SKUs that adjust the guts of the device from the RTX 4060 to the 4090. Two variants of the 4070 include one with the Mini-LED display, and one without; the only other model with the Mini-LED panel is the 4090. The rest use a QHD+ (2560 x 1600) IPS display with 16:10 aspect ratio. That also limits the peak brightness to 500 nits. Same goes for HDR, which you only get on the Mini-LED models.
Apart from that, they share just about everything else. The body is an aluminum chassis with the same weight, ports, and battery life. All run on the 13th Gen Intel Core i9 13950HX 5.6Ghz with 24 cores and 32 threads. Nvidia's GeForce GPUs correspond with the respective model, though they all come with 8GB of DDR6 VRAM (upgradeable to 64GB). The laptops get 1TB standard SSD storage on all options except for the 2TB that comes in the 4090, though users can upgrade any one of them after purchase, up to 4TB using the two slots inside.
For connectivity, WiFi 6E support and one Thunderbolt 4 port keep things current, and users can install Nvidia's Creator Ready Drivers without issue, if you want them. Razer claims the Blade 16 can drive 35% more graphics power per cubic inch than any 16-inch gaming laptop currently available.
That bodes well if users are working on rendering video or working on batches of RAW images, two workflows Razer says the Blade 16 can handle with aplomb. Finding that out is costly though, as the Blade 16 starts at $2,700 when the laptop launches in Q1 2023.
The New Razer Blade 18
Razer is positioning the Blade 18 as a desktop replacement, and why wouldn't it with such a big display? The company flat out calls it its "most powerful laptop ever — a truly uncompromising machine built for hardcore gamers and professional creators."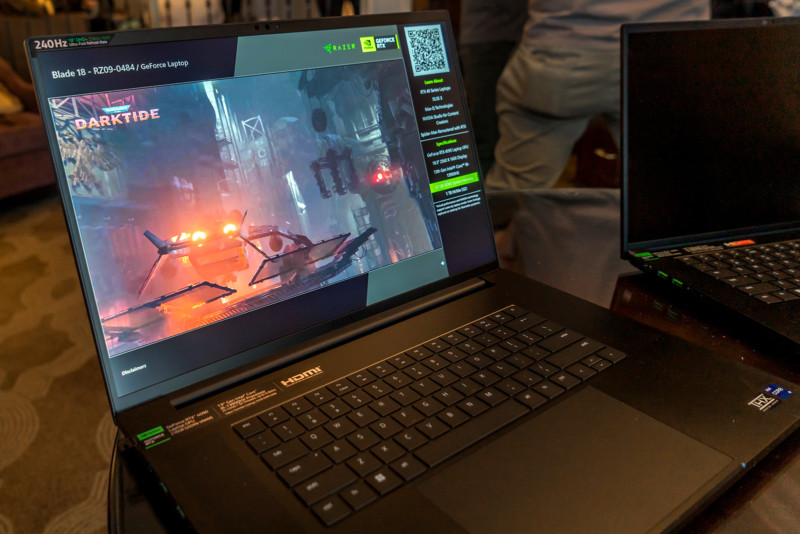 The duality here comes with fewer variances compared to its smaller sibling. There are two SKUs in the 4060 and 4070, neither of which offers Mini-LED — that is only an option with the Blade 16. That said, it does have a QHD+ (2,560 x 1,600) IPS display with a 16:10 aspect ratio on the larger panel, including the same 500 nits peak brightness and three milliseconds response time. It also has the same dynamic switch between Gamer and Creator modes.
The array of ports and overall components inside also bear a lot of similarities, right down to the upgrade options available for memory and storage. Razer said little about battery life expectations — no doubt it's a powerful machine with the chops to handle pretty demanding creative workflows, but until it is further evaluated it's hard to say how good it might actually be as a desktop replacement.
The Blade 18 will launch at the same time in Q1 2023 starting at $2,900.