Apple Mac Studio with M1 Ultra Review: Insane Power for the Price
Ever since Apple moved to the M1 chip, we've consistently lauded the performance improvements we've seen. It feels like with each iteration we say "most powerful" or "surprising" in some way, but those are still perhaps the best words to underscore just how impressive the M1 Ultra in the new Mac Studio is. Because it is impressive.
Apple provided us with the opportunity to take a look at the Mac Studio in its most powerful configuration: the M1 Ultra with its 64-core GPU, 32-core neural engine, 20-core CPU, and 128 GB of unified memory. Our review unit also shipped with 2 TB of SSD storage and the standard model of Apple's new Studio Display (which will be covered in a separate review). Monitor aside, this Mac Studio would cost $6,199 if you wanted to replicate our exact review unit.
When I reviewed the MacBook Pro with M1 Max last fall, I said that while that chip is certainly great to have, it wasn't necessary for most photographers. Understanding limited budgets, most who are looking to upgrade their workstations would be totally satisfied with the performance of the baseline M1. But if you did upgrade to the Max, there are certainly notable performance gains.
Upgrading an additional step to the M1 Ultra should be treated with the same frame of mind. While you absolutely are going to see some extremely impressive benchmark numbers below, whether or not it is worth paying about double the price of an M1 Max-equipped Mac Studio — or even up to eight times the cost of an M1 Mac Mini — is a decision you're going to have to make for yourself.
Design and Build Quality
The Mac Studio by itself is, quite frankly, basically an aluminum box. It measures 3.7-inches tall, 7.7 inches wide, and 7.7 inches deep. It's neither attractive nor ugly, but rather is the kind of thing that is easily ignored, and I think that might be exactly what Apple was going for. Since the Mac Studio basically replaces the iMac, Apple likely doesn't want your desk to be cluttered up any more than it would have been with just the integrated display of that now-retired design.
As mentioned, our review unit features a 2TB SSD, which provided blistering data transfer speeds: 5,910.3 MB/s write and 5,276.7 MB/s read speeds. I saw some peaks as high as 6,060 MB/s and some dips into the 4,000 MB/s area. That's not quite as fast as what we saw out of the MacBook Pro and I can't explain why that might be, but these data speeds are well more than any photographer (and a majority of videographers) is going to need. Of note, it does top the M1 Mac Mini's average of 3,100 MB/s write and 2,880 MB/s read speeds.
Peripherals
Along with the new Mac Pro, Apple has refreshed the Touch ID keyboard and Magic Mouse and continued using a fabric-wrapped set of cables, this time in black.
The keyboard feels different from the previous iMac Pro keyboard, but not hugely so. I was able to get used to the slightly different feeling of the keys rather quickly. They type with about the same pressure but feel slightly more raised above the aluminum base than the iMac Pro keyboard does and perhaps provide a bit more pressure back after each keypress.
The Magic Mouse feels and works identically to the Magic Mice of previous generations. Some people, like myself, enjoy the Magic Mouse. I have small hands, so I don't have any issue using it for hours at a time and I really like the omnidirectional touch scrolling it provides. I do, however, agree that the placement of the charging port, which is still at the bottom of the mouse and therefore means you cannot charge it and use it at the same time, is bad. I'm still going to keep using it though.
The cables that are included with the Mac Pro and Studio Display feel really nice. I like Apple's implementation of the fabric-wrapped cords and they do feel very premium. The power cable is plenty long as well.
There has been some pushback over the length of the Thunderbolt 4 cable that comes with the Studio Display, and I can understand that. It doesn't bother me because I have the Mac Studio and the Studio Display positioned right next to each other and I, therefore, have enough room to route the cable through a monitor arm and into the back of the display with cable length to spare. However, for those who plan to hide the Mac Studio under a desk or away from the display, the included cable isn't likely to be long enough.
Since the power button is not on the front of the Mac Studio, though, I do think more people will keep it close to their working area than those who hide it away, simply because there it will be more convenient to turn it on.
Photographer-Focused I/O
I set the Mac Studio in between my two-monitor setup, which allowed me to easily turn it on (the power button is located on the back left of the machine when looking at it from the front) and gave me immediate access to the two Thunderbolt 4 ports and SD card reader on the front of the computer (on M1 Max Mac Studio models, they are only 10Gb/s USB-C ports).
I know it feels weird to applaud Apple for giving creators what they have been asking for, but here we go: I am so glad that Apple put those ports on the front of the Mac Studio. While there is plenty of I/O on the back, easy access to a few on the front cannot be understated. I absolutely hated how hard it was to get to the SD card reader on my 2017 iMac, for example.
The SD card slot supports the SD 4.0 standard, which means up to UHS-II speeds. There are some who have said that they were disappointed that the Mac Studio doesn't support SD Express, but those comments ignore that the standard isn't widely adopted and there isn't any evidence that is going to change. Nothing that captures photos or videos in any capacity uses SD Express, and at the time of publication, no camera manufacturer has signed on to even try it. I am therefore perfectly happy with the UHS-II reader.
The rear of the Mac Studio has four Thunderbolt 4 ports, a 10-gigabit ethernet port, two USB-A ports, an HDMI port, and a high-impedance headphone jack. I have a lot of devices and ended up using all the ports, so the greedy part of me is always going to ask for more. Also, it would have been nice to see a DisplayPort input, but I can understand why Apple left it off. For most, I think the I/O on the back should suffice.
I don't know if Apple mentioned it at the launch event, but the Mac Studio has built-in speakers. That said, you probably should not use them: they are not good. I think it is reasonable to expect that Apple includes speakers for some use cases but at the same time not expect them to be of high quality. They are serviceable and generate clear sound, but they don't get very loud and are completely devoid of the low-end. There is no bass, and the mids and highs sound like they're being played through a tin cup. You'll most certainly want to take advantage of the high-impedance headphone jack if you plan to listen to anything and enjoy the experience.
Silent Operator
The M1 Ultra-equipped Mac Studio is pretty heavy thanks mainly to the inclusion of copper parts that improve the aluminum box's ability to cool itself: the M1 Ultra-equipped Mac Studio weighs a hefty 7.9 pounds while the M1 Max version is 5.9 pounds. As a result, I don't think I would say that the Mac Studio with M1 Ultra is portable, but that doesn't mean it can't be moved.
While it is unlikely that many will be carrying it with them outside of their office, I can see it being transported on occasion to a set where it would be used for tethering. In those cases, it's not going to be particularly fun to carry around, but it's not impossible either thanks to the pretty small footprint. The Mac Studio is more perfectly at home on your desk or on a photo studio digital tech cart.
Getting back to the cooling, Apple is particularly proud of the thermal architecture of the Mac Studio. The company says that it wanted to do its best to provide high levels of performance without sacrificing a small form factor. I think if any PC enthusiast tried to build a machine equally as powerful as the Mac Studio in the same sized chassis, they wouldn't be able to do it. Apple is leaning heavily on how efficient its M1 chips are in order to get a computer with this much power into such a small size.
We weren't permitted to take the Mac Studio apart and see it for ourselves, but Apple describes its thermal system as bringing air through the entire circumference of the perforated base and up over the circular power supply through specifically placed channels and then propelled through the rear exhaust. This design allowed Apple to run the M1 Max and M1 Ultra in the Mac Studio with unconstrained performance.
Our benchmarking puts a lot of strain on the CPU over the course of several hours and through that time, I never heard the fans from my position about a foot away from the body of the computer. It's possible they were running but so quietly they were inaudible, or the machine never thought it needed to power them up to the degree they would be heard. At one point, I put my ear to the Mac Studio and strained and could just barely make out the quietest "whirr" sound.
The exterior of the Mac Studio did get warmer over long testing sessions but never seemed to reach body temperature. Whenever I touch the Mac Studio, it always feels cool to me, even after intense workloads.
Growing Pains
While many if not all of the important photography applications are natively supported on M1, there are a great number of general desktop computer applications that are not. This isn't a problem that is unique to the M1 Studio, but it is one that is more apparent on it because of the expectations that come with a device that doesn't move.
I experienced some levels of annoyance when I realized that some of the applications I use daily just don't work on M1 machines yet. For example, Canon's webcam utility and my SteelSeries mousepad are both nonfunctional. This is to be expected as many companies that don't rely on the support of M1 aren't rushing to update their software. SteelSeries, in particular, probably doesn't consider Mac users a priority, so who knows how long it will be before I can control the color of the RGB on my mousepad again.
In the grand scheme of things, these are really minor quibbles, however. I wouldn't let losing my fancy webcam or desktop vibe stop me from experiencing the excellent performance as yes, the performance is quite excellent.
Photo Editing Performance
Since the M1 Ultra is the power of two M1 Max chips combined, you might think that all performance should just be doubled. While we are seeing evidence of that in some places, that's not quite how its performance works in real-world situations. What I can say is that the Mac Studio is overall the most powerful computer we have tested for photography applications.
The comparison below shows results from several M1 Macs as well as a group of high-performing PC laptops we've tested. That's not to say we are comparing the Mac Studio to these laptops, but their inclusion should more serve as a general guide of how this new computer performs versus workstations common with photographers.
We also had our benchmarks run through a PC with a 32-core, 3.7Ghz, AMD Threadripper 3970x, an Asus TUF 3090 24GB GPU, and 128 GB of DDR4 3200Mhz RAM which serves as our desktop PC comparison. This computer cost more than $11,000 to build. We recognize that the CPU isn't the best pick for this kind of work as the computer was purchased for 3D modeling and leans more towards GPU performance. We expect that the results would be better for this PC if we were using an Intel 12900K or an AMD 5950X, but this is what we had access to. Another set of tests for another day, perhaps.
The numbers below represent the same benchmark tests we have been running for the last two years and consist of importing 110 61-megapixel Sony Alpha 7R IV and 150 100-megapixel PhaseOne XF RAW files, generating 1:1 (Lightroom Classic) or 2560px (Capture One Pro) previews, applying a custom-made preset with heavy global edits, and then exporting those same files as 100% JPEGs and 16-bit TIFFs.
Lightroom Classic
In these benchmarks, Lightroom is where the M1 Ultra seems to show the greatest value over its M1 predecessors, likely because of how much of the CPU the program uses. It does exceedingly well, beating out all but the AMD Threadripper PC, and it's still pretty close there. Curiously, it managed to score better with exports of the Sony files, but everywhere else it's a bit behind the PC.
It's worth noting how much faster the M1 Ultra is than the M1 Max in the MacBook Pro. We know that Apple runs the M1 Max unconstrained on that machine, so we can expect that the M1 Max version of the Mac Studio will perform pretty much identically to what we're seeing here. With that in mind, those who are heavy Lightroom users will certainly see the value of the M1 Ultra.
Capture One
As we noted in our review of the MacBook Pro last year, there is a known bug in Capture One on M1 computers. Import times of Phase One files are notably worse than on comparable machines, and that doesn't change with the M1 Ultra and this latest version of Capture One. While it is about ten seconds faster, it's still more than a minute behind the Threadripper PC and significantly slower than the top-performing PC laptops.
Capture One is aware of the issue but hasn't been able to provide a timeline for when a fix should be expected. The company does note that the design of the application does not necessitate waiting for all previews to be generated, however, since they will generate in the background. Still, it doesn't look great in benchmarking.
Looking at the rest of the data, it's important to note that Lightroom does not use any sort of GPU acceleration during import or export and instead relies on the performance of the CPU and RAM. That explains the big performance improvements we saw above. Capture One, on the other hand, does take advantage of the GPU. What we're seeing is that the improvements from the M1 Max to the M1 Ultra are not as drastic as they were in the Lightroom comparison, but they are present: the M1 Ultra definitely outperforms the M1 Max. It also handily bests the Threadripper PC.
We're getting to the point that an export of typical Sony files is happening faster than most people take getting a glass of water from the kitchen.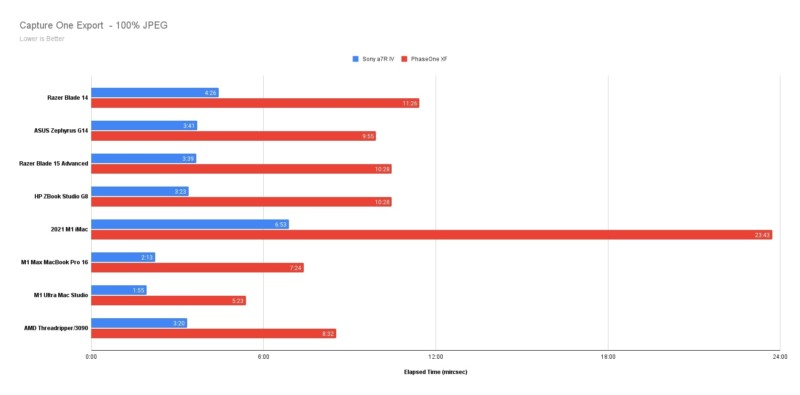 Photoshop
Our final test is to run the Puget Systems' industry-standard PugetBench benchmark.
PugetBench assigns an Overall and four Category scores after timing a wide variety of tasks ranging from the basics like loading, saving, and resizing a large .psd, to GPU-accelerated filters like Smart Sharpen and Field Blur, to heavily RAM-dependent tasks like Photo Merge. As we have in the past, we ran version 0.8 of this particular benchmark, because it was the last version to include a Photo Merge test, a feature we find particular value in given our focus on photography.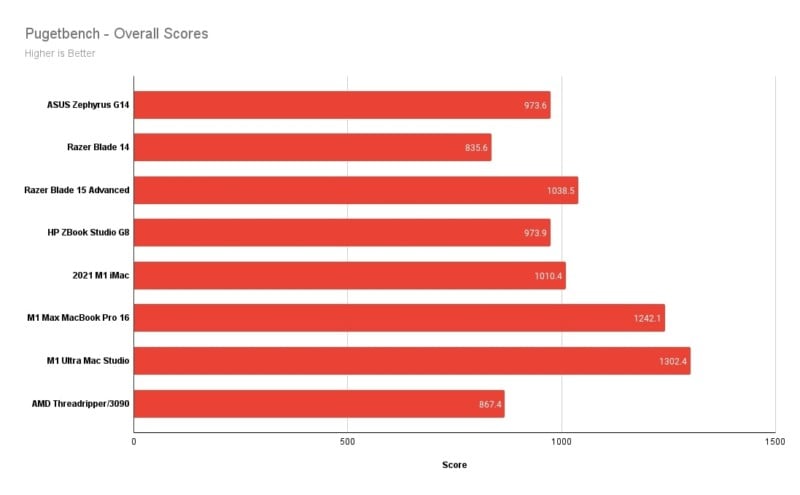 Overall, the M1 Ultra Mac Studio shows only modest improvements over the M1 Max. It's close, but the Ultra does pull ahead as the best chip for Macs in this category and posts the best overall score and set of category scores we have ever logged.
Performance Takeaways
While we aren't seeing dramatic improvements everywhere, the M1 Ultra Mac Studio is posting some really impressive numbers. Compared to the Apple computers that came before it, it's — perhaps obviously — better.
I think it needs to be restated just how powerful the Mac Studio is for how much it costs. Remember, the high-end PC we tested it against cost more than $11,000. The Mac Studio is not Apple's highest-end computer line. That's reserved for the Mac Pro, and while an Apple Silicon version of that machine is probably a ways off still, the fact that the Mac Studio hangs with — and even in some category beats — the Threadripper PC is really impressive.
We weren't able to test power draw, but that's another area that worth considering along with noise level and heat. Apple claims the M1 Ultra provides industry-leading performance per watt with 90% higher performance in the same power envelope than the fastest 16-core PC desktop chip (which they state is the AMD Radeon Pro W5700X) while using 100 watts less power. We'll leave it to the other publications with more expertise to verify this claim, but even if it's close to what Apple promises, that's impressive.
Powerful PCs generate a lot of heat and, depending on your setup, will generate more noise than the whisper-quiet Mac Studio. Given how power efficient the MacBook Pro with M1 Max is, I don't find Apple's numbers too hard to believe.
So even though the Mac Studio isn't going to beat the most tricked-out PCs you can build today, it comes close enough for a lot less of an investment in a chassis that's probably close to an eighth the size if not smaller. The high-end PC we tested it against cost almost double the Mac Studio's price and that is assuming you can find the parts and have the no-how to build it yourself.
Looking at the Mac Studio in this context, this computer is an incredible value.
There is Nothing Quite Like the Mac Studio
It's really hard to summarize the Mac Studio without sounding trite. Yeah, it's powerful, power-efficient, quiet, and small. We've heard it all before, to the degree that when Apple beats itself again, it's hard to put to words just how impressive that is. This computer is incredibly small for the kind of performance it puts out and in the time I've spent testing it, I have strained to hear the fan (if I put my ear right up against the chassis, I can barely make it out).
Very few photographers need this kind of power. The M1 Max version is actually a better fit, and I still contend that the M1 Mac Mini is still the best computer for most photographers. But if you expect a computer to last the next five, seven, or even 10 years, it's not that hard to find yourself rationalizing the M1 Ultra Mac Studio.
Are There Alternatives?
This is really hard to answer because the desktop space is not only turbulent right now, but inconsistent. I am personally not a fan of most of the pre-built PCs on the market and would suggest most people build their own. Unfortunately, the chip shortage has made parts acquisition an absolute nightmare. The only reason to do that if you need a new computer right now is that you absolutely cannot stand the Apple operating system. Otherwise, there isn't any computer on the market that combines this level of power for this price, notwithstanding its tiny size and absurdly good heat management.
Should You Buy It?
Yes, you should buy the Mac Studio. I'm not going to go so far as to say you need the M1 Ultra, but I really like what Apple has done with the build and I/O of this computer line. I don't know if I like it as much as I have liked the 27-inch iMac series I've used for the last decade, but the more I use the Mac Studio, the more that's changing.