Nanlite Launches 6 Forza II LED Spotlights and 2 New LED Tube Lights
Nanlite's six new Forza LED spotlights and two PavoTube LED tube lights feature changes that significantly improve them.
New Forza Lights
The six new Forza lights are divided into three power options and then between daylight and bi-color (donated by a "B" in the product name): The Forza 60 II and 60B II, 300 II and 300B II, and 500 II and 500B II.
Nanlite Forza 60 II and 60B II
Nanlite's Forza 60 II series updates the line but doesn't change their small form factor — the company says they're still small enough to hide behind an iPhone and light enough that they can be dangled from a pinkie finger. Side by side with its predecessor, the 60 II wouldn't look much different, but there are changes on the inside.
For example, the lights still run on AC with the included compact power supply, as well as on NP-F batteries with the included handgrip, or on V-Mount batteries with the separately available BH-FZ60-V handgrip, or the CB-DT/DC D-Tap Power Cable (also sold separately), but what's new is their improved efficiency: the Forza 60 II and 60B II get up to 28.5% longer run times on battery power.
The lights also have more control options (including built-in Bluetooth and wireless 2.4G connectivity), a new mode button to improve onboard control, a new fan system that makes them 10 dBA quieter, and they feature a new glass-covered protected COB light.
Nanlite says that last part might not seem important, but says that if an insect ends up landing on the COB of these lights when they're operating, the fixture will not be damaged.
Nanlite Forza 300 II and 300B II
The Forza 300 II series feature redesigned yokes and locks and the heads are over half an inch longer and wider, but more than half an inch shorter in height than its predecessor. The control units are also "radically different."
The new Forza II 300's produce "highly accurate light" with high CRI and TLCI ratings and include green-to-magenta adjustment thanks to what Nanlite says is an innovative and unique W(RG) and WW(RG) sources. The 300B II also has a light chamber like the one on the Forza 60C to properly manage the different colored LEDs.
Of note, the new Forza 300 II and 300B II are what Nanlite is calling the world's first 300W LED 5600K and bi-color spotlights with +/- 80 green-to-magenta adjustment. Nanlite says that there are 300W lights with green-to-magenta shift out there, but they have full spectrum LEDs that cost over twice as much, so the company considers that a separate category of light fixture.
As mentioned, the yokes have been redesigned and have new, single-sided, stepless locks that the company says make it easy to accurately position and lock the lights in place. The yokes have a forward curve that allows greater tilting range when large modifiers are attached and also now have umbrella mounts.
The control units for the Forza 300 II series are 37% smaller and feature integrated power supplies — side-mounted V-Mount battery plates — that are compatible with different sized and shaped batteries. The units are also fanless and all cables attach to the top. The control units also can operate on either one or two batteries.
Finally, the included cables are longer (head cables are 9.8 feet long and the power cables are 19.8 feet long), the cooling fans are 9dBA quiter, and just as is the case with the Forza 60 II models, both 300 II lights have protected glass-covered COB light sources.
Nanlite Forza 500 II and 500B II
Nanlite never made a Forza 500 light, and says that the choice to add the "II" to the product name is because it has the same advancements as the 60 II and 300 II series, but is more powerful.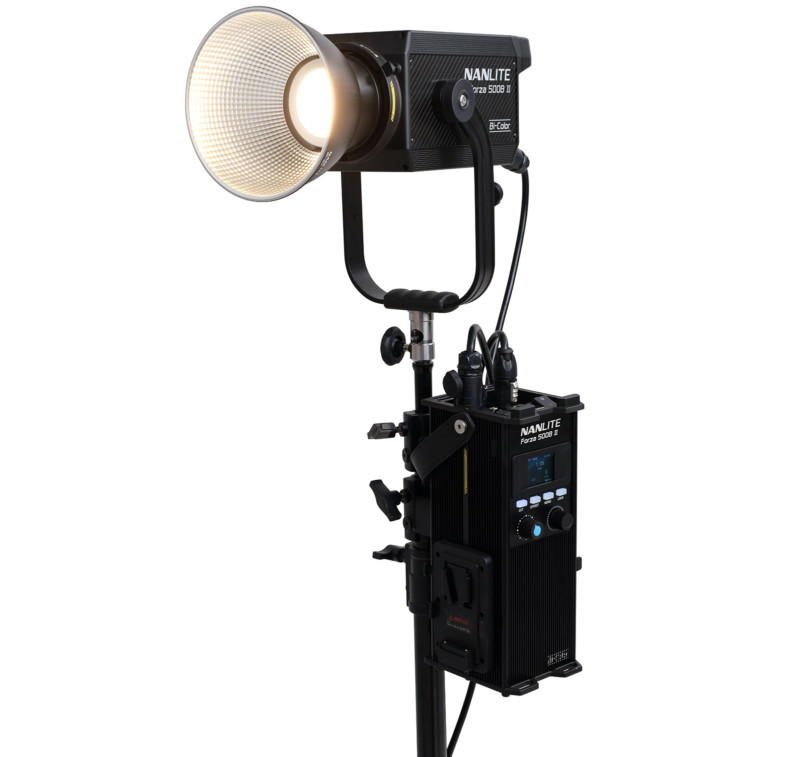 The benefits of the 500 II series are similar to the 300 II series lights and have W(RG) and WW(RG) light sources, have a light chamber to manage the extra LED colors, and can do +/- 80 green-to-magenta adjustment. Also like the 300 II series, the 500 II series have newly designed yokes, stepless locks, and a forward curve to allow for a greater tilting range when used with large modifiers. They also have umbrella mounts, runon v-mount batteries, and have protected COBs.
The 500 II series separates from the 300 II series when it comes to the ability to fine-tune dimming in 0.1% increments, a feature that used to be only found in the top-of-the-line Nanlite Forza 720 and 720B lights.
Nanlite PavoTube II 15C and 30C
The Nanlite PavoTube II lights are brighter, but keep a similar form factor to their predecessors: the 15C II is 48% brighter while the 30C II is 42% brighter. Additionally, the internal diffusion on PavoTube II 15C and 30C completely obscures the LEDs, creating a singular light source and a seamless tube of light.
The new versions also feature smaller endcaps, larger illumination surfaces, a wide green-to-magenta adjustment range of +/- 150 and an expanded CCT range of of 2,700 to 6,500K.
Nanlite PavoTube II 15C and 30C have 15 built-in effects (the last version had five) and the ability to create custom effects, as well as a CRI average of 97, TLCI of average 98, TM-30 Rf of average 94, and TM-30 Rg of average 101. Nanlite also has simplified the controls: One knob is "Adjust," the other knob is "Switch." One Button is "Mode" the other button is "Lock."
Pricing and Availability
The Nanlite Forza 60 II and 300 II series are available starting today. The Forza 60 II retails for $289, the 60B II for $319, the 300 II for $949, and the 300B II for $999. The Forza 500 II series is set to arrive in April and the 500 II will retail for $1,349 while the 500B II will sell for $1,499. Finally, the Nanlite PavoTube II 15C will be available starting today and will retail for $219, while the 30C's pricing was not available at the time of publication.