Nanlite's New Forza 150B is a Compact Bi-Color LED Spotlight
Nanlite has introduced a new bi-color LED spotlight called the Forza 150B. It offers flexible color temperature adjustments in a compact form factor and precise fan control to keep the light cool and quiet during all-day shoots.
The light is a bi-color version of the existing Forza 150 and the company says that what people most like about the Forza series is how small the fixtures are for the level of accuracy they provide. With an output of 23,130 LUX at 5600K from one meter with the attached reflector, the Forza 150B has a correlated color temperature (CCT) range of 2,700K to 6,500K and a CRI/TLCI score of 96 and 98 respectively.
"Every NANLITE product has been developed with professionals in mind," says NANLITE Managing Director Nancy Zheng, "The Forza 150B is no exception. The ultimate goal is always to make life easier for them with every new product joining our expanding lineups."
The Forza 150 is built out of sturdy metal and carbon fiber construction to make it both lightweight and robust, and it features a simple two-knob, one-button interface to keep operation and adjustments easy. With intelligent fan control, the light is able to stay cool while eliminating audio interference or any annoying hums between lighting setups.
The light also includes 12 built-in practical effects including CCT Loop, INT Loop, Flash, Pulse, Storm, TV glow, Paparazzi, candle/fire, bad bulb, fireworks, explosions, and welding. The effects are also fully adjustable for intensity, color temperature, and speed levels.
The light also has Bluetooth and 2.4Ghz wireless connectivity and can be controlled through the Nanlink App. The Forza 150B is also compatible with DMX/RDM computer systems through a 3.5mm wired connection cable.
For power, the Forza 15B can be driven by a standard AC adapter or through an optional 14.8v-26v V-mount battery grip. The hand grip provides steady power and enables a lighting technician to move the light in a fluid scene. Nanlite says that whether locked down on a light stand or running and gunning handheld, the Forza 150B promises substantial output with uniform light for use in Live streaming, interviews, and lighting on the move or in small spaces.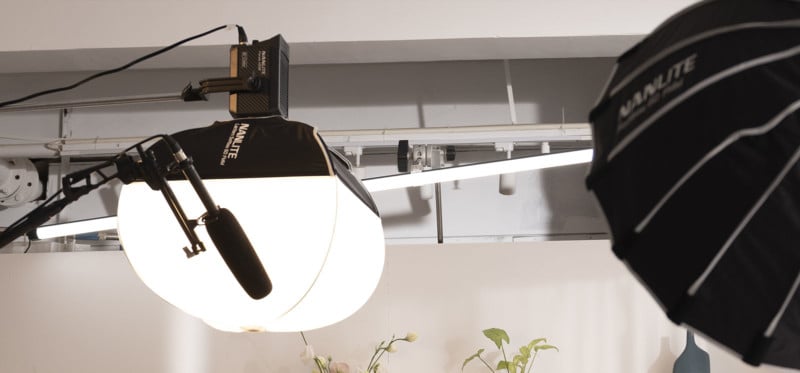 The light is also FM and Bowen's mount compatible through the included adapter.
The Nanlite Forza 150B will cost $539, but the company doesn't say when it will be available. It and other options from Nanlite can be perused on the company's website.
---
Image credits: All photos by Nanlite.