Camera Shipments Plunge to New Low as Sales Hit New High
If there was one word to describe 2022's camera sales trends so far, it would be "pivotal." When I say pivotal, I mean it to say that it seems as if a switch has been flipped and the market has turned on its head.
Earlier this year, I reported on what a transformative year 2021 was for manufacturers as production kicked back in, demand ramped up, and component shortages played havoc with delivery. It was the year that mirrorless took center stage, the DSLR continued to wane, albeit more slowly, and the integrated camera became almost a thing for the history books.
Looking back on 2021, it's important to recognize what a critical year this was for manufacturers and, to do this, we need to place it in the context of the last six years.
Come 2016, the implosion of camera shipments (and income) continued unabated, hitting a new low of 25 million units. However, within this overly pessimistic view of the industry was the darling story of the mirrorless camera, brought to market by Olympus and Panasonic in 2008 and then taken up with vigor by Sony. 2017 was a clear turning point (see the shipments below) when mirrorless matched integrated cameras by value and then DSLRs the following year. The penny finally dropped for Nikon and Canon and they rushed to market with new systems at the end of 2018.
The next few years were intended to be excitingly busy times as these new systems were filled out… and then COVID happened, essentially stalling the market for two years. In 2021, manufacturers had the opportunity to get back on track and really implement their medium-term strategies for development, which is what we are now seeing in 2022.
Headline News
So what is the headline news? The chart below shows cumulative unit shipments since 2017. Back in then, a total of 25 million units shipped, which has since imploded to a barely believable 8.4 million as of last year.
Bear in mind that the height of the market was 2010 when 121 million cameras were produced. Looking at this, it seems likely that shipments will be lower than last year and likely to be below 8 million. The 2020 figures show the impact of COVID, with a near halving of shipments however 2021 simply maintained that low level.
At face value, 2022 is looking to be no better, at a time when you might expect a "bounce back" effect. Economies have opened up and there has been a surplus of cash in the economy, leading to surging demand. The problem for manufacturers is that capacity to meet demand simply isn't there, a result of manufacturing significantly slowing down. This has been compounded by shortages in the component supply chain and — more broadly — the specter of looming stagflation: rising prices from rapid inflation and a stagnating economy.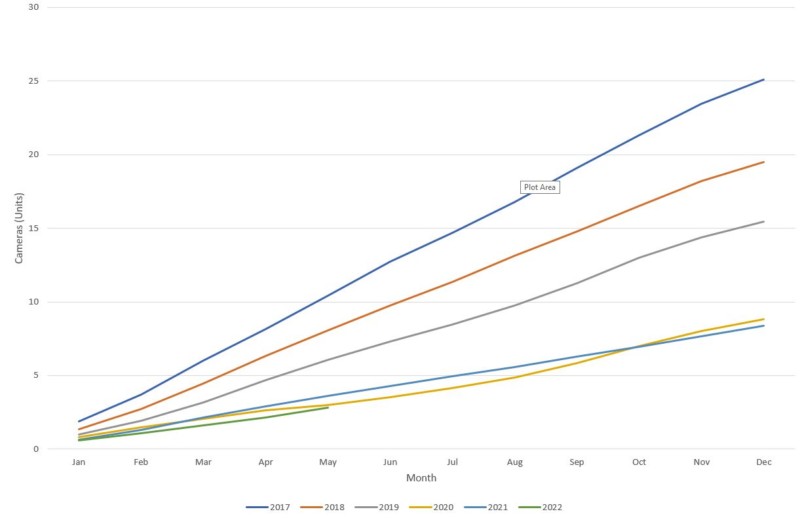 However, it's important to dig deeper into the figures, as the camera market is more than the sum of its shipments. Indeed, manufacturers ignore the smartphone camera segment entirely and, in much the same way, we need to ignore the integrated camera segment as it hides much of the detail of what is really going on.
The reason for this is clear looking at 2021: they had 36% of shipments but only 15% by value. The market is focused on DSLRs and mirrorless, however, we know that the DSLR is a diminishing market and the key question is how rapidly mirrorless is taking over.
In 2021, mirrorless shipped 37% of the units but held 66% of the value. It's clear that all new development is happening here and customers are paying top dollar, while the DSLR segment reflects older technology sold at lower prices (it had 27% of shipments last year, but only 19% by value).
The chart below reflects what has been happening so far this year and this is showing a startling change in the market. The dotted lines show the number of units shipped by segment, with all segments bumbling along in the 150,000 to 200,000 range through to March, which is where there is a dramatic change for mirrorless which ramps up to over 350,000 units by May.
However the real news is in the value of those shipments: integrated cameras and DSLRs have flatlined at around ¥5 billion (about $36 million), whereas the mirrorless segment has accelerated up to ¥50 billion (about $350 million). Yes, mirrorless in May made up 58% of unit shipments and 82% by value, on the back of 47% and 75% respectively for the year so far.
Key Takeaways
So what are the key takeaways from how the year has developed? Firstly, sales volume looks to be down again and likely below 8 million units in total.
However — and secondly — the value of those shipments is actually up and looks likely to match the pre-COVID 2019 levels, which is great news for the industry.
Thirdly, the drop in units is principally from integrated cameras and DSLRs. The latter is having no real development and it's possible that both Nikon and Canon are letting sales naturally drain away. That said, Nikon's endgame for DSLRs might well be a more rapid shuttering of production and the figures could reflect this.
Fourthly, mirrorless is where all the action is and this is changing rapidly. Not only are they representative of the majority of shipments, but all the money is in this segment. If you are not committed to mirrorless, you are not in the game. Canon, Sony, and — to a certain extent — Fujifilm, have all benefited from cornering sales. Nikon, Olympus, and Panasonic still represent the niche and Pentax remains wedded to the DSLR. By the end of the year, we should have a much better idea of how each manufacturer fits into the puzzle.
---
Image credits: Header photo by Safal Karki.