Capturing Greenland's Ilulissat Icefjord Icebergs in Sub-Zero Temps
Following numerous travel restrictions and flight cancellations, Jeroen Van Nieuwenhove finally made his dream come true and landed in Greenland to photograph its majestic floating icebergs in sub-zero temperatures.
An adventurer at heart, Belgian photographer Van Nieuwenhove has captured the beauty and might of nature around the world. Going from one extreme, like the erupting Geldingadalir volcano in Iceland, Van Nieuwenhove now set his sights on Greenland, which can see temperatures drop to -50 degrees Celsius (-58 degrees Fahrenheit) during winter.
Van Nieuwenhove had always had a fascination with the Ilulissat Icefjord, south of Greenland.
"In nature documentaries, it's one of these locations that just captivated my mind," he says "It always seemed as if it was filmed on another planet."
While planning his trip, Van Nieuwenhove had two main considerations: how to uniquely capture the location in a way that shows its vastness and scale and how to overcome the logistical hurdles of getting there and shooting in the cold.
"I have been trying to travel to Greenland for the longest time. It has been a rather elusive destination for me due to several factors among which were the constantly changing COVID-19 regulations and consequential flight cancellations," Van Nieuwenhove tells PetaPixel
"Greenland was basically on lockdown for over two years (unless you are Danish)," he adds. "Over the past two and a half years, I have tried to travel to Greenland several times without success. While I had the utmost respect and understanding for the situation, the disappointment just fueled my anticipation."
In early March, he spotted flights had resumed from Iceland to Greenland and immediately booked his tickets. Originally, he had planned to travel during summer but didn't want to wait any longer.
"When it finally looked like this attempt was going to be successful I was carefully enthusiastic," he recalls. "Only when I got onto the plane, I dared to be excited for it."
How to Shoot in Sub-Zero Temperatures
Icebergs look grand in photos and videos but seeing them, in reality, is an experience like no other.
"It's difficult to grasp the scale of something you can't really stand next to but once you pay attention to the birds, it gives you a good idea," Van Nieuwenhove says.
"Some of these icebergs are bigger than the biggest buildings in the world. It's incredible when you know that after calving off the Greenland ice sheet, these already floated 50 kilometers in distance. Some of them 'survive' for several years before the last bit melts away. The furthest traveled Greenlandic iceberg even ended up to the Azores islands less than a century ago!"
To capture the impressive views, Van Nieuwenhove was cautious about not following in the footsteps of those who have already documented the location. To go into the scene with a clear head and to capture it through his own eyes, he stayed away from accounts on social media platforms that show Ilulissat in all of its glory.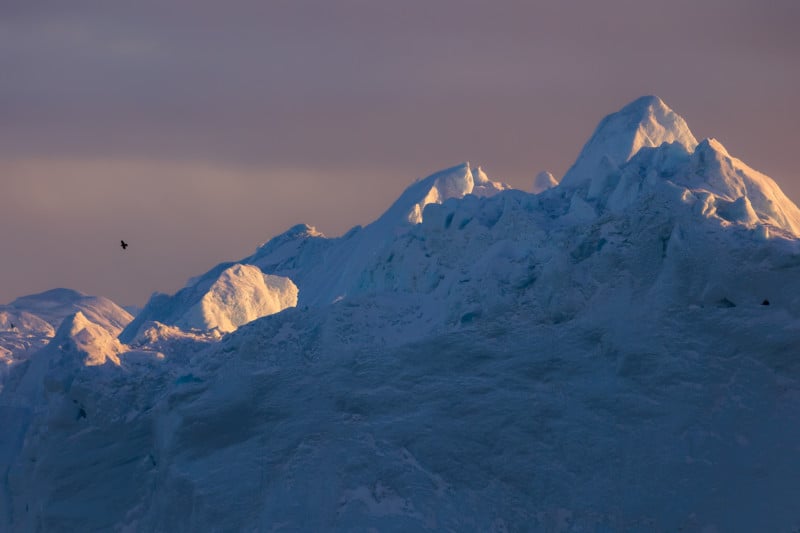 Besides the creative considerations, it's the practicalities of shooting in such extreme conditions that pose the biggest challenge for photographers.
"Being outside at -28 degrees with no shelter is not a problem unless you stop moving, which is exactly what I was doing a lot while taking photographs and flying my drone," Van Nieuwenhove explains.
"Living in Iceland, I'm used to the cold but this was next level, even for me. I decided to ask for tips on my social media and thankfully some people came back with sometimes strange but sound advice."
One of the tips he found valuable was keeping feet warm by using a plastic bag to trap the moisture and sweat so it doesn't make shoes damp on the inside. This can be done by putting on a thin sock, wearing a plastic bag over it, and putting on another thick wool sock as the last layer. It may sound weird, but to Van Nieuwenhove's surprise it worked well and kept his feet "nice and toasty."
Another tip included wearing a balaclava to protect the face and nose, and avoid frostbite, as well as wearing wool — not just as thick wool socks, thermal underwear, and an Icelandic wool sweater, called lopapeysa, but also as insoles for footwear.
"The insoles are made out of wool with an insulation foil at the bottom," he says. "That way your feet are shielded from the cold ground. I tried them before the trip and it worked like a charm! I immediately noticed a difference."
Looking After the Equipment in the Cold
Likely many photographers will be concerned about the safety of their equipment in such extreme temperatures. Luckily for Van Nieuwenhove, his gear worked fine throughout the trip. The only exception was his DJI Air 2S which gave a warning its batteries had got too cold, but he let it hover for a minute before flying away, which seemingly warmed them up. He also kept the rest of his batteries in one of his wool socks to keep them warm.
"One thing I had to watch out for and was warned about beforehand, was my breath freezing to my gear," he says. "If you weren't too careful it could freeze to the front lens element, the viewfinder, or the screen."
"It's also good to know that you should be equally careful with glasses if you wear them like I do," he continues. "Your breath, moisture, and sweat can quickly freeze to your glasses. The cold also makes it difficult to get rid of the ice."
Getting Hooked on the Vast Beauty of Greenland
In total, Van Nieuwenhove undertook three boat trips to further explore and photograph the Icefjord. Every boat excursion is fully dependent on the conditions out on the ocean.
"The second trip, in particular, was incredibly special," Van Nieuwenhove notes. "Because the wind had died down the night before, the ocean started partially freezing over by the time I left the harbor on the second tour. This meant that the surface water was part ice and part water."
"This in turn created an enormous reflective surface which meant that all the enormous icebergs were mirrored," he continues. "This whole time was amazing. Great light, great reflections, and great subjects."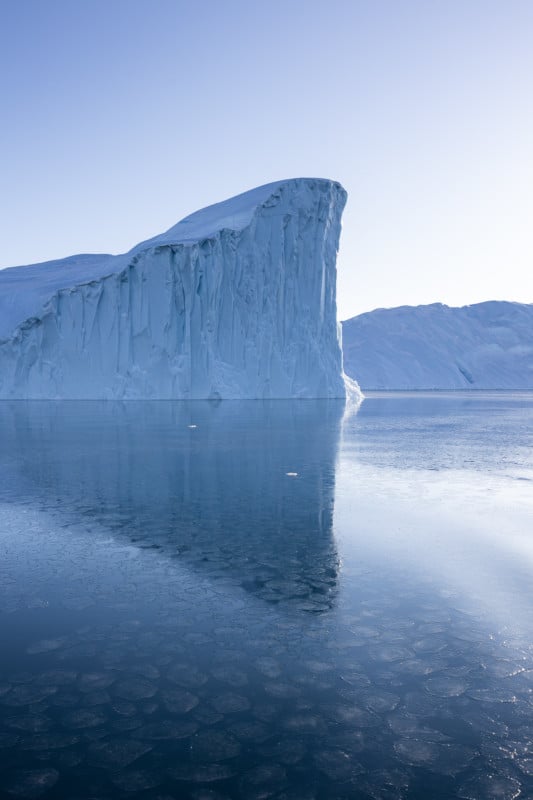 Having spent five days getting a taste of Greenland for the first time, Van Nieuwenhove is ready to see and experience more. He has already planned two more trips, both as photography workshops he will host with photographer Andy Mumford.
One will be held in the same area but during winter this time, while the other one will be a sailboat expedition discovering a whole fjord system in East Greenland during summer.
More of Van Nieuwenhove's work can be found on his website, Instagram, and YouTube Channel.
---
Image credits: Photos by Jeroen Van Nieuwenhove.