Dramatic Images and Film Document the Beauty of Iceland's Lava Flow
Iceland's erupting Geldingadalir volcano has been the subject of some exciting aerial footage and up-close images, and photographer Jeroen Van Nieuwenhove created a set of images and a short film that frames the natural event in a beautifully dramatic context.
Van Nieuwenhove, a Belgian photographer who has been living in Iceland for the last five years, tells PetaPixel that he has been eagerly awaiting a volcanic eruption for a long time.
"When the eruption started on Friday, I had left Reykjavík for a weekend of photography in the western part of the country," he says. "While prepping my gear for a night of northern lights, I received a message telling me an eruption had started. I was totally caught off-guard as I had given up hope it was going to happen. I jumped into the car, checked out of the guesthouse I had planned on staying at, and drove back to Reykjavík."
A day later, when he was able to approach the eruption safely, Van Nieuwenhove donned his gas mask and photography equipment and got as close as he could by car before making the four-hour hike over rough terrain and through rainy weather to the eruption site.
"The hike was not along a pre-made route and took me over loose lava rocks, thick moss, and extremely uneven terrain," he says. "Once I crossed the lava field, I had to hike up a steep mountain, over loose rock and thick mud. But, when I finally got on top of the mountain and saw the eruption appear in front of me, the struggle had been totally worth it. My mind was blown."
Van Nieuwenhove says he had been wanting to see an eruption in person for such a long time, the feeling of actually accomplishing that milestone was euphoric.
"It was incredibly thrilling to be so close to an eruption. Because I got there so early, it was still possible to approach the crater row from the small hill next to it. This area has now been closed off because the lava streams might close off access to it so it's not possible anymore to be that close. It was kind of unreal because you could also sometimes feel the ground tremble."
Van Nieuwenhove's excitement is palatable in his short film above, as the evocative music and beautiful shots transport you right there next to him.
"I had been researching what shots I could take for years by watching other photographers' work on volcanic eruptions," he explains. "This gave me a kind of playbook in my head. I always carry only two lenses on me. All images, aside from the drone shots, are taken on a Canon EOS R6. In this case I shot most of the lava close-ups and details with my Canon RF 100-500mm. The overview shots, and some wide-angle lava shots, were taken with a Canon 16-35mm f/2.8 L III. I also took a few panoramas with a DJI Mavic Pro 2."
Running on excitement and adrenaline, Van Nieuwenhove powered through his shot list over the course of three and a half hours before he had to make the trek back down to his car as night was falling.
"The adrenaline and the sense of accomplishment kept me going even though I was exhausted," he says.
The next day, Van Nieuwenhove hired a helicopter to take him back over the site in the air, as even though he has a drone he still wanted to see that perspective with his own eyes. In the end, the images here are from a batch of roughly 2500 images he captured over the course of his two days.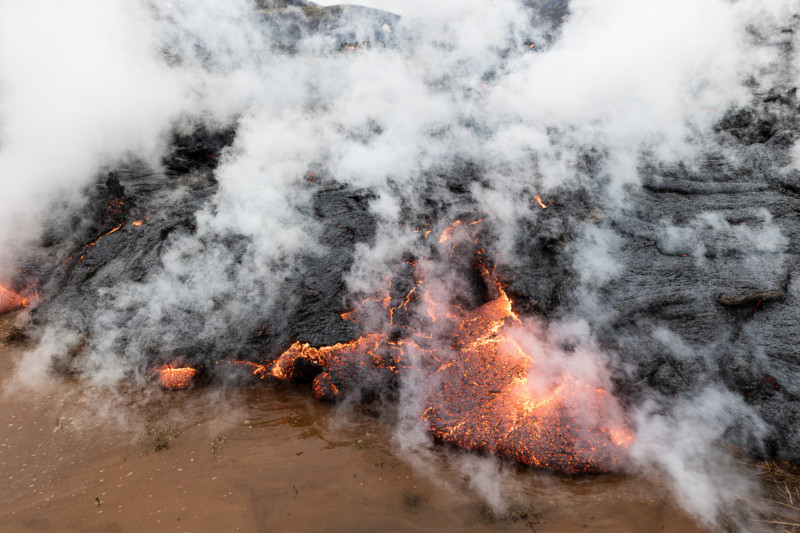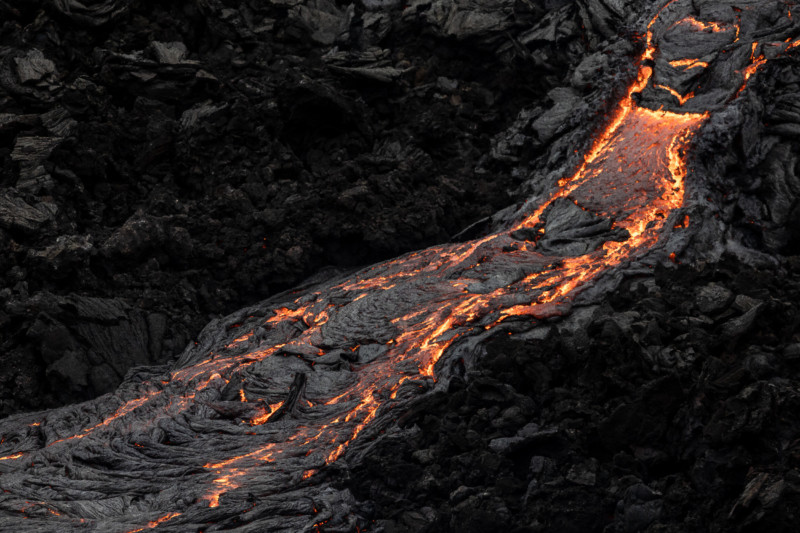 "There are no words that can fully describe what I felt after this experience (and still feel while I'm writing this). Þetta var magnað!"
For more from Jeroen Van Nieuwenhove make sure to subscribe to his YouTube Channel and follow him on Behance and Instagram.