Apple Announces the More Powerful and Efficient M2 Processor
Apple has announced the M2, the beginning of its second generation of silicon for Mac devices. The chip is slightly larger than the original M1 chip and offers a performance bump in seemingly every category.
The company says that this chip is designed to have a "power-efficient performance" focus and is built on a second-generation five-nanometer architecture with 20 billion transistors, which is 25% more than the M1 chip. The additional transistors allow the memory controller to deliver 100GB/s of unified memory bandwidth.
This SOC (system-on-a-chip) has an eight-core CPU that's made up of four high-performance cores and four high-efficiency cores. The CPU offers an 18% improvement in multi-threaded performance. It offers up to 24GB of unified memory, a 50% bump from the original M1. There is also a brand new 10 core GPU on board that Apple claims up to 35% higher graphical performance than the GPU found in the M1, and a new Neural Engine that 40% faster than the previous generation.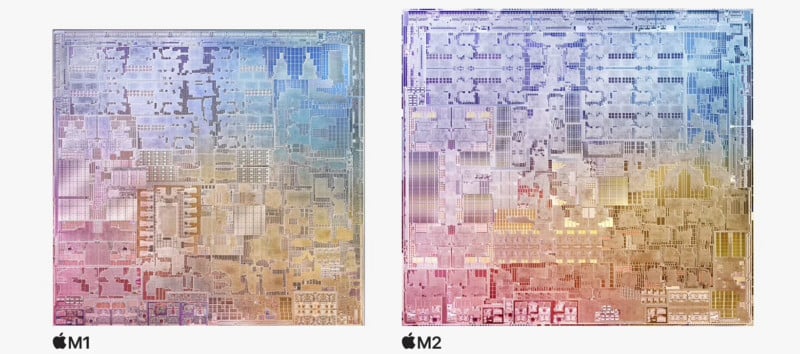 Apple claims that the M2 provides nearly twice the performance of the latest 10-core PC laptop chip at the same power level. Apple conducted this test using a "preproduction 13-inch MacBook Pro systems with Apple M2, 8-core CPU, 10-core GPU, and 16GB of RAM. Performance measured using select industry‑standard benchmarks. 10-core PC laptop chip performance data from testing Samsung Galaxy Book2 360 (NP730QED-KA1US) with Core i7-1255U and 16GB of RAM."
Apple further claims that compared to the latest 12-core PC laptop chip, the M2 attains almost 90% of the peak performance of the 12-core chip using only 25% of the power. Apple compared a 13-inch MacBook Pro system with Apple M2, 8-core CPU, 10-core GPU, and 16GB of RAM to an MSI Prestige 14Evo (A12M-011) with Core i7-1260P and 16GB of RAM for this test, using select industry‑standard benchmarks.
The new media engine is built to handle 8k h.264 HEVC and ProRes decoding. On the new M2 Macbook Pro, Apple claims three times faster ProRes decoding and encoding.
The new M2 chip also supports 6K external displays, although Apple didn't specify if this was limited to one or multiple displays. The new M2 chip will first be found in Apple's also just announced Macbook Air and Macbook Pro.
---
Image credits: All photos by Apple.