Apple Launches Major Chip Advancements: The M1 Pro and M1 Max
Apple has announced the latest generation of its in-house M1 silicon, the M1 Pro and M1 Max chips that both build on the original chip and dramatically expand their power across multiple categories.
Apple says that it scaled up the performance of the original M1 to offer greater power along with what it calls industry-leading power efficiency. The CPU in M1 Pro and M1 Max delivers up to 70% faster CPU performance than M1 and the GPU in M1 Pro is up to two times faster than M1, while M1 Max is up to four times faster than M1.
The M1 Pro and M1 Max introduce a system-on-a-chip (SoC) architecture to pro systems for the first time and feature unified memory, what Apple claims is industry-leading performance per watt, top-tier power efficiency, and increased memory and bandwidth capability. M1 Pro offers up to 200GB/s of memory bandwidth with support for up to 32GB of unified memory. M1 Max delivers up to 400GB/s of memory bandwidth — twice that of M1 Pro and nearly six times that of M1 — and support for up to 64GB of unified memory.
Multiple times Apple pointed out that the latest PC laptops top out at 16GB of graphics memory, and the new M1 Pro and Max chips significantly outpace that. Apple says that the efficient architecture of M1 Pro and M1 Max means they deliver the same level of performance whether MacBook Pro is plugged in or using the battery. M1 Pro and M1 Max also feature enhanced media engines with dedicated ProRes accelerators specifically for pro video processing.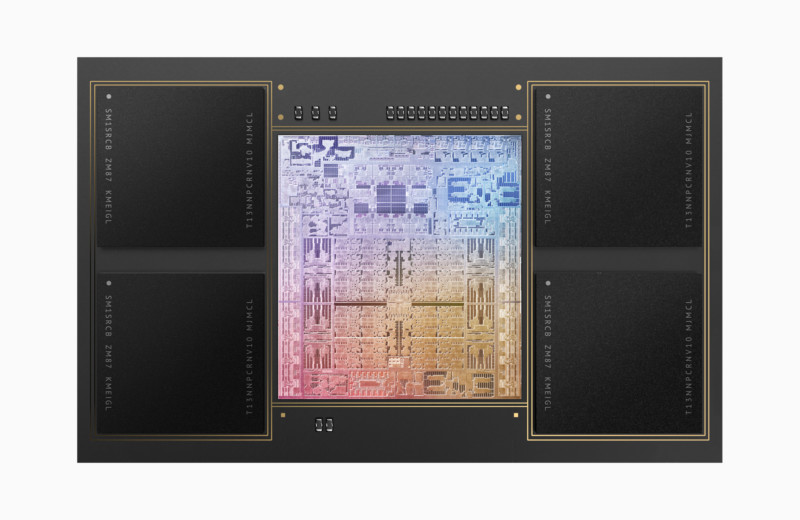 M1 Pro
M1 Pro uses a five-nanometer process technology with 33.7 billion transistors, which is more than double that of the M1. It features a new 10-core CPU, including eight high-performance cores and two high-efficiency cores and is up to 70% faster than M1. Compared with the latest 8-core PC laptop chip, M1 Pro delivers up to 1.7 times more CPU performance at the same power level and achieves the PC chip's peak performance using up to 70% less power.
M1 Pro has an up-to-16-core GPU that is up to two times faster than M1 and up to seven times faster than the integrated graphics on the latest 8-core PC laptop chip. M1 Pro can be configured with up to 32GB of fast unified memory.
M1 Max
M1 Max uses the same 10-core CPU as the M1 Pro but adds a 32-core GPU for up to four times faster graphics performance than M1. With 57 billion transistors — 70% more than M1 Pro and 3.5 times more than M1 — M1 Max is the largest chip Apple has ever built. It achieves these performance benchmarks while uses up to 40% less power: it has the performance of the highest-end GPU in the largest PC laptops while using 100 watts less power.
A Complete Pro System
Apple bills both the M1 Pro and M1 Max as designed specifically for pro workflows. They feature a 16-core Neural Engine for on-device machine learning acceleration and improved camera performance, a new display engine that drives multiple external displays, additional integrated Thunderbolt 4 controllers for even more I/O bandwidth, Apple's custom image signal processor, and Apple's Secure Enclave.
"The Mac is now one year into its two-year transition to Apple silicon, and M1 Pro and M1 Max represent another huge step forward," Apple says. "These are the most powerful and capable chips Apple has ever created, and together with M1, they form a family of chips that lead the industry in performance, custom technologies, and power efficiency."