Rotolight AEOS 2 LED Review: A Colorful and Easy to Use Hybrid Light
Rotolight, an award-winning LED lighting company based in the UK, has recently released the $1,399 AEOS 2, a circular LED that can be used as a constant video light as well as a strobe for still work and has zero recycle time. As an added bonus, the light features a series of built-in filters and gels that allow users to create nearly any look and mood imaginable and a mobile app for controlling and changing settings when the lights are in awkward and precarious positions.
According to the company, the AEOS 2 is a significant power upgrade from its predecessor that offers a versatile and lightweight lighting solution for both video and photo in the studio and on location with battery power. This version does continuous lighting for video and can also work as a strobe, with support for even high-speed sync with 16.7 million colors to play with.
Rotolight has said the UI for the menus has gotten a complete overhaul which makes it much more streamlined and easy to use (which I can confirm) including a full-color touch screen allowing users to make quick and easy adjustments instead of fiddling with the (still available) dials and buttons on the back of the light.
I think what impressed me the most when I laid eyes on the AEOS 2 for the first time was the insane amount of color (both hue and saturation levels), digital filters (2,500), special effects, and temperature options for creative lighting that it offers. This light even has a built-in fade option for brightening and reducing the light, a "lightning" mode, and a full strobe light effect complete with frequency and intensity adjustments. Honestly, it is probably faster to discuss the things the light cannot do.
While there are a lot of good LED lights on the market for photo and video at the "prosumer" level, there are only a few that are truly great, and the AEOS 2 is among that group. This system packs a plethora of advanced and professional features into an affordable and portable package.
As a note, the mobile app was not available for me to test and review during the time I had these lights, however, based on how easy and fast the menu was on the lights themselves, if the app works as advertised I can see it being a great addition to the workflow.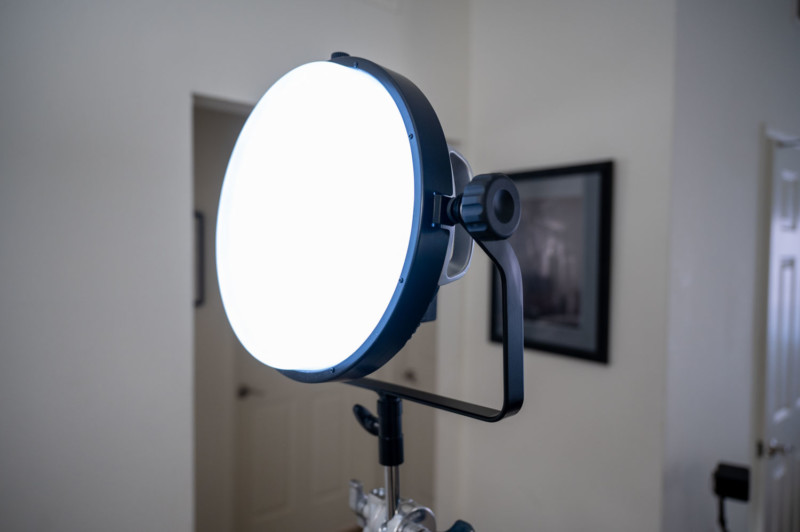 Design and Build Quality
The AEOS 2 LED has a solid and high-quality feel to its construction. At first blush, I got the impression it was something that I would see on a movie or TV set, and after using it for a while, I am doubling down on that. Within just a few seconds out of the box, I was able to navigate through the menus to find all the settings I wanted (and more) and was able to quickly find and adjust the color and brightness settings to get a good feel for the light. The touch screen is bright and responsive while the power and control buttons and knobs are durable and equally responsive.
The 3.1-pound (1.4kg) (or 4.4 pounds with the attached yoke) light itself feels quite durable. While I wouldn't throw any piece of gear around carelessly, the AEOS 2 seems solid enough that it could withstand a few bumps and drops through its lifespan without ill effect. There is a set of aluminum "grab handles" on both sides of the rear of the light which make it easy to use hand-held as well as serve to allow for precise adjustments when it is mounted on a light stand or boom. The light stand system is attached to a "yoke" setup with tension knobs on either side for locking the light in place or loosening it up to make it easy to pivot. With the battery detached, the light measures 11.5 by 3.14-inches (29.5cm by 8cm) making it one of the more portable lights of its power on the market.
If you decide to use the light with the 24V 150W Li-ion rechargeable battery, it does add a bit more weight, but the battery itself is well secured via a V-lock system and I wasn't concerned about it accidentally falling off. The light does have available modifiers, but the version I had just had the supplied frosted diffuser dome which was more than adequate for my testing.
Another interesting design feature of the AEOS 2 light is the four 1/4-20-inch mounting points along the three, six, nine, and 12 o'clock positions on the outer rim of the light. These provide a variety of ways to mount the light and accessories together for a plethora of creative solutions.
Battery life was impressive. The AEOS 2 lasted about an hour at full power in constant light mode, but it didn't do so quietly. I actually was shocked by how loud the AEOS 2 cooling fans are. Using an Apple watch to measure the decibel levels immediately next to both lights, it registered 60 decibels. Standing approximately 10 feet away, the ambient room level was registering at about 45 decibels.
Basically, it is loud; much louder than I would have expected and video shooters should be aware that if the AEOS 2 is used at max power, your room noise is going to be considerable. It's loud enough that I don't know that I would recommend it for video purposes. It is also worth noting that the AEOS 2 also gets pretty hot during use. After an hour, it had a surface temperature of over 100 degrees.
Features/Settings
The AEOS 2 features a full bank of RGBWW (Red, Green, Blue, White, and Warm White) lamps that allow for a range of 16.7 million colors in a package that has a 50-degree beam angle. The settings and colors are available through a six-item menu on the back of the light where you can find the correlated color temperature (CCT) mode for adjustments in Kelvin, HSI (Hue, Saturation, and Intensity), Gels (where you can access over 2,500 digital filter effects), Flash (for controlling flash power and speeds/duration), Special Effects, and finally the system settings where you can control and adjust settings like the WiFi and screen brightness. You can make adjustments to any of these settings using the touch screen directly or through using the two red dials below the screen.
The CCT mode allows for direct adjustments from 3,000 to 10,000 Kelvin, which lets you match pretty much any ambient and existing light source from sunlight to light bulbs with ease. Dimming can be done in 0.5% increments all the way down to 1%. The HSI mode allows you to adjust hue, saturation, and intensity independently through the use of the mobile app (which, as mentioned I did not get a chance to test), or the touch screen and control buttons. You can select from the 2,500 filters in the Filters menu that actually do replicate the colors very accurately — I actually compared these colors with some official Lee Filter gels I have and they were spot on.
The White Balance range adjusts from 3,000 to 10,000K, and the company says the light registers a maximum 11,500 Lux in continuous mode and 17,500 Lux in Strobe/flash mode (at three feet). Controlling the flash mode can be done via the app, or by using an Elinchrom Skyport trigger (available in Canon, Nikon, Sony, Fujifilm, and Olympus/Panasonic options). The light's technical specification sheet claims an aperture value at ISO 100/200/400 in continuous mode: At three feet: f/13, f/18, f/22 and at nine feet: f/3.5, f/4.5, f/ 6.3 with color accuracy of TLCI: 99. From what I tested, these are pretty accurate. I have used several LED strobes over the years and I honestly was not expecting the level of power that this light was capable of putting out. According to Rotolight, the Aeos 2 is 140% more powerful in continuous mode than its predecessor, and up to three stops more powerful in flash mode.
The high-speed sync (HSS) features of this light are capable of up to 1/8000 second with no recycle time, making it a very useful system in nearly any action situation and even firing in high-speed burst modes. Another few features that are available (but I didn't get to test fully) are Bluetooth and WiFi (for the mobile apps) that also allow for connecting and controlling multiple lights together.
On top of this, there are some really fun SFX options available for video that include lightning, strobe, fade, cycle, fire, TV, gunshot, police, neon, film, weld, and paparazzi. All of these effects would make for some amazing video setups, especially when multiple lights are set up and connected together for a truly surrounded experience, but the aforementioned fan noise gives me some pause.
Light Quality and Performance
I feel like this particular LED is one of the easiest to use and most pleasing to the eye for both video and flash photography. Using both a light meter, in-camera, and post-production testing, the white balance and color accuracy from the screen to photo is very very accurate with my variance being within 100 to 200-degrees Kelvin. In flash mode, my testing resulted in a flash power of about Gn 7 (at ISO 100) if I were to compare it to a Speedlight, however, the AEOS 2 does not have any recycle time and is a much softer and more even light than one would get using a traditional on-camera-flash.
Pairing it with the Rotolight NEO 3, which is also new and updated similarly, I was able to create some interesting combinations. While the power doesn't result in what I would call super-bright light (on battery mode at least), the system is still powerful enough to work in the sun as a key light as well as a fill.
What I was particularly fond of was the softness of the light using nothing but the included diffuser cover. The spread of the LED was even enough that there was no "hot spot" on my subjects and the falloff was pretty smooth even without the use of flags, scrims, or additional modifiers to control the spread.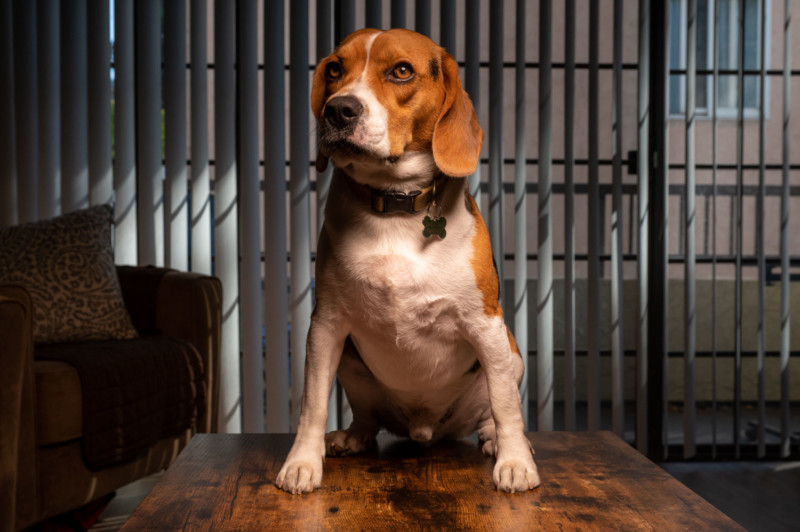 A Fun Light That Supports Creativity
The AEOS 2 offers a solid light output in both constant and flash modes for most everyday photo and video work, featuring a very durable and portable design that ensures easy storage and travel access. While there are other specialized lights that can offer more power or more specific features, this panel is actually a useful jack-of-all-trades that I really appreciate. The full color touchscreen makes all the tools and settings easily and quickly accessible, and the mobile app will make these tools even easier to access and control across multiple units once it is available in the coming weeks.
The only thing keeping the system down are the high levels of noise that are generated from the cooling fans and a very minor inconsistency with the white balance. While I am not sure what can be done about the fan short of using a different supplier for that part, it is possible a future firmware update can alleviate any of the accuracy issues users may encounter.
If you can look past these two issues, there is a lot to like here. After spending some time diving back into product photography over the pandemic, I can see a massive value in having these lights to do product work at home, let alone the value in using them for video projects and colorful creative portraits.
Are There Alternatives?
Technically speaking there are actually quite a few alternatives available for the $1,399 AEOS 2, however, none of the competition seems to be able to match the power and color options per dollar of this light. Similar products include the $2,250 Litepanel Gemini RGBWW LED, the $1,699 Aputure Nova P300C LED soft light panel, the $767 Stella Pro Reflex S (which does not have any color options), and the $3,999 Rotolight Titan X1 Cinematic. While these lights all do similar things, the AEOS 2 seems to provide the most power, features, and functions per dollar compared to the rest. Granted the more expensive lights can do amazing things, but that is likely not in the budget for most general prosumer shooters.
Should You Buy It?
Yes. If you are a photographer that values creative tools and wants to experiment with vibrant and colorful work, the AEOS 2 is well worth the investment.