Rotolight's New Parabolic Softboxes are a Bit Confusing
Rotolight has announced a set of new parabolic softbox umbrellas for the AEOS, NEO, or any other similarly sized LED with the promise of its ability to produce high-quality soft light.
The company says the 16-sided universal parabolic softbox umbrellas — either the R-90 and R-120 — are made from a durable, highly reflective material that is ideal for both in-studio and on-location environments.
"Constructed of tough, long-lasting fabric, the R90 and R120 are designed to last, featuring high quality pocketed steel tension rods for long operational life and simple," Rotolight says.
The company also claims that these new softboxes can "produce a soft light output with a crisp edge that lends dimension and focussed detail to the subject while producing natural-looking catchlights."
Both versions of the parabolic softboxes come with a removable one-stop outer and a 0.5-stop inner baffle diffusion panels that can be combined or used individually to varying levels of diffusion to the light. The system also includes a 40-degree fabric honeycomb grid for added modification and control. The company also says that the diffuser panels are made from advanced diffuser materials to offer minimal pass-through light loss.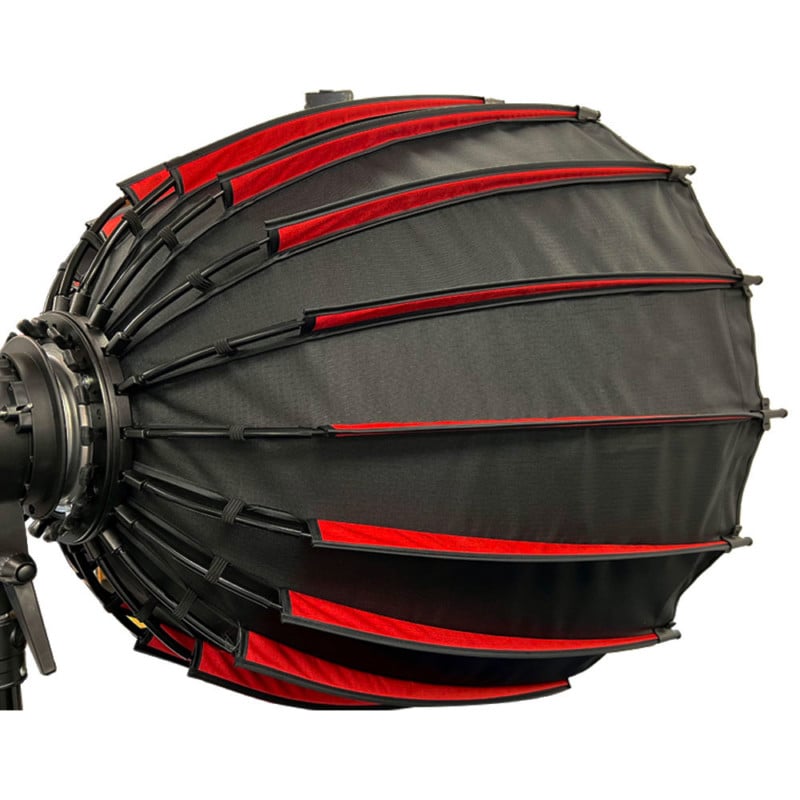 The new modifier employs a quick-release system that allows users to set the softbox up or pack it away very quickly, which the company positions as providing extra time on set during shoots.
The system uses Rotolight's new Universal Bowens/Elinchrom adaptor that allows users to mount any model of Rotolight AEOS or NEO (or alternatively any LED light) as well as to be used as a modifier for any other studio flash or speedlight leveraging the Bowens mount.
The new softboxes come with a storage bag, inner and outer layer diffusion panels, a fabric honeycomb grid, and a one-year warranty. The modifiers are available to pre-order now with shipping expected to begin in July of 2022. Prices start at $269.99 for the R90 and $299.99 for the R120.
Not Shown to Work Like Traditional Parabolics
What is particularly confusing about this new system is how it appears to not take advantage of the benefits of a parabolic softbox design at all.
Looking at Rotolight's marketing materials and product photos, the system seems to ignore how a parabolic should function. While they certainly can be set up and broken down quickly thanks to the design, the physics of why parabolics are enjoyed by professionals seem to be ignored.
In 2020, Karl Taylor explained how a true parabolic reflector has the light facing inwards towards the back of the dome and is on a rod to allow photographers to adjust how the light is focused. That functionality does not seem present in any of Rotolight's imagery and the LED is instead shown facing forward and out the front. The light will still be softened by the front baffle, but the main reason for the parabolic shape is lost.
PetaPixel reached out to Rotolight for an explanation but the company did not respond ahead of publication.