OM Digital Has Its First Camera, But Does it Have a Future?
It's the dawn of a new era for OM Digital Solutions (OMDS) — Olympus as was — as it forges a new beginning, with a new camera, bearing the new name, and the last to be emblazoned with the Olympus logo. Is this the start of a golden age for Micro Four Thirds (MFT) or simply the beginning of the end for both OMDS and MFT?

From Film to DSLRs to Mirrorless
It's no secret that the camera market has been in turmoil for over a decade with slumping sales with its two leading proponents (Canon and Nikon) milking the DSLR format for all it was worth while trying to bend the industry away from its mirrorless future.
In truth, the move to digital caused far more disruption than the golden entrance of the smartphone ever did, and while digital camera shipments exploded to a startling 120 million units by 2010, these were clustered around those manufacturers that had the capability and capacity to produce them.
Along the way fell Minolta (or rather off-loaded to Sony), Casio, Kodak, Bronica, Samsung, Konica, and Contax to name but a few. What's interesting about those that survived is that they were either part of much larger corporations (Fuji, Olympus, Sony, Panasonic, and Pentax) or had a significant market share (Canon and Nikon), but this also reflected that the customer base had flipped from mass-market back to its pre-1990s niche.
The former customers now belonged to the smartphone and it was implicit upon manufacturers to work out what their market now was and what it wanted. Spoiler: it wasn't the DSLR.
The irony is that, at the peak of the market, Olympus built upon its Four Thirds heritage and, with Panasonic, forged the mirrorless future through Micro Four Thirds. While arguably the direct descendant of the DSLR (and this is where Olympus derived it from), the shooting style is more like the step-brother of the rangefinder, a furrow that Leica has consistently plowed.
The brilliant simplicity of this approach saw all manufacturers follow suit and release their own mirrorless systems each with their own spin. Olympus, Panasonic, Sony, Fuji, and Leica all understood that new systems needed to replace what had gone before, while those most invested in the DSLR (Canon, Nikon, and Pentax) sought to use mirrorless to augment their current offerings. Unsurprisingly, this latter approach singularly failed and both Nikon and Pentax jettisoned their offerings (the 1 Series and K mount, respectively), with Canon likely to follow suit with its EOS M line.
Olympus Built Its Digital Future from Scratch
What's been brilliant about Olympus' strategic development of its cameras is that it has remained singularly focused for nearly 20 years since the release of the E-1 DSLR in 2003. The E-1 was foreshadowed by a series of poor premium products — starting with the disastrous auto-focus on the OM-707 — that meant the iconic 35mm OM range never transitioned to digital.
Olympus started from scratch and, with Kodak, built the foundations for a new future. This was perhaps a counter-intuitive move at a time when the likes of Nikon, Canon, and Pentax were all converting their 35mm systems to digital, but Olympus saw an opportunity and genuinely did something different.

With a 2.0x crop factor (30% less area than APS-C), Four Thirds has distinct advantages over larger sensor-bearing cameras in the form of reach and readout speed; the smaller sensor often means lower cost and a smaller, lighter, body.
Olympus's target market was the pro news/sports shooter and the E-1 was built to a high specification with dust and weather sealing alongside the first-ever dust removal system (Supersonic Wave Filter).
The Micro Four Thirds format, launched in 2008, took this format and removed the mirror box.
A Micro Four Thirds Future?
So why aren't we all shooting Micro Four Thirds? That is probably a question Olympus has repeatedly asked itself, particularly in light of Sony's success with its mirrorless models. One of the problems with the E-1 was its uncompetitive continuous shooting speeds (when compared to Nikon and Canon) and auto-focus, but things had improved by the time they released their first MFT in the form of the Pen E-P1 (June 2009), although they were arguably trumped by Panasonic with the Lumix G1 (November 2008).
Unfortunately for Olympus, just as it got going it was hit by the infamous accounting scandal that highlighted $1.5 billion of investments losses, kickbacks, and bribes; three-quarters of the company's valuation was wiped as a result and it was hit with a ~$650 million fine in the United States. This was then compounded by the collapse of the camera industry and, particularly, compact cameras which it was significantly invested in.
Olympus, however, was still able to produce ground-breaking cameras, and the OM-D E-M5 was an early highlight showing that mirrorless could be a genuine replacement for the DSLR. The OM-D E-M1 line represents a testament to what can be achieved with MFT, although the OM-D E-M1X was a perplexing foray into the world of the pro shooter which is dominated by Nikon and Canon. It might have won plaudits for the engineering but I suspect it sold in very low numbers.
With the release of the new OM Digital OM-1, the question is whether OMDS can build upon a solid heritage of excellent cameras and tempt photographers into the MFT fold.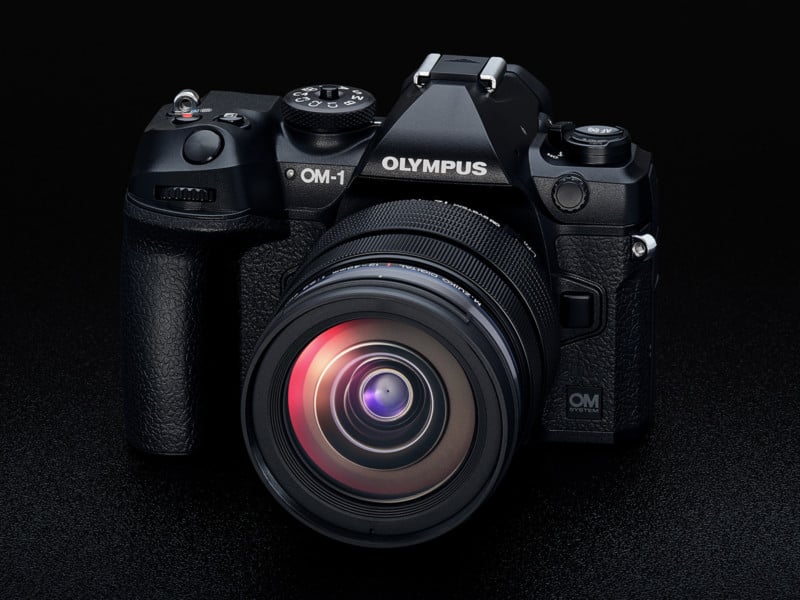 Perhaps the easiest starting point to answering this question is with the camera itself; OMDS has undoubtedly produced an excellent camera and another potentially class-leading product. And thankfully they have canned the overly verbose and confusingly acronym-laden model numbers of old; gone is the OM-D E-M1 Mark IV, replaced with OM-1. Refreshingly simple and a throw-back to the original OM-1 that was released 50 years ago.
OMDS should be applauded for showcasing the new Sony quad-pixel AF stacked sensor and eschewing resolution gains for AF performance and downstream processing of those 20-megapixel images, which allows it to shoot at 120 fps in raw and blackout-free at 50 fps. The body has been tweaked, image stabilization has been improved to 8 stops, there is a high IP53 weatherproof rating, and the menus have been refreshed.
One area that Olympus/OMDS has forged ahead is computational photography, developing features that makes photographers of other systems green with envy: how about handheld high-res, live ND, and live composite?
Is this enough?
It's All in the Market Share
It's one thing having a great camera, it's quite another to have a full product range that you are selling in large quantities (just ask Nikon). The proof is in the sales pudding, so how is Olympus actually doing?
Market share data is notoriously difficult to get ahold of, but we can look at the BCN Awards (which only covers Japan) and scale it out to the global market. Olympus has been happily bouncing along at 20% to 30% market share from 2011 when the mirrorless category was introduced, but this dropped to 12.7% in 2021.
Sony and Canon increased their share by a combined 9.1%, while Olympus dropped by 10.7% which means it must also be losing share to (principally) Fuji and/or Nikon. Nikon could well be losing market share as well, which suggests a significant downturn in Olympus's fortunes.
With Canon and Nikon forecasting an expansion in the mirrorless sector in 2022, there is everything to play for. It's quite possible that the instability of the move to OMDS, along with the relatively small product range, has significantly hit OMDS. In this sense, it is not so much market share as total units shipped that's important; OMDS needs to maintain its production. It had a 27.7% BCN market share in 2018, which might represent shipments of some 1.15 million units globally; that potentially dropped to 390,000 units last year.
Given the pivot of the global market to mirrorless — and the onslaught from Sony, Canon, and Nikon — those heydays seem likely gone, but there is very much a future, in a similar vein to Fuji, if it can fill a niche for photographers and supply what they want. The OM-1 is a great first step on that journey, although it is likely that this was already in development before the Imaging Division was sold.
OMDS's product roadmap and release schedule will be a fascinating one to watch: can the company deliver? I am encouraged by the OM-1 that this can happen.
---
Image credits: Header illustration licensed from Depositphotos