Instax Mini Evo Review: Instant Film Fun Meets Bad Digital Camera
What makes instant film fun to use decades after its peak in popularity? I'd wager it's the same things that made it fun back in the day: not overthinking things and staying in the moment while also creating unique-looking prints that convey those fleeting moments so perfectly. The Fujifilm Instax Mini Evo takes a different approach.
Build Quality and Design
Measuring in at 4.8 by 3.4 by 1.4 inches (122.9 x 87 x 36 millimeters) and weighing 10 ounces (285 grams), the form factor enables the Instax Mini Evo to be quite easily carried anywhere. The lens only protrudes from the camera body about a quarter of an inch which further benefits the portability and is slim enough to easily slide into a regular-sized bag or purse.
The exterior of the Instax Mini Evo is a mix of plastic as well as leather-esque coverings on the handling areas. The silver and black version I am reviewing has a nice retro look to it, especially from the front and top. On the backside, the three-inch LCD display helps to give away its true age.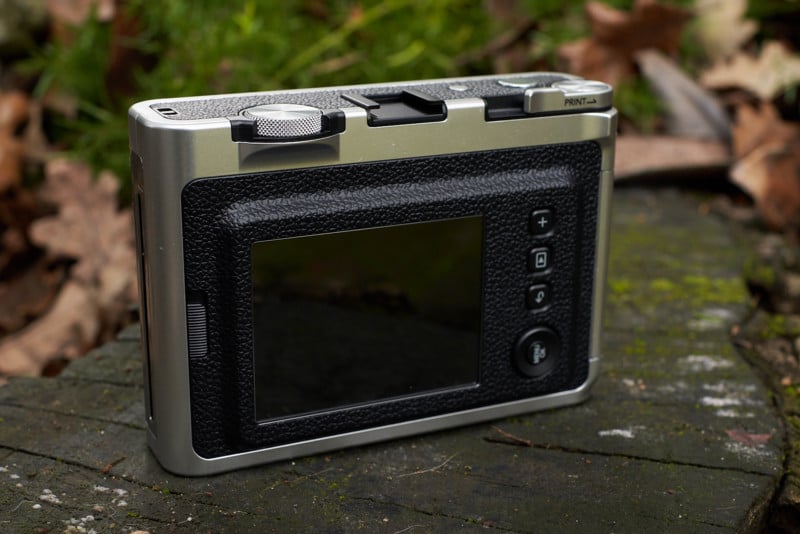 Common sense will prevail as far as durability. It's obviously not going to stand up to rough use and won't withstand a bunch of weight on it or a foray into a rainstorm, and I think when you hold it in your hands that much will be obvious.
The hybrid camera has a total of 15 buttons and dials to use (including each direction of the D-pad) which ups the ante on figuring out how to operate the camera. Six of these controls are labeled, but I did find myself wishing even more or all of them were as such.
What can be confusing about the design is that it feels like Fujifilm made it look like a retro camera first, then assigned the functions later. For example, the thing that looks like a film advance lever is actually how to print a photo. The large dial on top is not for shutter speed, it's for changing the digital filter. The protruding 28mm f/2 lens can be turned not for adjusting focus or aperture, but to change the digital lens type. None of it feels particularly intuitive.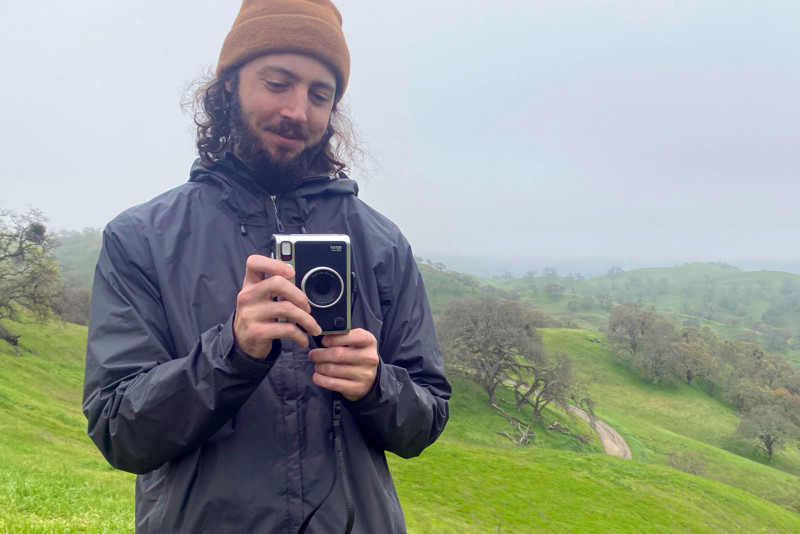 Adding to the awkward adjustment period is how the base design mostly looks like it's a standard landscape-orientation camera — there's even a cold-shoe mount at the "top" — when in fact the labeled buttons and LCD interface is all in portrait orientation (placing the cold shoe on the right side when held "correctly"). The camera's vertical orientation correlates with the 2×3-inch prints that come out the side (top?) of the camera. Shooting this way produces a printed image that is 2.5 inches tall and about 1.75 inches wide with thin borders on the sides, a medium border on top, and a large border on the bottom. If you did print a landscape-orientation photo, it does look a little funny with the uneven borders on the sides.
Image Quality
Talking about the image files that the Instax Mini Evo produces involves coming out and saying what everyone is probably thinking. Yes, compared to modern cameras on smartphones or even beginner DSLRs, I declare these photos to be very poor quality. However, I do have to acknowledge that good image quality isn't necessarily the point of the device and if there are quirks, they may even be a desire for it. How much you appreciate the Mini Evo is going to be directly connected to how well you are sold on the conceptual side of it rather than its image quality in comparison to anything else.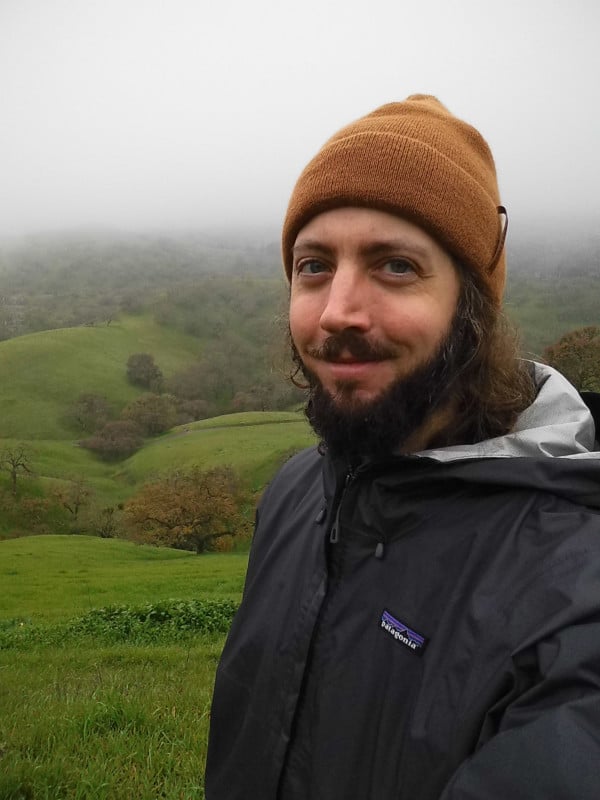 The Instax Mini Evo captures 4.9-megapixel photos (2560 x 1920 pixels) with its 1/5-inch CMOS sensor. The camera tries to make up for the lack of dynamic range and fine detail by over-sharpening photos and punching the contrast. These issues can be exacerbated with some of the filters offered, such as Vivid and Retro. That said, anyone that has printed photos before knows that digital files on a computer that looks overdone can actually look quite nice when put to paper, or in this case instant film. I believe this is the case with the Mini Evo as the low print resolution doesn't really allow for anything to be "sharp" and high contrast only helps define objects in such small prints.
The 10 digital filters and 10 lens effects can be combined for a total of 100 unique looks. Unfortunately, many of the effects are not very pleasing. Lens effects like Vignette, Soft Focus, and Blur are over the top in strength. The Fisheye effect misses the point of a real fisheye lens and actually zooms in the photo more than normal to create a bad barrel distortion look rather than having any semblance of an ultra-wide fisheye view. Other than the regular lens, there's only one I kept going back to which was Half Frame. This lens effect setting allows for two consecutively captured photos to go onto one print.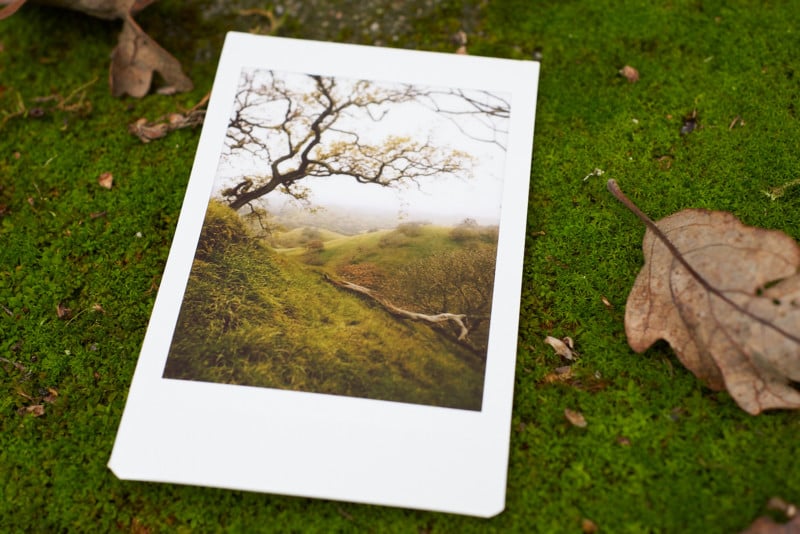 It's more of the same story with the digital filters. Other than the normal setting, the ones I thought weren't totally junk were Retro, the Blue, Red, and Yellow color filters, and possibly Monochrome. I have major doubts that the people at Fujifilm that develop the incredible film simulations for X-series cameras have anything to do with the Instax line, and that's a shame because their input is desperately needed.
A Camera That Prints or a Printer That Shoots?
In the end, what I like most about the Instax Mini Evo is the dead-simple printing experience. The camera itself is nothing special other than maybe serving as a conversation starter. The good news is that even if I get tired of carrying around a $200 camera that's worse than any smartphone made in the past decade that's already always with me, there's an iOS and Android app that connects to the Mini Evo. That way I can take photos with my phone and print them instantly through the camera at any time.
I get the benefits of decent filters and photo editing on my iPhone, plus the sharing aspect of Instax prints on the go. But if this is what the Mini Evo is destined to become for buyers, why not just get a little Instax printer in the first place?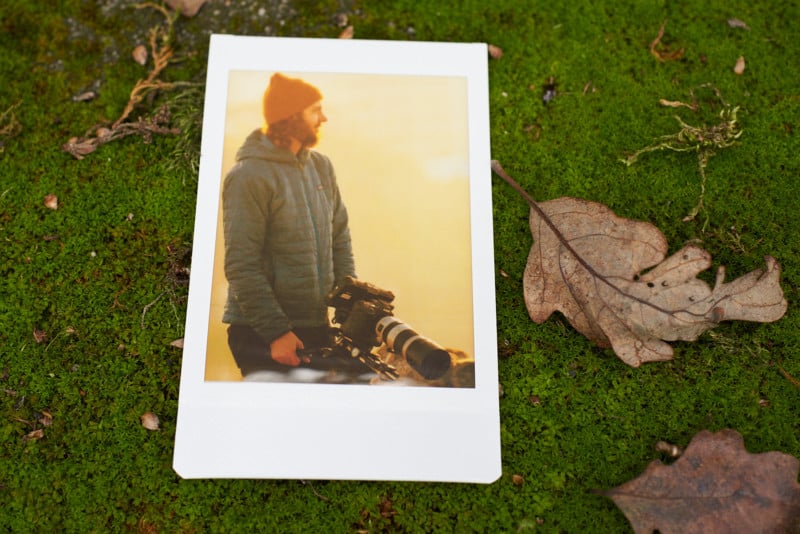 Are There Alternatives?
Fujifilm has a variety of Instax-branded instant cameras that take the same film as the Mini Evo. The Instax Mini 11, for example, is a low end option that is much less expensive at $70 but is a purely analog experience with barebones functionality. To me, this is the right approach for a modern instant film camera. Above that, for $100 there is the Mini 40 which looks to share everything in common with Mini 11 but with a more "adult" look. The Instax Mini 70 ups the price from there to $140 and adds focusing ranges (macro, normal, landscape), a self-timer, a faster shutter speed, a tripod mount, and better battery life.
Then there's the $160 Instax Hybrid Mini LiPlay that adds the part-digital, part-analog feature set also found in the Mini Evo. It has an LCD on the back for composing photos and for setting options in the digital menu. It can be connected to a smartphone as either a remote trigger for the Instax camera or to use as a printer for photos on your phone. It does appear to lack the 10 filters and 10 lenses found in-camera on the Mini Evo.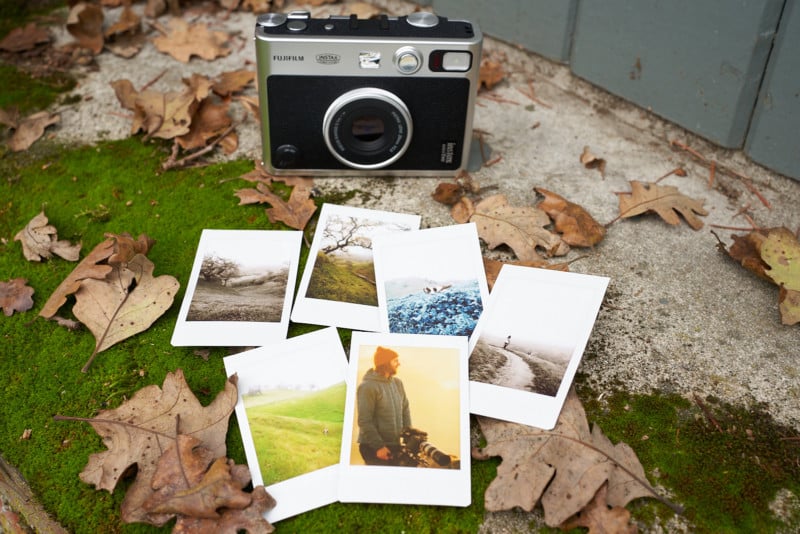 Overall, the new Mini Evo has the most advanced capabilities out of all previous models. That's problematic in my eyes because it seems the extra that it costs is going toward things that aren't helping it be meaningfully better.
Should You Buy It?
No. The digital camera aspect of the Instax Mini Evo isn't interesting enough on any level, whether that be sheer image quality or just really well-developed effects that make it look believably analog. The printing is fun, but then why not just get an Instax printer? That said, if your reaction to all of this is that I "just don't get it," then you are exactly the type of buyer Fujifilm is after.