Fujifilm Unveils the Instax Mini Evo Hybrid Instant Camera
Fujifilm has announced the Instax Mini Evo Hybrid instant camera that combines instant camera functionality with digital image technology. It features 10 lens modes and 10 filter options to offer 100 different photo combinations.
The company says that the Mini Evo was designed to give photographers the flexibility to choose which images to instantly print, which to share, and which to store for later. These options were integrated into the classic analog-style camera body of Instax cameras and results in what Fujifilm calls a "premium experience" for the photographer that "transcends standard instant photography."
When paired with Instax Mini film, the Mini Evo can create prints directly from the camera. Images can also be sent to a smartphone camera roll using the Instax Mini Evo Smartphone app.
The new camera features a 28mm f/2 lens, but the company wasn't clear on the size of the digital sensor inside the device. Additionaly, the company says that it comes with "10 integrated lenses," but notes those are lens effect modes, not changes to the actual optics. These combine with 10 filter options to offer 100 different combinations of image effects.
It also features a three-inch rear LCD screen to allow for the selection of images, the addition of frames, editing, printing, and adjustment of settings.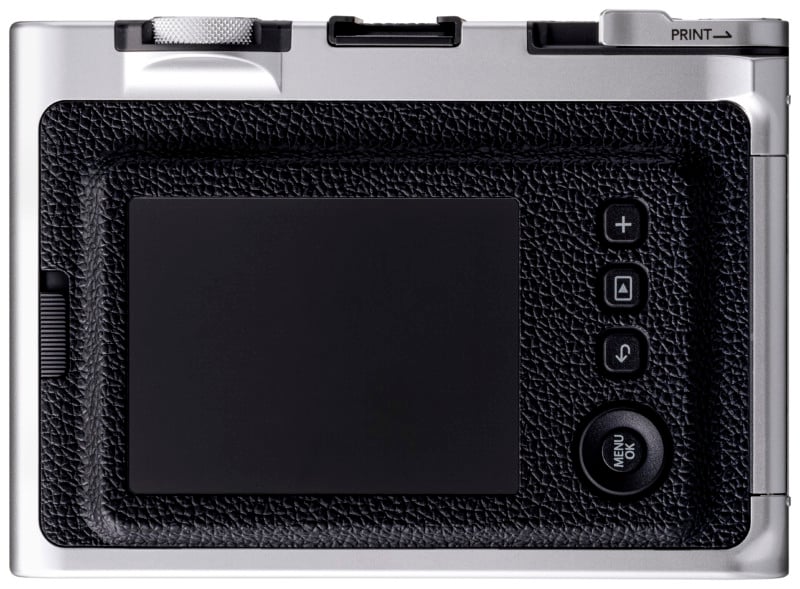 The Mini Evo also has a built-in battery that can print up to 100 photos per charge, depending on the specific use case. While not specified, the camera likely needs to be plugged in to charge via USB. There is also a micro SD card slot that allows photographers to store images for later, just like a traditional digital camera. The front of the camera also features a mirror to assist during selfies.
Fujifilm is also launching a new Instax Mini Stone Gray instant film, which has a new contrast compared to the typical white-bordered look. The company says that it better provides "eye-catching contrast" against vividly printed images. The film will be available in a single pack with 10 exposures for $15.
The Instax Mini Evo will be available in black and silver finishes for $200 and is expected to be available starting in February of 2022.