The Best Cameras for Beginners in 2023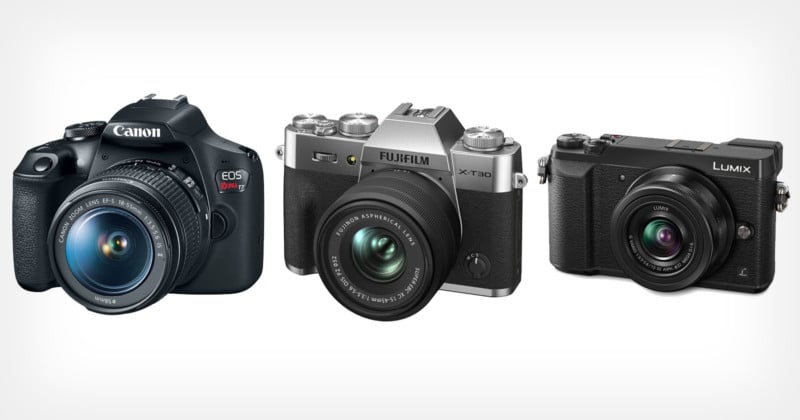 Looking to get started in photography but feel overwhelmed at the huge number of different camera models on the market? The daunting feeling can be an obstacle as you try to dive headfirst into the art form, but you have come to the right place: we have selected the best cameras for beginners looking to dip their toes in photography without breaking the bank or getting in over their heads.

With this list of beginner cameras, we hope to identify the best options to set your budding shutterbug's visual journey off on the right foot. The ideal camera for a starter — whether a young child, teenager, or adult — is one that can kindle enthusiasm without draining mental resources.
Simplicity in form and function are paramount concerns, obviously, but affordability and durability are just as crucial when placing a camera in the hands of a first-timer. With our help, hopefully, this year marks not just a banner year for your own progress, but the point at which a few new lifelong photographers are made.
At a Glance
Best Beginner DSLR Cameras
The DSLR has several advantages for people starting out in photography: they're generally cheaper than mirrorless counterparts, especially at the low-end, and there is an extremely large stable of lenses both new and used. This means the overall cost of entry is much lower, especially if you purchase gear on the used market. There is also an argument that an optical viewfinder provides a more "traditional" photographic experience — whether that matters or not is up to you.
There are plenty of downsides as well: most DSLRs do not have in-body image stabilization, which helps counteract the instability of handheld shooting, and the two big DSLR producers, Canon and Nikon, are slowly dwindling down the production of both bodies and lenses. The flip side, of course, is that prices for legacy DSLR mount lenses and bodies will continue to drop, and most lenses are easily adaptable to new mirrorless mounts, should you decide to upgrade down that path at some point.
Canon EOS Rebel T7 with EF-S 18-55/3.5-5.6 IS II Lens
The Canon Rebel series has been a fixture for first-timers for years, and with every iteration, it continues to demonstrate why. With the Canon Rebel T7, owners were finally granted a 24-megapixel sensor (up from 18MP on previous models). The build quality is about what you would expect for the price, but out-of-the-box image quality is high for a camera in its class. Controls are adequate without being overwhelming, combining great one-click options with a deeper bench of advanced settings.
The lack of a touchscreen is unfortunate, and for many smartphone users probably unthinkable, but the 3-inch LCD is bright and crisp. More appeal lies in the Bluetooth capability, making wireless transmission of images simple. This may seem like a relatively minor or expected feature, but these days many folks want to make sure they can share their photography as quickly as possible, and unfortunately, this is one area that most manufacturers have lagged quite far behind. So, it is worth noting Canon's Camera Connect app is simpler and more feature-rich than many of those on offer by competitors.
The Canon EOS Rebel T7 is undeniably among the most basic of basic DSLRs, but as an introduction to photography, and the Canon ecosystem more broadly, it holds considerable value. With its intuitive usability, charting a clear path from simple beginner controls to more advanced settings, it is the definition of a great camera to grow into.
Throw the Canon EF-S 24/2.8 lens, which is barely larger than a body cap, on the camera for a compact setup with a very versatile 38mm (full-frame equivalent) field of view.
Nikon D3500 with AF-P 18-55/3.5-5.6G VR Lens
The Nikon D3500 is, appropriately, considered an entry-level camera. It is inexpensive for what it can accomplish, light, and, most importantly, features a Guide Mode specifically designed to teach new photographers how to approach and shoot any given situation.
With a 24-megapixel APS-C CMOS sensor and an ISO range of 100-25600, the D3500 can produce images far better than one may initially expect given the price-point of the camera. It's essentially among the cream of the crop in terms of image quality for anything below full-frame.
Though its weight is light for a DSLR, its form offers just the right amount of bulk, with a handgrip perfectly sized for security.
While it isn't the most intuitive camera in terms of tweaking manual settings, particularly because it lacks the front command dial of its higher-end siblings, this does not diminish the D3500's value for beginners. Since the objective is learning and growing, most demerits are more than made up for by the camera's Guide Mode. With this feature selected, neophytes can select the type of scene they are attempting to capture and watch in real-time as the settings are altered to accommodate. For those paying attention, the knowledge gain is tremendous, and for those who aren't, the pictures still turn out alright. It's an excellent feature that is not only lacking on the higher-end Nikon models but also on competitors' cameras.
Pair it with the excellent Nikkor DX AF-S 35/1.8 lens and you have a very affordable "nifty fifty" set up. The excellent Nikkor DX AF-P 10-20/3.5-5.6 also offers an affordable gateway, with high image quality, to wide-angle photography.
Pentax K-70
If there is one thing entry-level Pentax cameras are known for, it is their willingness to provide premium features that other companies would withhold for the higher-end models. The Pentax K-70 certainly kept this trend alive, making it a surprisingly robust option for a beginner, with excellent image quality to boot.
The camera is smaller than the Rebel T7, but slightly heavier — a clue to the relative sturdiness of its construction, something for which Pentax is highly regarded. The K-70's build is impressive within its class, boasting internal weather-sealing and a large, glass pentaprism with a high 0.95x magnification (versus 0.80x for the Rebel T7 and 0.85x for the D3500). Design care extends to the rear 3.0" display, which is hinged and movable, providing considerably better usability.
Perhaps best of all the built-in features is Pentax's "Shake Reduction (SR)" system or "IBIS" in general terms. Pentax is the only current DSLR manufacturer to have ever implemented IBIS, from its highest-end K-1 flagship cameras to lower-end bodies like the K-70. What's more is that the SR system can be used for pixel shift shooting to create extremely high-resolution, high-quality images — no other camera below $1,000 offers such a feature.
One final benefit of getting into a Pentax starter is you will also be getting into the best catalog of dedicated APS-C DSLR lenses out there. There are many outstanding lenses within the Pentax line-up that simply have no equivalent on Canon or Nikon systems: the DA 15/4 AL Limited, DA 21/3.2 AL Limited, DA 35/2.8 Macro Limited, DA 40/2.8 Limited, DA 70/2.4 Limited, and the DA 20-40/2.8-4 Limited, to name a few standouts. Spurring interest in the glass in front of the camera is a joy all on its own.
As a bonus: unlike Canon and Nikon, Pentax remains committed to the DSLR form factor, so provided the company can survive, there will always be new cameras and lenses available.
Best Beginner Mirrorless Cameras
Mirrorless cameras provide a plethora of advantages over DSLRs for both amateurs and professionals, but it's the "what you see is what you get" perk of electronic viewfinders that may be the most beneficial to those just hitting the photography pavement.
Being able to see how changing shutter speed or ISO affects their exposure, what exposure compensation does, or how stopping a lens down produces more depth of field all before you take even a single photo is a massive advantage.
Fujifilm X-T30 II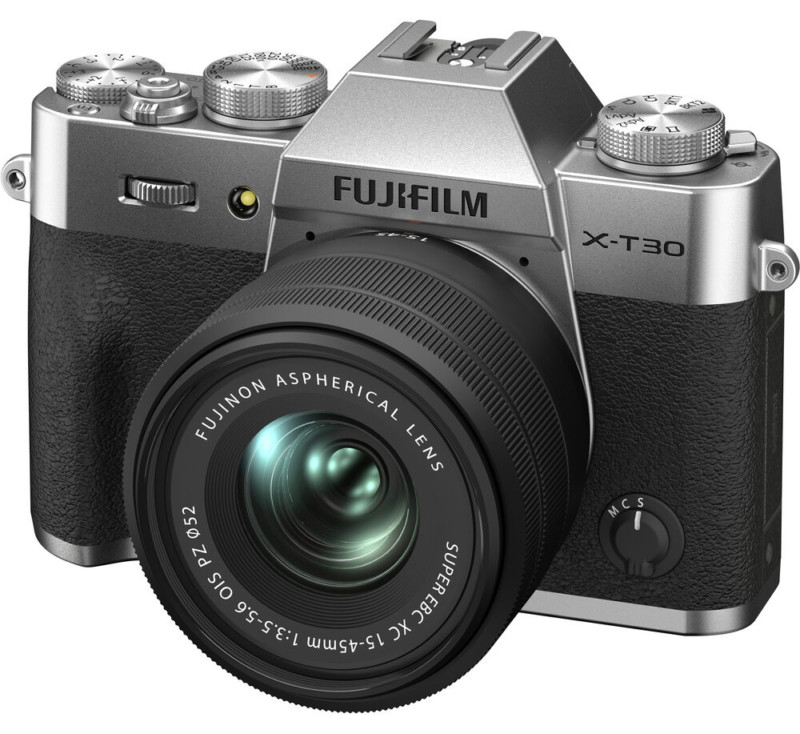 One of the newer models on the list, the Fujifilm X-T30 II improves on its former incarnation and offers an option that will give folks a retro-style they love with the fresh features they need.
First things first, this camera just flat-out looks cool. Don't dismiss this as mere aesthetics, however. The same retro vibes you'll get when looking at it also indicate some classic learning opportunities. While we agree touch screen controls can be a big plus, especially for younger users, there really is nothing quite like manual external exposure controls, and that's what you find on top of the X-T30 II.
While the controls could be considered retro for retro sake, the ability to directly see and access shutter speed and aperture dials do lean directly into the fundamentals of proper exposure — which is certainly one of the first things a new photographer must master — in a very visual and easy-to-understand way. It's one thing to set the camera to "A" and turn some thumb wheels to adjust numbers in a digital display, but it's another to have those on tactile, marked dials.
Inside, you have nothing to worry about. The camera boasts a beefy 26.1-megapixel BSI APS-C sensor — currently the best APS-C sensor on the market — with a very effective phase-detect autofocus system that covers nearly the entire frame. Additionally, the camera can capture beautiful 4K video. I'd be remiss if I didn't mention Fujifilm's beautiful film simulations, which can be applied to JPEGs (and video) in-camera, or to RAW files in post-processing. Provia, Velvia, Classic Chrome, and Eterna have proven to be fan favorites for color, while Acros is widely regarded as one of the best black and white simulations.
There are downsides. The quick access menu screen, brought up by a Q button, sits awkwardly in the exact spot your right hand wants to be when gripping the camera, leading to accidental and unfortunate bumps. Perhaps the biggest disappointment, is the removal of the four-way directional pad, as Fujifilm has unfortunately done on many of its recent cameras — but for those accustomed to touch screens, I doubt this will be an issue.
Regardless, what you get here in terms of power and image quality is just impressive, making it a starter with real longevity — not only a good first camera but an enjoyable, useful secondary camera once you have moved on to something at a little higher level. Whether you buy this camera, or a higher-end X-T3, X-T4, or X-Pro3, all have the same sensors and produce the same image quality.
Last but not least, Fujifilm has the most complete line of APS-C lenses available for any mirrorless system.
Nikon Z50 or Nikon Z fc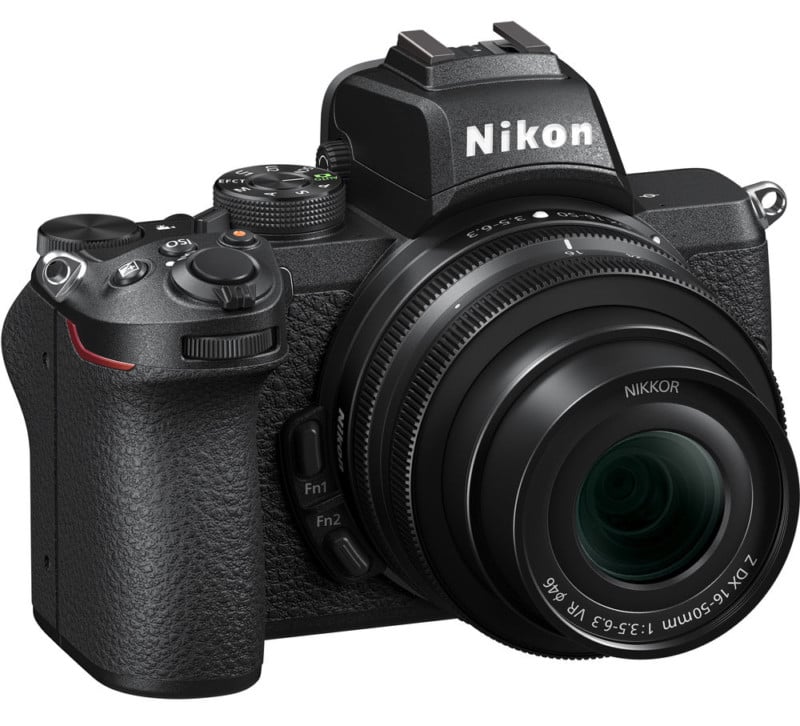 There is no beating around the bush: these are some of my favorite cameras on this list, and ones I have personally recommended to not just beginners, but anyone who wants an easy-to-use camera on the go that won't break the bank. The Nikon Z50 and the Nikon Z fc — two cameras with different outward designs but virtually identical features and specs — do what they need to do, and they do it very well.
While the Nikon Z50 sports a modern traditional mirrorless design, with a standard PASM dial, the Z fc goes all-in on the "retro" aesthetic — and it does so very successfully. Shutter speed and ISO are readily at your fingertips on physical dials, and aperture can be controlled either via a command dial or programmed to a ring on the lens. As with the Fujifilm X-T30 II, these physical dials can be an excellent way for beginners to master the "exposure triangle." While the lenses lack dedicated aperture rings, the Z fc does include an ISO dial, which is lacking on the X-T30 II. It also includes a nice little F-Stop "window" to show your current aperture setting — so, all three exposure settings are still readily visible.
The savings — in both price and weight — from the higher-end Z6 and Z7 bodies come from the reduced sensor size (APS-C or 'DX'). It's the same 20MP sensor found in Nikon's D500 and D7500 DSLRs. The image quality here is outstanding and among the best of any on this list.
Another key feature making these the ideal run-and-gunner is the cameras' sizes. They are jacket-pocket small and the Nikkor 16-50/3.5-6.3 VR kit lens is a true pancake — the quality this squatty bit of glass gives will astonish and it's a pleasure to operate thanks to its proper mechanical zoom as opposed to the power or electronic zoom of many other small kit lenses. Trade-offs always exist, and unfortunately, the Z50 provides no in-body image stabilization — a definite downside for a camera this slight in stature, but not a deal-breaker by any stretch, especially because so far, all the Nikon Z DX lenses do include VR. The Nikkor Z DX 18-140/3.5-6.3 VR is another compact and stellar lens that mates nicely with either of these bodies and will give any photographer just about all the range they really need — like the 16-50 it can often be found paired with a body in a kit.
The flip-out screen of the Nikon Z fc may be especially appealing to the selfie/vlogger crowd, or those photographers who simply prefer it to tilt-only screens. Both provide touch capability, however.
The bottom line is this: The Nikon Z50/Z fc produces some of the best possible images with the lowest possible profile and the simplest possible controls of any cameras on this list. A beginner could want nothing more.
Panasonic Lumix GX85 with 12-32/3.5-5.6 ASPH and 40-150/4-5.6 ASPH
For those who want to start off with something very compact, the Panasonic Lumix GX85 packs a lot of power into its downright minuscule body. It isn't just small, though. It's speedy, with the ability to start up, focus, and fire in under a second. Autofocus, a key feature for newbies, is also quick, ranging from a tenth of a second in ideal settings to a bit slower in dimmer conditions, depending on the lens being used — a consequence of any contrast-detection autofocus system.
One undeniable appeal of the GX85 is its ability to shoot excellent 4K UHD video. Panasonic is known for taking considerable pride in its video capability, and that quality presents itself even in cameras where the feature is secondary.
The images produced by the GX85 are of great quality, made all the easier to capture thanks to Panasonic's excellent Dual I.S. — a feature that synchronizes the camera's in-body sensor stabilization (IBIS) with the lens's optical stabilization. Note that Dual I.S. is only functional with Panasonic lenses, but Olympus (or another brand) lenses will still function perfectly in concert with the GX85's IBIS.
The GX85 boasts a 16MP Four Thirds sensor inside a Micro Four Thirds mount, which allows access to possibly the most extensive library of lenses for any mirrorless mount. For newbies used to initiating focus by tapping the screen of their iPhone, they will feel right at home working with the GX85 and its 1.044m-dot tilt touchscreen LCD.
While construction is acceptable, there is no weather-sealing. This is a minor quibble, however, when you consider the strengths of this camera and the Micro Four Thirds system overall. If you are looking for something small, fast, and simple, you could do much worse than the GX85 for your first shooter. Once you consider that the GX85 is bundled with the superb and downright tiny Panasonic 12-32/3.5-5.6 ASPH, plus the Panasonic 40-150/4-5.6 ASPH, you have nothing short of a fantastic price-to-performance ratio. Furthermore, it is not uncommon to find the kit marked down from its $797.99 MSRP to $599.99 or even $499.99.
When my sister asked for a camera for her birthday for her dessert business, this is one I immediately went for. As far as interchangeable lens cameras go, you don't get more compact (or cheaper) than Micro Four Thirds, and the unbeatable IBIS of the cameras allows for a smoother transition from those who are used to the computational abilities of smartphone imagery.
Best Beginner Compact/Fixed-Lens Cameras
From my perspective, one of the easiest ways to get a beginner into photography is to give them a tool that they're most comfortable with so they can begin to master the fundamentals. That's where compacts come in — as close to the size of smartphones as you'll get from a dedicated camera and often pocketable.
Compacts come with all the advantages of mirrorless cameras (they are, after all, mirrorless as well), but you do, of course, lose the ability to change lenses, but the fundamentals of photography are all still there. The closer-to-smartphone size may be especially appealing to younger audiences, as well.
Canon Powershot G5 X Mark II
Of the fixed-lens offerings on the market, this is definitely among the higher end. Sporting a 20-megapixel 1"-type stacked CMOS sensor — notably larger than most smartphones — it will produce reliably pleasing images. Coupled with a surprisingly strong processor, performance here is fast, responsive, and enjoyable. For someone who wants a camera they can keep in their pocket that flat out works, the Canon Powershot G5 X Mark II has to be in the running.
One advantage of fixed-lens cameras (as they compare to smartphones, their true competition) is their ability for deep zooming. While the Powershot G5 Mark II does not go as long as some in the market, it is the longest (24-100mm equivalent) that still opens up to f/1.8 at its wide end.
The design here is nice, more solid than you would anticipate. The handgrip especially impresses, deeper than compact cameras like this are normally capable of. Top dials offer modal settings, allowing you to naturally progress from automatic to semi-automatic to fully manual modes as your skill and confidence grow. The EVF is larger than you would expect for a pocket shooter, while the LCD is sharp and plenty bright for outdoor use.
If you are truly in the market for a fixed-lens pocket camera, the G5 X Mark II deserves a lot of attention. Others in its range and type may exceed it in various areas, but then fall woefully behind in others — it is consistently strong across the board. However, that solidity, that reliability, that decent ceiling / high floor experience, will, unfortunately, cost you a little more. In truth, you could spend as much on this camera as you would on some of the more sophisticated interchangeable lens cameras on this list. But if you have decided to introduce yourself to photography via a point-and-shoot camera, that premium may well be considered a long-term value.
Panasonic Lumix DC-LX100 II
Fixed-lens cameras with large sensors and high-quality, versatile optics can be a great foray into the world of photography without quite so much fuss. If this is your goal, the Panasonic DMC-LX100 II is a solid choice. Small, easy to handle, and packed with features, the LX100 II is an affordable choice with a lot to offer.
Given that smartphones are the fixed-lens camera of choice for most people, it seems appropriate to use them as a point of comparison here. The LX100 II houses a 17-megapixel Four Thirds sensor, a 24-75mm (FF equivalent) 11 element/8 group Leica DC Vario-Summilux lens with a very bright f/1.7-2.8 aperture range, 3.0" 1.24m-dot TFT touchscreen, 2.76m-dot EVF, UHD 4K recording, and built-in Wi-Fi. Additionally, its sensor offers variable aspect ratio control — choices include 3:2, 16:9, 1:1, and 4:3, and the sensor is designed such that no matter what aspect ratio you choose, you are making the most of the lens's image circle. The ratios are not simply cropped from the normal full-size image.
The LX100 II does a fantastic job by way of design too, offering external controls that will get you accustomed to making choices in a tactile way. Chief among them is the smooth and handy aperture ring around the lens barrel as well as the dedicated shutter speed and exposure compensation dials. The touchscreen is responsive, and the menu offers plentiful options. All in all, the LX100 II provides an affordable, very versatile option for beginners of all ages — all packed into a tiny body, with a large 4/3 size sensor, and a fast, high-quality Leica-branded lens.
Ricoh GR III or Ricoh GR IIIx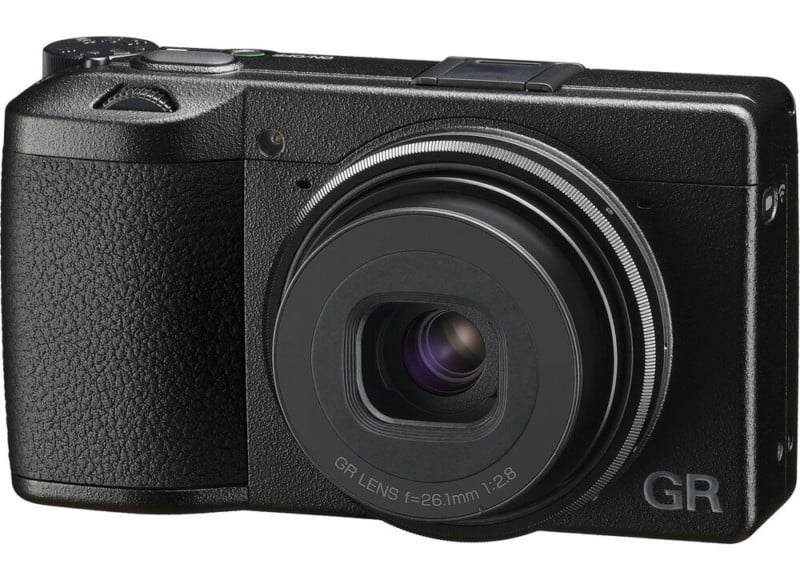 Those new to photography are also likely accustomed to using their smartphones for photography. This means they're already learned to work within the boundaries of one (sometimes more, but primarily one) focal length. This discipline can be ported over to their photographic education, and it's one that is often suggested by many to teach newcomers or to spur creativity: shoot with a single focal length for a period of time.
There are two great options, essentially identical in haptics and form factor, that offer exactly that. They differ only due to the focal lengths: the Ricoh GR III is equipped with a 28mm (FF-equivalent) lens (quite similar to a smartphone's main lens) and the Ricoh GR IIIx boasts a longer, more "normal" focal length of 40mm (FF-equivalent).
The Ricoh GR line is one-a-kind. There simply isn't anything else on the market like it. Compact cameras come in two forms: small enough to actually be "pocketable" (fit in a jeans pocket, for example) or large enough that you need a bag or purse of some kind — maybe a jacket or coat pocket in a best-case scenario. In terms of the former, the only cameras on the market that fit the bill are a 1.0-inch type or smaller (such as the Canon G5X series). Only the Ricoh GR series combines truly pocket-ability with a large APS-C sensor.
The GR III/IIIx also boasts the famous "snap focus" mode — push the shutter button down quickly, past the half-stop for autofocus, and the camera will default to a pre-set distance and snap the photo. You can set this distance in the menu from six options: 1m, 1.5m, 2m, 2.5m, 5m, and infinity. This feature is paired with a brilliant digital depth-of-field scale that will show how much will be in focus at your set aperture and snap focus distance. On the GR III, setting it to 2m and f/8 will show everything from about 1m to infinity in focus — perfect for most street and general photography. The GR IIIx will not show quite as much in focus, since its longer focal length necessarily means shallower depth of field for a given f-stop.
Best of all, the GR's 18.3mm f/2.8 lens (28mm FF-equivalent) is one of the best lenses ever made, both in a compact or otherwise. And much to my amazement when I received my camera, the 26.1mm f/2.8 (40mm FF-equivalent) lens in the GR IIIx is even better, with less distortion and sharper corners wide-open.
For me, the GR series is probably the textbook example of perfect camera ergonomics. Almost everything can be manipulated, adjusted, or operated with your right hand while gripping the camera, and all the controls seem to be placed exactly where they should be. Image quality from the 24MP APS-C sensor is, naturally, fantastic.
It's easily one of my favorite camera series of all time.
---
There you have it: our picks for the best digital cameras you can currently buy if you're just starting out as a beginning photographer. Please note that the Sony ZV-E10 would normally be on this list, but Sony has suspended production of the camera for the foreseeable future.
Hopefully this guide helps you decide on your first camera and allows you to hit the ground running in actually doing photography and learning more about it.