Lightroom Update: Better Masking, More Presets, and 'Community Remix'
Adobe has rolled out new Lightroom Classic and Lightroom updates that, among other updates, features a new set of Selective Adjustment tools for precise object selection and masking.
The new updates are positioned by Adobe as features that enhance photography skills and make impactful edits easier. However, it's not all just about new tools as Adobe also has introduced new community-led initiatives to help users experiment, learn, and connect with each other.
Advanced Masking
The new Selective Adjustment tools have been entirely re-envisioned, making masking accessible with one click. The new set of tools help users make more complex and accurate selections with multiple masks, utilizing color and luminance masks.
Available on ACR, Lightroom Classic, and Lightroom, as well as on iOS and Android, users can create precise selections to identify the subject or sky and apply specific edits to them. Adobe claims that "Select Subject" and "Select Sky" are "game-changers for time-consuming improvements," particularly on smaller screens.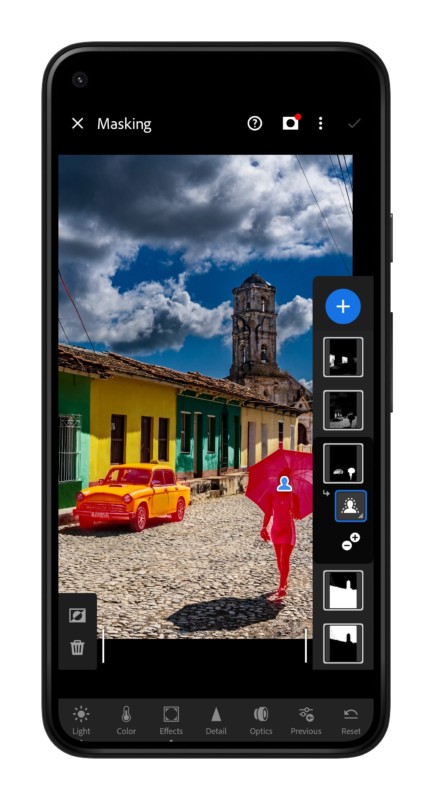 The introduction to advanced masking in ACR and Lightroom was announced earlier in September and for those who are curious how it works, PetaPixel was given early access to test out the new feature to see how it performs in a hands-on test.
New Presets
Lightroom users now have access to presets created by the entire Lightroom community. These can be discovered through Lightroom's own suggestions and is based on an algorithm that scans an image and matches the subject with the presets that it determines will most improve the shot.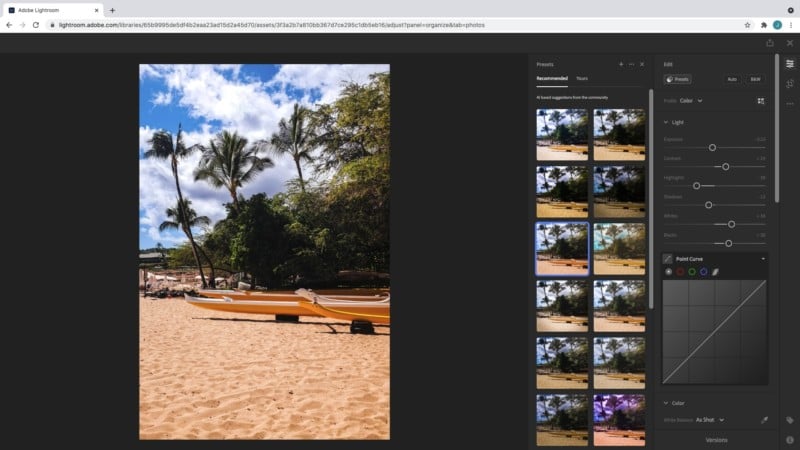 Eight preset packs have been added to the Premium Presets in Lightroom, following what Adobe describes as a positive response after Lightroom launched its initial seven Premium Preset packs in June.
The new set of Premium Presets includes "Black & White," "Food," "Landscape," "Urban Architecture," "Lifestyle," "Retro," "Travel II," and "Cinematic II." These new packs will be available across the entire Lightroom ecosystem.
Community Remix
Users can now engage with the Lightroom community through a new concept the company is calling Community Remix. This allows users to share their unique edits with the community, let others try alternative edits, and share their artistic vision with an image.
This new experience is available on Lightroom Mac and Windows now, and Adobe is working on bringing this to other platforms soon.
Crop Overlays
Lightroom users can now fine-tune the photograph's framing through smart cropping. With this release, Adobe has included the ability for users to choose new crop overlays for different aspect ratios, such as "Golden Ratio" and "Golden Spiral."
Lightroom Academy
Adobe has introduced a new way for photographers to learn through the launch of Lightroom Academy. It is a resource for photographers that offers a fresh approach to learning essential photographic concepts and improving editing skills, regardless of experience or equipment.
The available topics are broken down into short-form articles. These feature informative text, images by the Lightroom community, interactive illustrations, quiz-like challenges, and numerous "On Your Own" exercises.
Lightroom Academy is accessible for free with new classes and resources added throughout 2022.
All of the new Lightroom Classic and Lightroom updates and software compatibility are available to view on Adobe's blog.