Sony Alpha 7 IV Review: The Best Camera Sony Has Ever Made… Almost
Three and a half years ago, Sony made a statement with the Alpha 7 III. The company wanted to plant the idea that its "base model" did not mean basic. At the time, that camera was specced beyond its price, and it hit everyone by surprise. Now, with the Alpha 7 IV, our expectations are much higher. Did Sony do it again?
Design and Build Quality
The general form factor of the new Alpha 7 IV follows in the footsteps of the Alpha 7R IV, Alpha 9 II, Alpha 7S III, and Alpha 1. It features the deeper grip and squishier buttons of all the aforementioned cameras, the improved memory card door and upper record button of the Alpha 7S III and Alpha 1, as well as the swing-out LCD display found on the Alpha 7S III.
This camera does not just just follow in the footsteps of what has been done though, because there are new tweaks that make the Alpha 7 IV unique. The biggest change in my eyes is the now-customizable exposure compensation dial. Sony has also stacked the mode dial to split up photo, video, and S&Q (slow and quick) settings.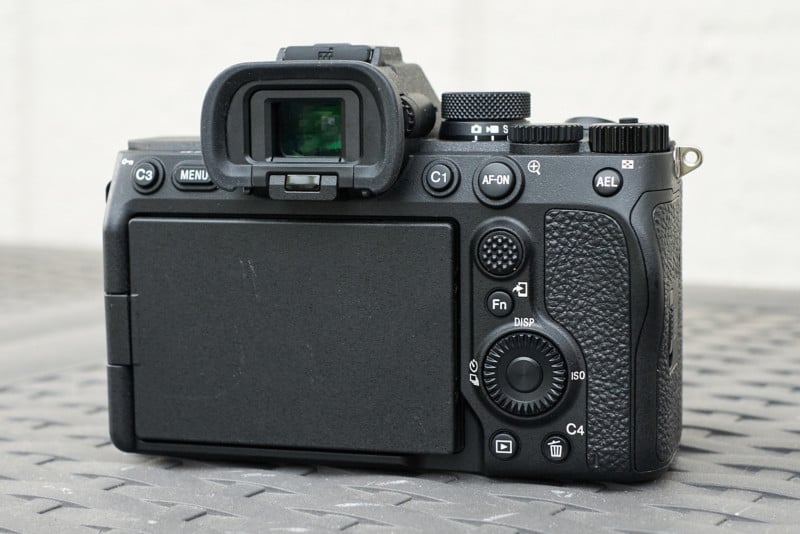 Lastly, the top locking button on the mode dial has thankfully been removed. If you've read my Sony lens reviews on PetaPixel before, you've probably noticed my Alpha 7R III has a 3D printed cap that disables the annoying mode dial lock.
While reviewing these design features, I'm split on my appreciation. Obviously, I'm all for the lock removal on the mode dial. Stacking the mode dial is also a very clever solution to simplifying all the different settings that a hybrid shooter would cycle through going from stills to video.
Then, as I mentioned, the biggest change is due to the customizable exposure compensation dial. I shoot full manual, and the exposure compensation dial used to be wasted prime real estate on the camera body. Where I once used to customize the rear wheel to directly control ISO, I am now setting ISO to where exposure compensation was. This places all three exposure controls — shutter speed, aperture, and ISO — up on top where they are easiest to access. Not only that, but the third top wheel is much harder to accidentally knock than the rear one. That's only one example of the new possibilities, as users can also set it to other uses such as white balance temperature or cycling the focus areas.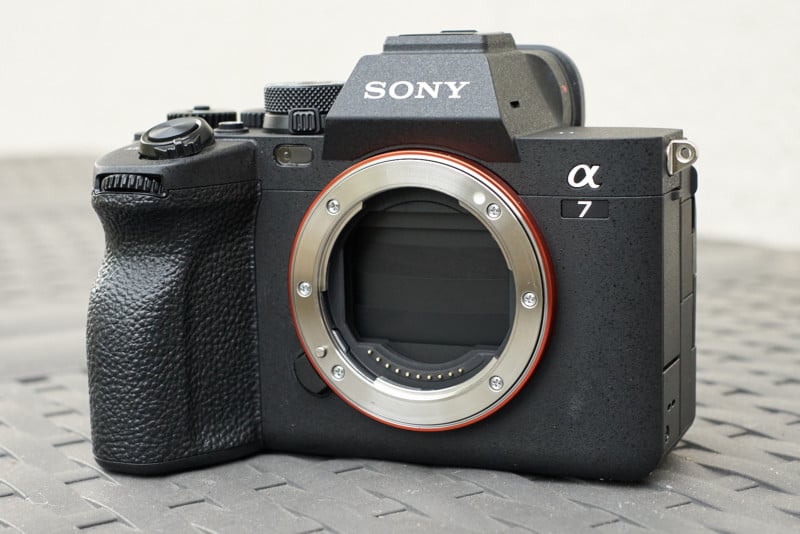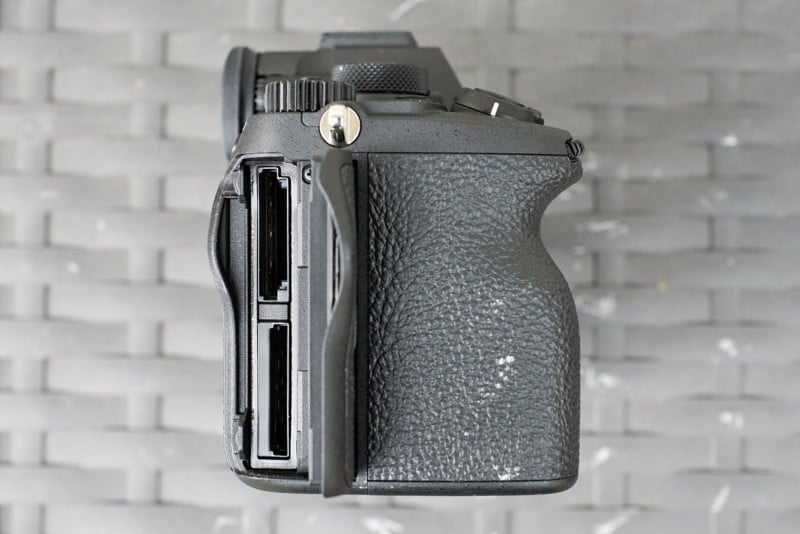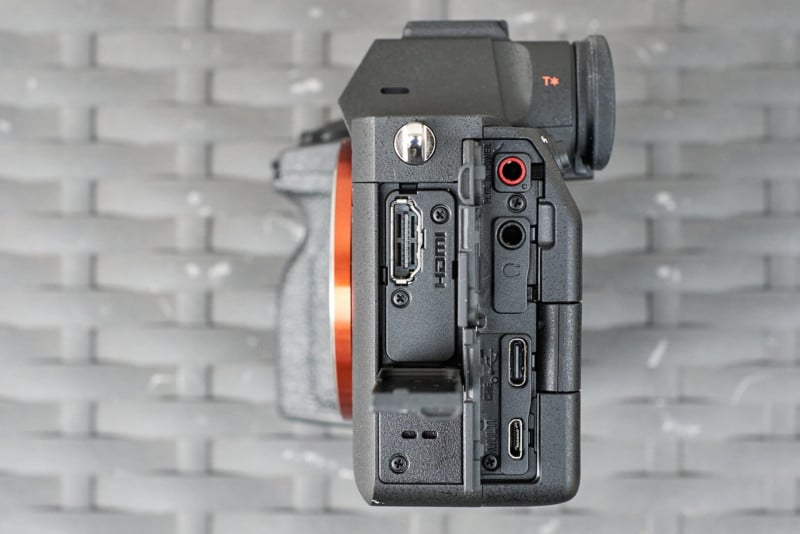 Things I'm not as enthused about are problems that this generation of Sony cameras already exhibited. The grip is still not tall enough to be as comfortable as it could be to hold, the more prominent mushy buttons have the side effect of not feeling as clicky and responsive as the previous generation, and why, god, why has Sony not made a better swing-out screen design yet? The flippy screen again makes no compromise for those of us who enjoy a good photography experience where the tilting display would be in line with the sensor and lens. I'm not saying you can't have a front-facing swing-out screen, I just would like Sony to do it in a way where everyone wins by adding another layer of articulation to the swinging mechanism. That way, the screen can flip upwards while in line with the lens, but also swing out and reverse for self-monitoring.
Finally, I have to mention the EVF and LCD displays are disappointingly low resolution as well. At 3.68 million dots, the EVF is on par with cameras such as the Alpha 9 II and previous generation Alpha 7R III, however, it's greatly surpassed by the 5.7 million dots of the Alpha 7R IV and 9.44 million dots of the Alpha 7S III and Alpha 1. Probably worse is the LCD panel's 1.03 million dot resolution. It's noticeably low quality and impossible to determine if shots are truly in focus while in playback mode. For context on this matter, Sony has recently refreshed the four-year-old Alpha 7R III camera's screen from 1.44 million dots to 2.35 million dots, yet this brand new release is worse than any of that and worse than any other full-frame Alpha camera from this generation.
Image Quality
Capable of 15-stops of dynamic range and improved color reproduction, my first impression of the files coming out of the camera were very positive. The combination of its newly-developed 33-megapixel Exmor R sensor and BIONZ XR image processor produces high-quality, lifelike photos with a healthy amount of resolution.
For my fellow croppers out there, shooting in APS-C mode in-camera creates 14.5-megapixel files (4,672 by 3,112 pixels), and vertically cropping in a 2:3 ratio on a horizontal frame will leave 14 megapixels (3,063 by 4,595 pixels) left over to use.
ISO Test
In both stills shooting and video, the Alpha 7 IV does a fine job with handling noise. Looking at the comparison images below, first slices of a full image that's been downscaled followed by slices of a 100% cropped image, we find stable performance up until around ISO 1,600. By ISO 4,000, the camera is beginning to show its limitations. Then, holding its own like most newer full-frame Sony cameras I've used, ISO 8,000 is about the tipping point on where I'm comfortable shooting for usable photos.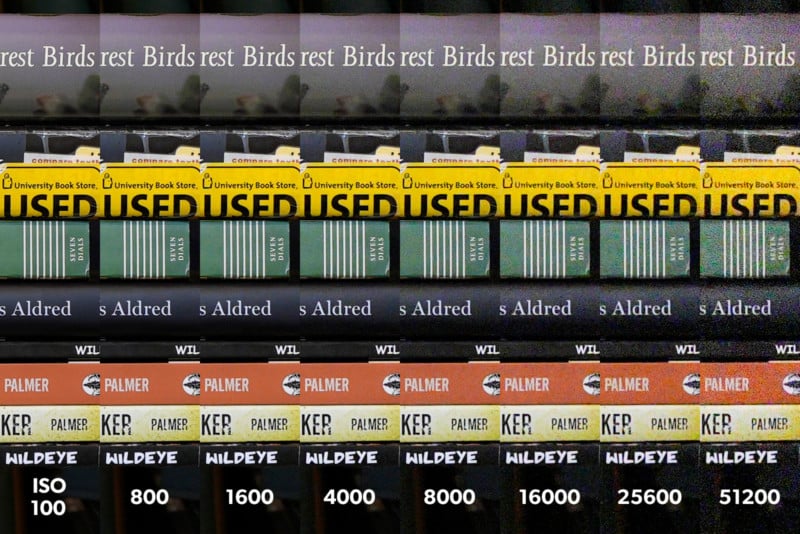 Continuous Shooting
The Alpha 7 IV can shoot compressed RAW files continuously at eight frames per second in Hi mode, or up to 10 frames per second in the Hi+ mode. Like many other Sony Alpha cameras, Hi+ mode does not show a live feed through the EVF, rather it looks like a slide show of images that are slightly behind the real-life action. For that reason, I always choose Hi over Hi+.
Interestingly, I found that the camera's buffer varies wildly depending on whether the user is shooting JPEGs along with RAWs. Continuously shooting compressed RAW plus JPEG to a Sony TOUGH SF-G SD card got me 25 frames before it began to slow down. Shooting compressed RAW without JPEG got me 91 frames before it began to slow down. Shooting uncompressed RAW plus JPEG continuously got me 15 frames before it began to slow down. Shooting uncompressed RAW without JPEG got me 25 frames before slowing down.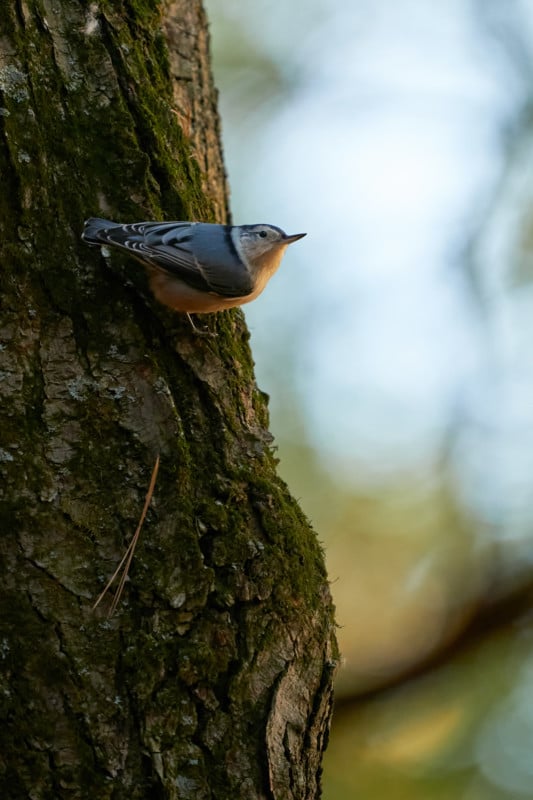 Fortunately, the Alpha 7 IV does record full-size JPEGs into the RAW files which is something that Sony only very recently started doing in the mirrorless line. Now, shooting RAW+JPEG in-camera for the sole purpose of gaining faster previews in programs like Photo Mechanic is not necessary.
Other positive changes I noted regarding continuous shooting that has only more recently been fixed in the latest Sony cameras includes the ability to move the spot focus point as the shutter button is held down, and crop mode can be switched when the camera is clearing the buffer.
Autofocus
Sporting 759 phase-detect autofocusing points with 94% coverage, plus Real-time Tracking and Real-time Eye AF for humans, animals, and birds, the Alpha 7 IV has the makings for extremely good autofocus. Indeed, what I found is exactly that.
Reliability I think is the key word when it comes to describing the Alpha 7 IV. Its ability to hold a subject in AF-C might be one of the best experiences I've had with a Sony camera.
As a bird photographer, I was especially impressed with the Bird Eye-AF. You may think, well the Alpha 1 already had bird detection so this isn't anything noteworthy, but you'd be wrong. Admittedly, I haven't used the Alpha 1 since February of this year, but I distinctly remember that camera not being as good at it as this.
The Alpha 7 IV detects more birds with more head angles and more varied lighting. I kept a running tally of what worked and what didn't while reviewing the Alpha 1 and the columns were about evenly split, but with the 7 IV there was only one species I came across that it never worked with (brown creeper). It didn't seem to matter how little light there was or how awkward the head angle, the camera would outline in the bird's eye, face, or body with that wonderful subject recognition box. That said, I've yet to see either camera actually pick up a bird's eye while in flight like Sony's marketing photos suggest.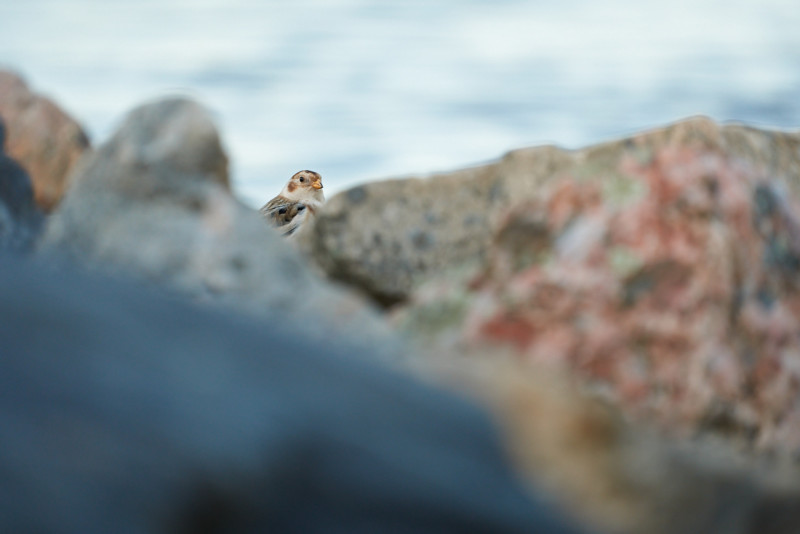 Video
I don't think anyone was buying the base Alpha 7 models specifically for video before, but now that's likely to change. The Alpha 7 IV makes a giant leap into 4K 60p 10-bit 4:2:2 All-Intra video. Recording at 4K 60p, the frame is cropped to Super 35 but there's no pixel binning in the readout. At 4K 24p and 30p, it's a 7K oversampled full-frame readout with no pixel binning.
While it's unable to record 4K at 120 frames per second, the Alpha 7 IV does have the megapixels needed for Super 35 in 4K. For me, that's a major advantage over the Alpha 7S III and I'll take that exchange any day. Then, the only other Sony hybrid camera with comparable video specs and 4K Super 35, the Alpha 1, does pixel bin while shooting full-frame whereas this new camera does not. That's another win for the 7 IV.
Talking about all this winning, another new addition only available in the Alpha 7 IV right now is Real-time Eye AF for birds and animals while recording video. Above when I mentioned that Bird Eye-AF worked even better than before, I think this new ability has something to do with it. In order to be reliable enough to implement in video, Sony likely had to really hone it in for accuracy. With that, the company succeeded beyond what I would have thought possible. Just as with stills shooting, Bird Eye-AF for video works extremely well and I'm blown away by this feature.
So this is the best Sony Alpha camera to buy for video now, right? Well, perhaps, but for me, no. The biggest deal-breaker is going to be with the rolling shutter that's too obvious with the long focal lengths I use. Recording anything with a moderate panning motion is, unfortunately, going to show slanted verticals.
Sony Did It Again
For the price, it's going to be impossible to ignore if not actually put money down on an Alpha 7 IV. Not only does it compete against everything we've seen from Sony already, but it also brings new design features and camera settings yet to be seen elsewhere — including the $6,500 Alpha 1 flagship. While you've seen me be critically harsh on some matters of opinion, it's only because a lot of what is here is truly remarkable. I do hold some thoughts of "if only" about it, but the good far outweighs the bad.
Are There Alternatives?
Looking at the competition in a similar price range, Canon has the EOS R6 that shoots 20.1-megapixel photos, has 1,053 phase-detect autofocus points over Sony's 759, and autofocus sensitivity down to -6.5 EV over the Sony's -5 EV. It can even record 4K 10-bit 4:2:2 video internally, too.
Nikon has the Z 6 II and Z 7 II which have 24.5 and 45.7-megapixel sensors respectively. While they can't record 4K 10-bit 4:2:2 internally like Sony and Canon, they at least both have much improved rear LCD screens with 2.1 million dot resolutions. Plus, the Z 6 II can shoot up to 14 frames per second when speed matters.
Should You Buy It?
Yes. The Sony Alpha 7 IV strongly contends with every camera the company has released thus far.