Has the Sony Alpha 7 IV Been Leaked By a New Underwater Housing?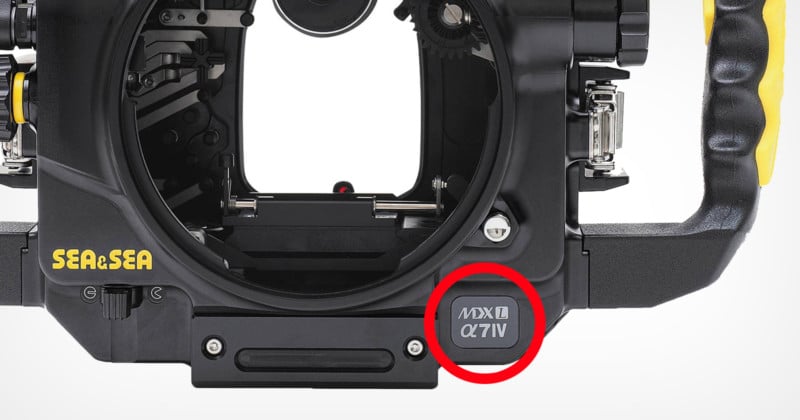 Sony has not made any indication that the Alpha 7 IV camera is coming, but a new listing for the Sea & Sea MDXL-a7IV Underwater Housing has renewed speculation that the much-anticipated camera may be arriving sooner rather than later.
Originally spotted by Sony Alpha Rumors, underwater housing manufacturer Sea & Sea appears to have blown Sony's cover for a camera that has not officially been announced yet.
The camera that is shown in product images is hard to distinguish since only the rear is shown, but it appears to be the older version of the Sony Alpha 7R IV before the recent Alpha 7R IVa models replaced the rear LCD and removed the Sony logo. Two PetaPixel staff members who own the original Alpha 7R IV confirm it appears to be the camera, and unless the unreleased and unannounced Alpha 7 IV will look identical to the older Alpha 7R IV and Sea & Sea also managed to get its hands on a product that Sony hasn't even admitted exists, it would seem that the company simply forgot to add the "R" to product descriptions.
However, The Sea & Sea underwater housing specifically notes that it is designed for the "Sony a7IV camera" not only by the product name and description but also by the large logo on the lower right corner of the front of the housing. It's one thing to find typos in marketing or product descriptions, it's quite another to see those typos painted directly onto products.
The company's website and product listings on Adorama, the company's own website, and others are consistent in noting "a7IV" support, but careful inspection of the product's official manual is a bit more revealing. While it may repeatedly list the Alpha 7IV throughout, it is not until the "Specifications" on page 24 that the true supported camera is listed, and makes this whole situation appear to be caused by an unfortunate error:

While the vast majority of the marketing and text about the housing shows "a7IV," the above note on the compatible camera as the Alpha 7R IV and the fact that the camera in the photos appears to be the older Alpha 7R IV camera body points to one likely situation: a typo that was never caught by the manufacturer, which very likely spans pretty far back into the product's development.
Unfortunately, it does not appear as though Sea & Sea received early access to Sony's highly-anticipated mid-tier full-frame camera in order to specially build an underwater housing for it. For those who are looking for a highly capable underwater housing for their Alpha 7R IV though, Sea & Sea's nearly $4,000 housing does claim to have a lot of useful features.