Fujifilm Designs a Foldable Smartphone with a Stylus Pen
Fujifilm appears interested in jumping into the mobile smartphone space and designed a folding smartphone that works with a stylus pen. The description appears to be very similar to Samsung's recently announced Fold 3.
In a patent discovered and illustrated by LetsGoDigital, Fujifilm seems poised to take on a new market segment: mobile phones. The patent was filed in the United States on August 3 and published on September 9. The tech was also included in the World Intellectual Property Organization database that protects the patent worldwide.
The patent is extremely detailed and explains everything from the processor and the touch screen, to the speakers and the microphone. It will also work with a stylus. According to LetsGoDigital, Fujifilm has also defined various interfaces and control options, including one that will change based on the folding angle, a feature that sounds similar to Samsung's Flex Mode.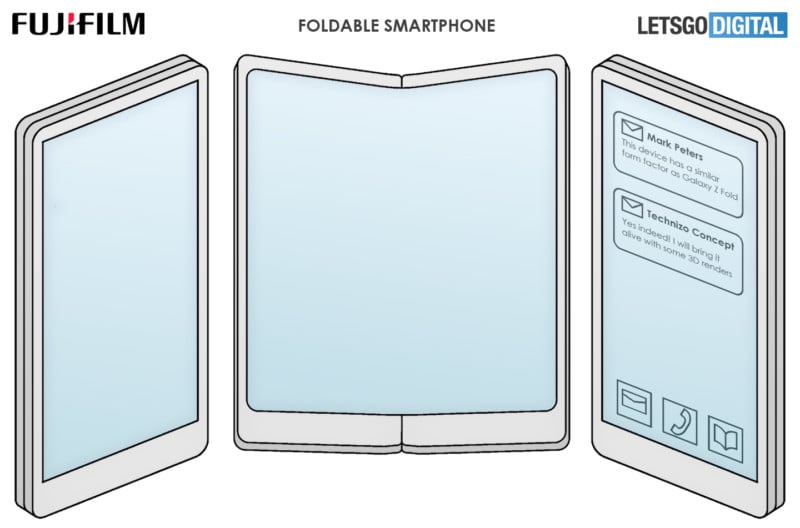 Strangely, despite 47 pages of detailed design information, the patent does not discuss anything about the camera system. It does not even mention anything about a front-facing camera, despite the renders provided by LetsGoDigital showing a classic hold-punch design. While this would be unusual for any smartphone patent, it's especially odd considering Fujifilm's place as one of the more prominent camera manufacturers in the world. While many smartphone manufacturers have partnered with camera brands to increase the notoriety of smartphone camera systems — such as Zeiss with Vivo and Hasselblad with OnePlus — a Fujifilm-designed device would be able to lean heavily on the company's own history to tout its camera systems.
Whatever the case, Fujifilm choosing to jump into the smartphone market at all with a folding device is in itself notable, as the technology for folding displays is still young.
A camera company making smartphones isn't unheard of, as both Sony and Panasonic have produced mobile devices in the past, but it is unusual for a company that has a more focused product line. Panasonic and Sony are much larger companies with considerably more divisions, and Fujifilm is rather small in comparison. Fujifilm has been known mainly for its medical technologies, cameras, and film.
Fujifilm recently closed four U.S photo equipment plants and cut 400 jobs amid its pivot to healthcare. Its new CEO has publicly said the company has no plans to abandon photography though, despite these changes.
As with all patents, just its existence isn't proof that a company will produce a given product so it's unclear if Fujifilm's folding smartphone will ever see the light of day.
---
Image credits: Renders and illustrations provided courtesy of LetsGoDigital and Technizo Concept.