Samsung Unveils New Smartphones, Keeps Status Quo on Cameras
Samsung digs phones that fold or flip open, and that's exactly what headlined the company's latest Unpacked event that officially revealed the Galaxy Z Fold 3 and Galaxy Z Flip 3. Foldables may soon become as ubiquitous as true wireless earbuds are for listening to music wirelessly nowadays, though these two premium devices won't necessarily offer new camera hardware or software.
Instead, Samsung charted a familiar path for them, opting to borrow from existing devices to make them competent shooters without pushing new features into their unique form factors. Despite that, their respective designs do open up some avenues for potential experimentation if you're so inclined.
Familiarity with the Galaxy Z Fold 3
The magic number is 12. Twelve meaning 12-megapixel image sensors across the board on every rear camera the phones offer. For the Galaxy Z Fold 3, that's standard wide, ultra-wide, and telephoto lenses for a triple array in the rear that is largely a compromise. Still waiting on Samsung to confirm exactly which image sensors it went with but it's very possible they are carryovers from the Galaxy S21+, which had 12MP wide and ultra-wide cameras.
What makes the Fold 3 unique is that there are two other solo cameras meant for selfies — one on the front with the 6.2-inch Dynamic AMOLED when the phone is folded, the other situated on the 7.6-inch Dynamic AMOLED Infinity Flex display. The former has a 10-megapixel sensor — possibly the same as the front-facing camera on the S21+ — while the latter is a 4-megapixel shooter that will probably only work well in ideal lighting conditions. That camera blends in seamlessly into the display, making it look really camouflaged.
When you fold out the device for photos, the extra screen real estate combines snapping shots with previews. Take a photo from one screen and the shot you just snapped appears on the other. That lets you delete images without having to switch over to the gallery, and still keep on shooting.
Folded open, the front 6.2-inch screen's camera acts as a live preview when you point it at yourself. An auto-framing feature works to recognize up to four people and keep everyone in focus, especially handheld, when keeping a phone like this steady isn't always so simple.
A New Veneer for the Galaxy Z Flip 3
Samsung took a more substantial approach with the Galaxy Z Flip 3, particularly when flipped closed. The previous model had a small screen the size of a fingernail, whereas now, there's a 1.9-inch Cover Screen that totally changes how you can interact with the phone without flipping it open. Beyond being able to better see messages, control audio playback and other notifications, it makes taking photos a whole lot simpler.
For starters, it should make selfies with the rear cameras all but effortless, particularly since you can use either of the 12MP wide or ultra-wide sensors. These are the same sensors found in the Fold 3, including the 10-megapixel front-facing camera. With better glass on the main 6.7-inch Dynamic AMOLED, swiping won't feel quite as rubbery as it did with the previous model.
Placing the phone on a flat surface semi-folded, you can take photos in either direction hands-free. Same with video calls, where the Cover Screen lets you frame yourself without having to hold the phone. What's not clear is how other photo and video apps might take advantage of the unique form factor. Thus far, it's mainly Samsung (and a few third-party) apps that offer special features in that regard.
Folding and Flipping for Photos
Samsung added some other features to their designs, like IPX8 water resistance and Gorilla Glass Victus for some extra durability. The color options, especially with the Flip 3, are varied, with phantom black, cream, green, and lavender as the main options. White, gray, and pink will be exclusive to Samsung stores and the company website.
Being foldable phones also makes them easier to prop up for selfies or other shots where your hands might get in the way. Pitch either device like a tent and angle it to capture a scene from a worm's-eye view, or angle it upright to capture images that way. Both devices have the same general form factor as their predecessors, save for the aesthetic changes that do have functional improvements.
From what I could tell, the camera software is the same, with the same modes and layout you'd expect to see from other current Samsung smartphones. Assuming the image sensors are the same as the Galaxy S21+, photos and video should also come out looking the same. It appears Samsung will keep its camera upgrades to the Galaxy S line (and the Note, if there ever is another one of those).
The S Pen Comes Out
Samsung announced two versions of the S Pen. One is called the "Fold Edition" and will only work with the Fold 3. It's a more standard design, albeit without Bluetooth, so it won't allow you to snap photos using the pen's own button.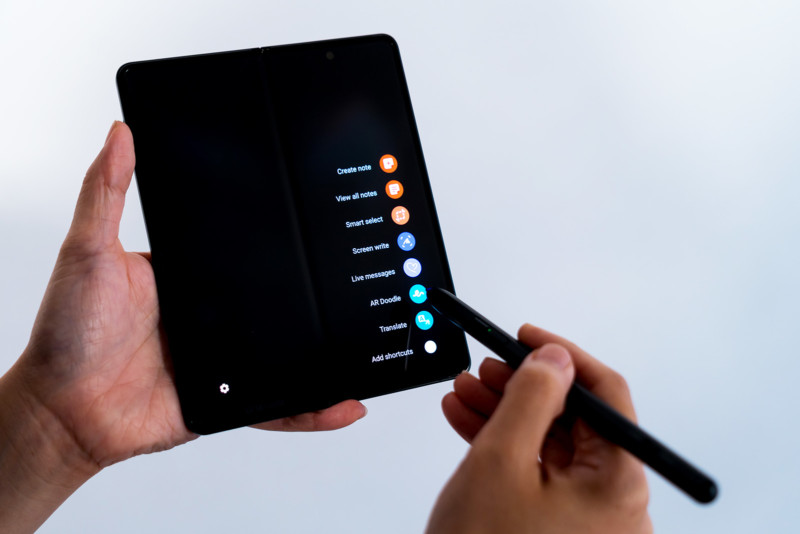 The S Pen Pro is a full-sized pen that works with a variety of Samsung's devices, so is not limited to just these phones. Use it on a compatible Samsung phone, tablet, or laptop interchangeably. It supports Bluetooth, so you can use it as a remote shutter, except it's size doesn't make it was portable as the pens we've typically seen on Galaxy Note phones.
Samsung will launch all of its latest products on August 27.