Great Reads in Photography: August 29, 2021
Every Sunday, we bring together a collection of easy-reading articles from analytical to how-to to photo features in no particular order that did not make our regular daily coverage. Enjoy!
---
Yikes, There is Water (and Salt) on my Sensor! – Phil Mistry
Dave Holland is a Canadian sports photographer who recently photographed the Tokyo Olympics and is now busy shooting The Paralympics, which are also in Tokyo and run till Sep 5.
Holland has been working for ten years with the Canadian Sport Institute Calgary, which prepares athletes for competition.
Winter sports can be more challenging to photograph due to extreme weather over long hours, which takes a toll on your body and the gear.
Snow on ski hills is not clean, white snow as it looks in the photos. Athletes generally like an icy track. One common way of keeping a course solid is to use salt, which melts snow and helps turn it into ice. Buckets of salt get used.
"Another option for keeping jumps intact is fertilizer," explains Holland. "Add to this spray paint, dyes, and whatever leaks out of cats and snowmobiles, and you can get quite a cocktail of chemicals in the snow.
"However, you won't have many chances to protect or clean as you go, so your lenses can end up looking like this (pic below). Filters are rarely an option with ultra-wide lenses, so you have to be diligent."
5 Minute Sunday Interview
Phil Mistry: How did you end up getting water and salt on your sensor?
Dave Holland: It was the FIS Snow Rodeo World Cup in Calgary, AB, in February 2020. I had the camera [Sony a9 II] mounted on a long lens, most likely the Sony FE 200-600mm f/5.6-6.3 G.  I don't like having too many straps going on, so I always use only the strap on the long lens and remove it from the body (best practice – leaving the strap on the body with a heavy lens isn't good for the mount). The drop resulted from working with gloves on and having the lens release button on the inside of the Sony grip. I accidentally released the body from the lens, and it dropped into the snow—a complete user error.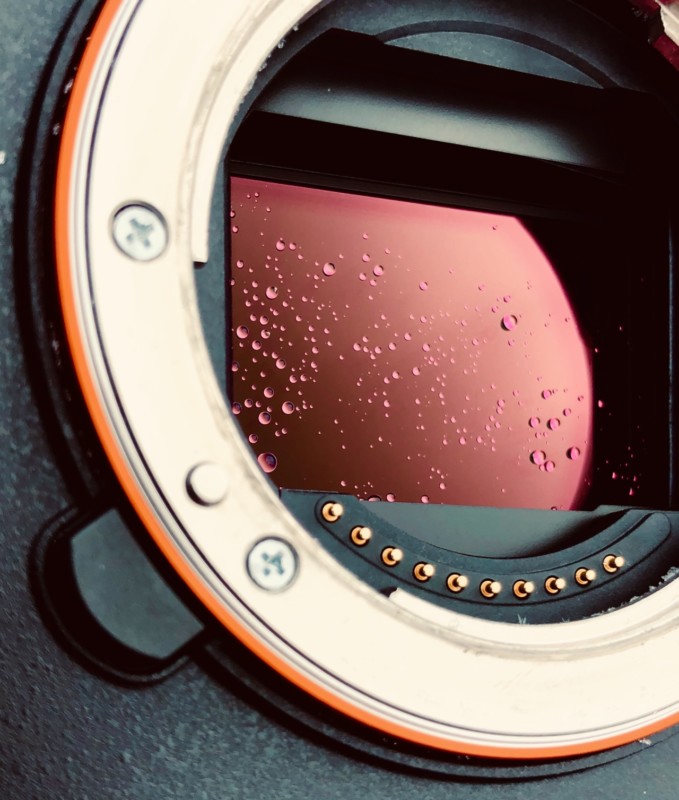 PM: What did you do next?
DH: I used what I had, which was a microfiber cloth. I just dabbed the water off the lens without rubbing. Basically, I sucked it up with the cloth until there was no visible water.
Disclaimer: We are not recommending this technique, so please let us know in the comments below your thoughts/techniques of what should have been done in this situation.
PM: What would you do if the same thing happened again?
DH: I was at the top of a halfpipe during a World Cup. I'd do exactly the same thing again and deal with any sensor spots in post.
PM: Is there a risk of hurting the sensor by touching it?
DH: I'm always cautious when it comes to sensors, so I was as delicate as possible. But I needed the camera, and it had to be done. It worked remarkably well, actually—almost no evidence of it in the photos.
PM: Any other thoughts?
DH: Accidents happen, and you have to deal with them. It is a rare occurrence, so I won't pack a cleaning kit with me. Just clean microfiber cloths. It was a Friday afternoon, so I called Sony Pro Services and was able to ship in that day, get it in for a clean and check, and have it back Tuesday. The biggest concern for me was that they use a lot of salt and chemicals in the snow to help maintain the track. I needed to make sure there were no corrosive chemicals on the sensor. Sony did a great job, and there were no effects on the camera.
Working in snow can be difficult. I've attached another photo (above) of the Sony 12-24mm showing a regular occurrence [splash from an exuberant athlete at the finish]. Wipe it down, and then clean the lens to get any snow or salt off the lens.
---
I Upgraded my Phone's Camera with Just a Baby Screwdriver and my Fingernails – TechRadar
No, you cannot upgrade your aging iPhone as this technique applies only to the Fairphone.
The Fairphone is a little different from your typical handset. Not only is it made as ethically as possible, with factory workers paid a decent wage and metals sourced as responsibly as possible, it's also modular, so you can buy parts and simply replace them yourself.
It's even supplied with a little Philips 00 screwdriver to tempt you to open it up and start tinkering. (Tim Cook, are you listening!)
---
The Queen is Also an Amateur Photographer – Woman and Home
The Queen released three photos from her photography days to celebrate World Photography Day on Aug 19.
In the first image, Her Majesty can be seen squinting through a camera in 1977.
The next photo (click the right arrow in the photo above) shows the Queen in 1952 at Balmoral Castle, teaching a three-year-old Prince Charles how to use a Rolleiflex TLR in its signature brown leather case as a baby Princess Anne looks on in curiosity.
The third picture was taken in 1982 when Her Majesty was on a royal visit to the Pacific Island of Tuvalu. Wearing a floral pink hat and coordinated flowery dress, and signature gloves, she can be seen holding up what looks like one of the versions of Rollei 35 Gold (24K plated) Limited Edition (the same in the first photo)
The Queen is also known to have used a Leica.
Editor's Note: Historical camera buffs, please let us know in the comments below if we have correctly identified the vintage cameras, and if you know which model of Leica Her Majesty is using.
---
Roger Cicala: Imaging Before Photography – a History Lesson (Part 1) – DPReview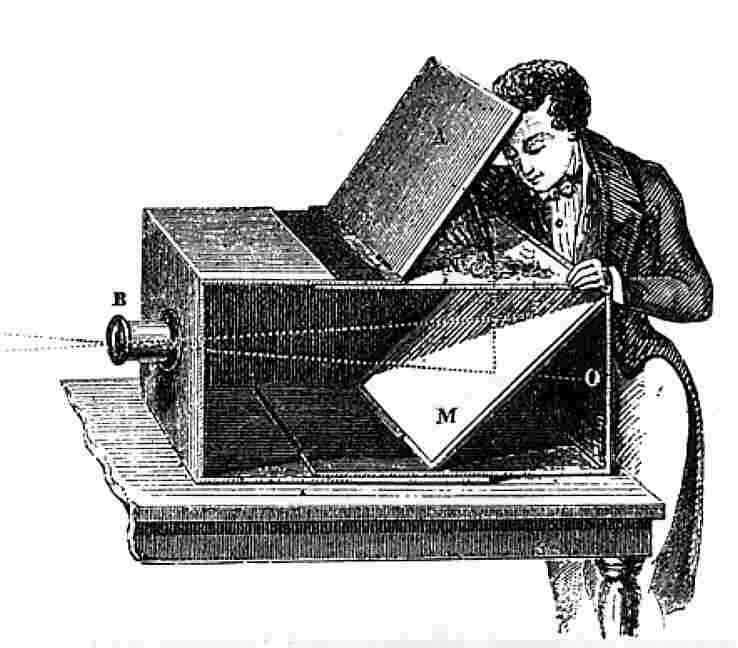 "The French claim to have invented photography, and by strict definition, they did," says Dr. Cicala in the article. "That doesn't stop the British from claiming they invented real photography, with prints. The Italians, though, say it was all started with their technology. The Scots claim (and they're right) that they developed the art of photography. And, of course, the Germans say they perfected it technically. Even Brazil has a legitimate claim to originating the term photography."
Notable: Did the Chinese invent photography? You could say that also since the use of the camera obscura (from Latin, meaning "darkened room) was first described in a written record in China in the 5th Century BC when Mozi or (Mo Ti or Mo Di) used it to trace images.
---
Photographer Lee Miller's Subversive Career Took Her from Vogue to War-torn Germany – Art News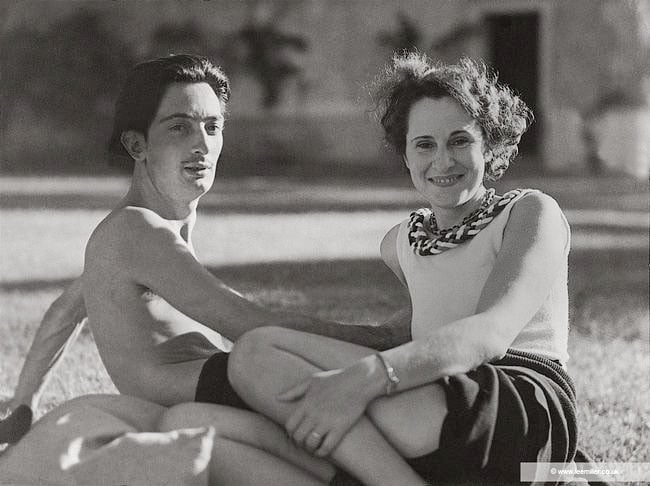 When war photographer, fashion model, and Surrealist muse Lee Miller (b. 1907) died at the age of 70 in 1977 in England, she was almost unknown in the art world. That all changed when Miller's son, Anthony Penrose, uncovered a vast archive of his late mother's work in an attic, including 80,000 negatives.
Since then, interest in Miller's art has grown vastly. Currently, the Salvador Dalí Museum in St. Petersburg, Florida, is staging a show, The Woman who Broke Boundaries: Photographer Lee Miller focused on her contributions to the Surrealist art movement.
By 1929, at the age of 24, Miller had moved to Paris and begun working as Man Ray's studio assistant. Their professional relationship also led to a romantic one. Man Ray is credited with having invented solarization. Still, it was most probably Miller who discovered it when she accidentally switched on the light in the darkroom when a mouse ran over her foot.
"As often was the case in the male-centric art world of the time (…and today), Ray was often credited for work that he and Miller created together," notes Artspace.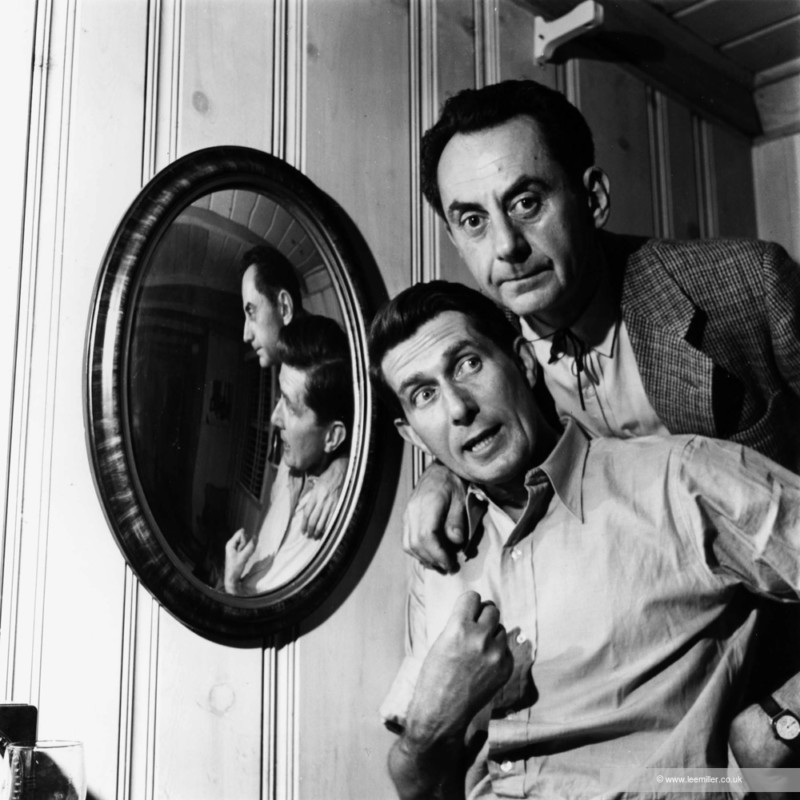 Miller became accredited as a photographer with the American army through Condé Nast Publications in December 1942. She photographed the chaos following D-Day and the liberation of Paris.
"Miller's photographs and reports appeared as spreads in Vogue between 1944 and 1945," reports the BBC. Her story, Unarmed Warriors, was Miller's first as a war correspondent accredited by the US Forces.
Miller was one of five accredited female photojournalists accompanying American troops into liberated concentration camps, documenting atrocities at Buchenwald and Dachau.
"A woman who took 60,000 WWII photographs and also bathed in Hitler's tub, the day he committed suicide!" reads a title in Medium.
Miller's beauty opened many doors," writes NPR. "But it wasn't her only advantage. She was smart, witty, extremely self-confident, up for adventure, reckless, restless. And a pal of Picasso's."
---
Defying Gravity with An Ultra-Wide Prime and No Photoshop – Alpha Universe
Erick Urgiles captures people floating in mid-air. See how he created his levitation imagery.
---
What Is Light Field Photography and How Does It Work? – MUO
Light field photography has been around for a long time. The first analog light field device was invented in 1908 by Gabriel Lippmann (he called it "integral photography"), who eventually won a Nobel Prize for his work on color photography.
Light field photography is fascinating as it allows you to move the focus plane of an image around after a photo has already been taken, which is impossible in normal photography.
So, how does light field photography work? This article will teach you everything you need to know.
---
Take a Wide-Ranging Look at the History of Panoramic Photos, From the Civil War to the iPhone – My Modern Met
Taking a panoramic photo today on your phone is a matter of clicking a button and moving your camera from left to right at a smooth pace.
The earliest panoramas were made by placing two or more daguerreotype plates side-by-side or just one long plate. Daguerreotypes, the first commercially available photographic process, used silver-coated copper plates to produce highly detailed images.
There were even specific cameras as early as 1843 designed for panoramic photography, which could be rotated manually or with a crank.
Check out the link above for the panoramic possibilities that photographers have used from early to modern times.
---
A History of Selfies – in Pictures – The Guardian
Embed from Getty Images
Organized by Ellen DeGeneres and taken by Bradley Cooper, it features (clockwise from L-R) Jared Leto, Jennifer Lawrence, Channing Tatum, Meryl Streep, Julia Roberts, Kevin Spacey, Brad Pitt, Lupita Nyong'o, Angelina Jolie, and Peter Nyong'o Jr at the 2014 Academy Awards in Hollywood.
In 2011 on the Indonesian island of Sulawesi, a crested macaque managed to take a selfie using nature photographer David Slater's camera. In the years following, this image became one of the world's most famous and contentious selfies. Guardian Australia looks back on some of the most famous selfies in history – taken by daredevils, celebrities, politicians, and astronauts.
---
'It's Very Tough to See' | Getty Photographer Captures Heartbreaking Images of COVID-19 Inside Houston Homes – KHOU-11
Embed from Getty Images
Getty lensman
John Moore
has seen it all in his 30 years behind the camera, from covering Afghanistan to Ebola to immigration.
"I was here for about a week in Houston covering this story," Moore tells KHOU-11.
His latest assignment was following Houston Fire and EMS as they answered 911 calls.
"Usually, I was responding with them to 'breathing difficulty calls,' because quite often, those would be COVID patients. Because they go into people's homes. They go into very infectious environments.
"If people see the pictures, and it makes them take extra precautions in not getting this disease, then these pictures have done their job."
---
How Nikon Designed the Nikon Z fc – and Why it Thinks the Future is Retro – TechRadar
"The Nikon Df never quite felt like a cohesive whole – partly because it was a bulky SLR – but the more compact Nikon Z fc does handle like a modern-day Nikon FM2[from 1982]," Nikon designer Shu Suzuki (ID Group, Design Center) tells TechRadar.
---
The Pay-for-Play Scandal Behind Many Sexy Maxim, Playboy 'Covers' – New York Post
Any woman can be a magazine cover girl these days — if she's willing to pony up the dough.
A model looked like the hottest female around when she suddenly appeared on eight Playboy international editions — including Playboy Sweden, Playboy South Africa, and Playboy New Zealand — for 12 months from 2018 to 2019.
"Not even Pamela Anderson was on as many covers," says Johnny Kortis, former editor and publisher of Playboy Slovakia to The New York Post.
"Kortis claims this model would have added Playboy Slovakia to her collection except for the fact that he turned down a $10,000 offer by a photographer," reports the NY Post.
---
Photographing T. Rex, David Bowie & Iggy Pop with Masayoshi Sukita – Far Out
Editor's Note: It may not be suitable for viewing at work.
There are few people any photographer would rather capture than David Bowie. His otherworldly looks, daringly flamboyant style, and open nature to all things creative made him a photographer's dream. Masayoshi Sukita was able to realize that dream, and it came about very much by chance.
The latest deluxe edition of his life's work, Sukita: Eternity, published by ACC Art Books, features Sukita's greatest images, including early experimentation in his native Japan, fashion photography, musician, and celebrity portraits, and his lesser-known street and travel imagery.
---
The Remarkable Stories Behind the Two Most Iconic Vogue Photographs Ever Taken — Vogue
When Vogue 100: A Century of Style, a large-scale and far-ranging historical exhibition celebrating Vogue's first 100 years, opened at London's National Portrait Gallery in the spring of 2016, it was the culmination of five years of research. As chief curator, Robin Muir pored over every issue of the magazine, over 1,500 and counting.
---
Tracing Photography's Rise in the Contemporary Art World – Blind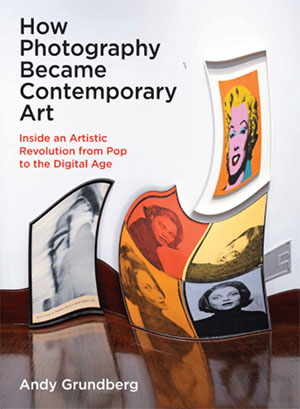 In a new book that combines art, history, and memoir, photography critic at The New York Times from 1981-1991, Andy Grundberg, looks back at photography's meteoric rise in the 1970s and '80s.
How Photography Became Contemporary Art is a veritable who's who of contemporary fine art and includes photographers William Eggleston, Stephen Shore, Cindy Sherman, and Laurie Simmons, who sought to elevate photography to the realm of fine art.
---
Quiz of the Week
1.) Which was arguably the first scientific text to include photographs?
2.) When was the camera obscura widely used as a drawing aid by artists?
3.) Sony's Multi Interface Shoe (hot shoe) can currently also capture true digital audio when paired with compatible devices. Which two other manufacturers are likely to have this feature available in the near future?
4.) Which manufacturer offers lenses in the most lens mounts?
5.) Does the Apple Watch tell you when it is Golden Hour?
6.) Canon claimed that the majority of photographers covering the Tokyo Olympics used their cameras. What number was that?
a.) 55%
b.) 75%
c.) 45%
7.) Is the  Sony a1 the first and ONLY camera to sync flash with electronic shutter?
Answers
1.) While not what he is most famous for, it is Darwin's third book, The Expression of Emotions in Man and Animals (1872). Photographer Thomas Wedgwood (he tried to make prints using a camera obscura) was Charles Darwin's uncle. Darwin married Emma Wedgwood, his first cousin and Wedgwood's niece.
2.) During the Renaissance. In the mid-1500s, Giambattista della Porta suggested in his book "Magiae Naturalis" that a camera obscura with a convex lens should be used to sketch all portraits and landscapes before painting.
4.) Venus Optics with Laowa making lenses for Sony E, Leica L, Nikon Z, Canon RF, Fujifilm X, Canon EOS-M, and Micro Four Thirds mounts
5.) Yes, the series six can.
6.) 55%
7.) Yes and up to 1/200 sec.
---
Why I Like This Photo – Jan C. Schlegel
You can see a BTS of the shoot here.
"It took me more than two years to develop the process of selective toning [used in the photo above]." You can watch it here.
I like this photo because I envisioned it in my mind. I was in that village many times before I took this picture of my friend Biwa, an elder of the Kara tribe and a very well-respected warrior. I saw him before carrying a crocodile up to the village, but it was dark already, and I had no chance to take the picture. It took me five divergent trips to the village until I could take the picture as I wanted it. The crocodile was perfect, and quickly we set up my traveling studio–a backdrop, a Lumedyne battery-powered flash system with 90cm Chimera softbox. I only had 20 minutes to take the picture, and the sun was already very low. I always try to use 50% natural light and 50% flashlight.
I took the picture on Kodak T-Max 400 film with my 4×5 Ebony SV45Ti view camera (Large Format). I only was able to release the shutter on my Schneider Apo Super Symmar XL 5.6/150mm aspherical four times before the sun went down. Shutter speed was as low as 1/15, and aperture was 22, my preferred aperture that would give me the needed depth of field.
I was very nervous because I did not know if it turned out okay or if it was slightly shaken. Of course, the camera was on my Gitzo carbon tripod but Biwa, the warrior, was maybe not standing still enough carrying this heavy crocodile on his shoulders.
I developed the four sheets of 4×5 film in Kodak D76, and with tears in my eyes, I was super excited that two negatives/films were absolutely perfect!! I printed them in my darkroom on Ilford Multigrade FB paper and selectively toned the skin and hair brown. A long-lasting, deficit manual process. It took me more than two years to figure out how to do it. I even came up with my own formula for the toner.
The picture has been shown at many International Art Fairs and has become one of my most iconic works.
Jan C. Schlegel was born in 1965 in the Black Forest of Germany. He discovered his passion for photography at the age of 14 in a photo course at school. Since 1998 Schlegel has regularly traveled to remote places, which are secluded from the tourism of the western world. The artist observes the rapid decline of traditions and increased change in people's way of life within their tribes due to globalization. The inexorable changes woke the urgent wish in the photographer to shoot people portraits, capture impressions, and preserve traditional lifestyles in his pictures.
---
Quote of the Week – Lee Miller
The personality of the photographer, his approach, is really more important than his technical genius. – Lee Miller
---
To see an archive of past issues of Great Reads in Photography, click here.
---
We welcome comments as well as suggestions. As we cannot possibly cover each and every source, if you see something interesting in your reading or local newspaper anywhere in the world, kindly forward the link to us here. ALL messages will be personally acknowledged.
---
About the author: Phil Mistry is a photographer and teacher based in Atlanta, GA. He started one of the first digital camera classes in New York City at The International Center of Photography in the 90s. He was the director and teacher for Sony/Popular Photography magazine's Digital Days Workshops. You can reach him via email here.
---
Image credits: All photographs as credited and used with permission from the photographers or agencies. Header photo by Depositphoto.