Canon Appears to be Making its Camera Hot Shoes A Lot More Useful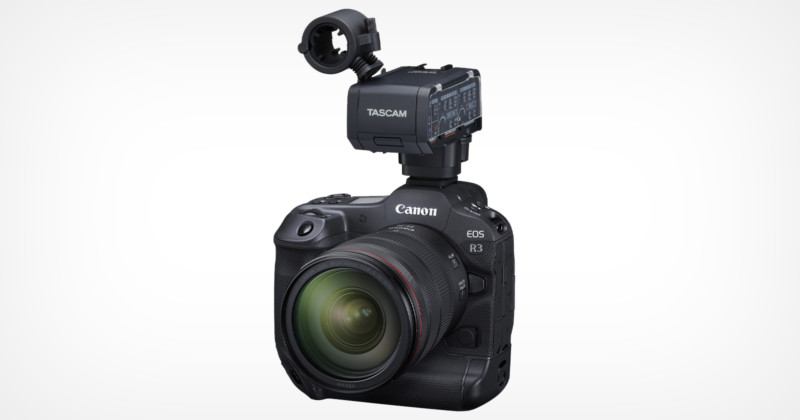 As part of development announcements, Canon has revealed that its forthcoming EOS R3 camera will have a more advanced hot shoe than previous cameras, and the company's latest camcorder announcement shows that it might be a lot more useful.
Canon originally noted that photographers could expect more out of its EOS R3 hot shoe as part of its second development announcement. The company said that the new accessory shoe will provide further options for data communication and power while also supporting new accessories. In addition, the use of Canon Speedlite products will still be possible when the EOS R3's electronic shutter is active.
At the time, this sounded a lot like what Sony implemented with what it calls the Multi Interface Shoe in its more recent mirrorless cameras. While Sony only added the Multi Interface Shoe into mirrorless cameras in the last few years, the company actually started using it in camcorders starting as far back as 2012.
At first glance, Sony's implementation of the shoe looks no different than the typical hot shoe found on any camera made for the last several years, but it actually has an additional middle contact point and more hidden contact points under the front of the shoe. This allows the shoe to be compatible with older accessories like flashes, but also work to capture true digital audio when paired with something like the ECM-B1M digital shotgun microphone.
On August 17, Canon introduced a new 4K camcorder called the XF605 which boasts a hot shoe interface that sounds extremely similar to the one that is coming to the R3. Canon says that the XF605 features a Multi-Function Shoe that is compatible with a new XLR microphone adapter (developed by TEAC Corporation) for increasing the total number of XLR inputs to four, which provides "a flexible audio recording workflow."
Canon was unable to confirm to PetaPixel if the two hot shoes on both the new XF605 and the upcoming R3 are the same — this makes sense, as the R3 is still technically an unannounced product. But while the two sound similar, they are not necessarily the same shoe. It is possible that Canon has developed multiple interface shoes for different products. This wouldn't be unusual, as Sony also has multiple interface shoes that it has used throughout its product lines.
#Teac Corporation is proud to announce the development of the #Tascam CA-XLR2d professional XLR microphone adapter for mirrorless cameras. This product is targeted for worldwide release by the end of 2021.https://t.co/t0leltrU6S pic.twitter.com/BGbQ7u2fGu

— TASCAM UK (@TASCAMUK) August 18, 2021
A major indicator that the two shoes will at least have similar features, if they are not outright the same interface, is that Tascam announced that it would be releasing an XLR microphone adapter that would work on both the upcoming R3 and the new XF605. In a report from DPReview, Tascam says that it will be able to directly transmit audio and receive power from the camera via a "cable free system," which echoes the language seen in the R3 development announcement.
DPReview also noticed that Tascam says that it will be developing a similar adapter for the Fujifilm X-T4 and X-S10, which is only notable because the ability to transfer data and power through the hot shoe on those cameras was not something that was previously made known.
It's not clear if there will be any new benefits to strictly photographers from these hot shoe improvements. To this point, Sony's biggest marketing examples have all been for products strictly related to video capture, and Canon hasn't said specifically what can be expected of its R3 other than the vague notes from its development announcement. In any case, it's clear that very soon Sony will not have a monopoly on useful hot shoe technology, as both Canon and presumably Fujifilm have already started to implement it as well.