Oppo Unveils 85-200mm Continuous Optical Zoom for Smartphones
The Chinese smartphone manufacturer Oppo today unveiled a number of new technologies for smartphone photography, including an 85-200mm continuous optical zoom, a next-gen RGBW sensor, a 5-axis OIS, and a next-gen under-screen camera.

Here's a look at the new innovative technologies Oppo showed off today during its online "Future Imaging Technology Launch Event":
85-200mm Continuous Zoom
Oppo's new 85-200mm Continuous Optical Zoom will allow smartphone photographers to capture far-away subjects without needing to crop and without the detail loss of digital zoom.
The zoom system uses a new G+P (glass plus plastic) lens technology featuring two ultra-thin, high-precision aspheric glass lenses for improved image quality.
There's also a tunnel magnetoresistance (TMR) sensor that moves the lenses within the camera module with both stability and precision.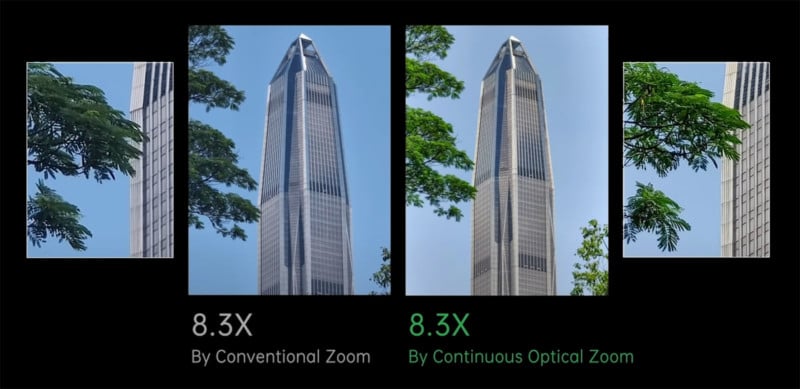 "The newly upgraded guiding shaft motor increases the dynamic tilt at which the lens system can be moved, easily supporting Continuous Optical Zoom at higher magnifications," Oppo says. "Users can enjoy a smooth transition throughout the zoom range with image quality comparable to that of a professional camera.
"Also, this technology avoids common problems like jumping, white balance inaccuracy, or color bias that conventional multi-camera zoom systems may experience."
Next-Gen RGBW Sensor
Oppo's next-gen RGBW sensor features improved light sensitivity and color performance.
"OPPO's next-generation RGBW sensor significantly improves light sensitivity by introducing additional white sub-pixels, groundbreaking DTI technology, and OPPO's self-developed 4-in-1 pixel algorithm," Oppo says. "As a result of these innovations, the new sensor allows for 60% more light to be captured than previous sensors while achieving an up to 35% reduction in noise to deliver much clearer and brighter images in low-light conditions."
The new sensor will also be able to enhance skin, texture, and contrast in portrait photos and videos. It is scheduled to arrive in smartphones later this year.
5-Axis OIS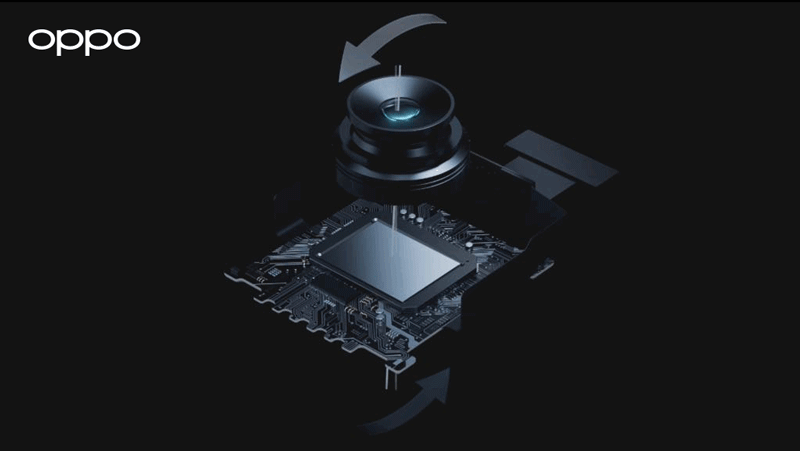 The new Oppo 5-axis optical image stabilization (OIS) system uses a gyroscope to sense movement, analyzes it, and compensates for camera share by moving the lens and image sensor with ball-bearing motors and shape memory alloys, respectively.
"This allows a maximum stabilization angle of ±3°, three times more than traditional OIS technology on mobile devices, while the sensor can also shift with a precision of 2μm," Oppo says. "For night-time or motion shots, OPPO's proprietary algorithm technology can help significantly improve stability, clarity, and color performance; increasing the vibration compensation performance by up to 65%."
The new stabilization system is expected to arrive in commercial photos in early 2022.
Next-Gen Under-Screen Camera
Lastly, Oppo showed off its new under-screen camera for upcoming smartphones. The camera sits under a 400PPI area of the display, and the new design and transparent wiring allow for higher display quality.
"With each pixel circuit driving only 1 pixel ("1-to-1") in the screen and OPPO's precise algorithmic compensation technology, the chromaticity and brightness of the entire screen are more precisely controlled, with a deviation of only about 2% and an improved screen lifespan of up to 50%," Oppo says.
Oppo has also created a series of imaging AI algorithms (including diffraction reduction, anti-condensation, HDR, and AWB) to improve the imaging quality of the under-screen selfie camera. The AI, trained on tens of thousands of photos, aims to overcome diffraction issues to capture clearer photos.
You can watch the announcements in the Future Imaging Technology Launch Event in this 15-minute video:
Camera tech is one of the main battlegrounds on which the smartphone wars are being fought, and Oppo is aiming to stay at the forefront of emerging mobile imaging technologies. Earlier this week, Oppo announced that it had established a new Camera Innovation Lab in India to "[push] the boundaries in innovative imaging technology."
Oppo now boasts 6 Research Institutes, 5 R&D centers, and 10 Imaging Labs in various locations around the world.
"Moving forward, OPPO will continue to focus on the implementation of self-developed imaging technologies and further strengthen its cooperation with industry partners to provide users with an even better imaging experience," the company says.