The Cameras That Shot the Winning Photos of World Press Photo 2021
The World Press Photo organization just published the winners of its 2021 competition and in its annual tradition, Spanish website Photolari has followed with its breakdown of brands, systems, and cameras that were used. So, has much changed since last year?
As has been the case for quite since 2018, Canon cameras were used more than any other system. As Photolari puts it, 2021 saw very little evolution as SLRs are still the majority compared to mirrorless cameras. That said, the use of mirrorless does continue to grow. Of the 46 images that the website was able to pull camera data from, 15 are made with Canon cameras, and 10 with Nikon cameras.
Overall, Canon took the top spot with 32.6%, Nikon took second with 21.7%, Sony in third with 13%, and Leica was in fourth with 10.8%.
"Interestingly, Leica — with five cameras — is very close to becoming the third most-used brand. The new Panasonic Lumix S5 is also featured," the website reports.
Mads Nissen, who won the photo of the year, captured his image with a Canon EOS 5D Mark III. Antonio Faccilongo, who won the World Press Photo Story of the Year, did so with a Fujifilm X-T1.
The most commonly used cameras were the Canon 5D Mark II, 5D Mark IV, DJI Mavic 2 Pro, Nikon D850, Sony a7 III, the Canon EOS R, and the Leica M10. This is a bit of a shakeup from last year where the Canon 5D Mark IV, Nikon D5, and Canon 5D Mark III took the top spots, with the Fuji X-Pro2 and the Fuji X100T taking fourth and fifth.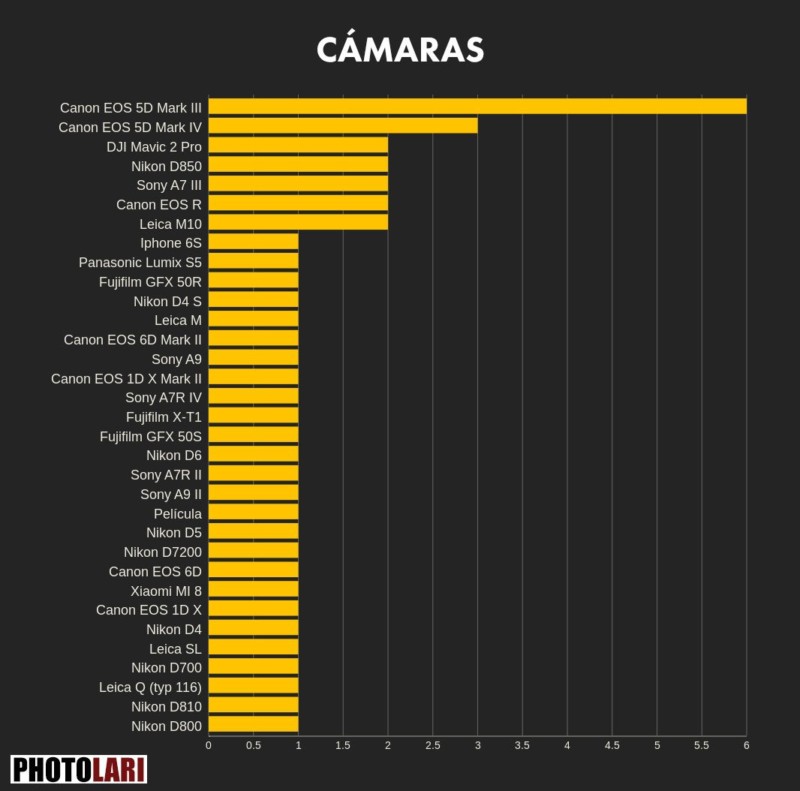 What might be somewhat surprising are how few Sony cameras were used by the winners despite the company's commercial success.
For those who still love their DSLR, the photographers whose photos took top honors might very well agree with you. SLRs made up 50% of all images taken, with mirrorless making up 36.9%. The remaining slice of the pie was taken by drones, mobile phones, or other cameras.
"Another classic that is repeated: in the real world, professionals do not use the latest camera on the market, but rather try to amortize their equipment for many years," Photolari reports.
Mobile phones made an appearance this year and drones also saw use as they did last year, however, the vast majority of images were captured on full-frame sensors.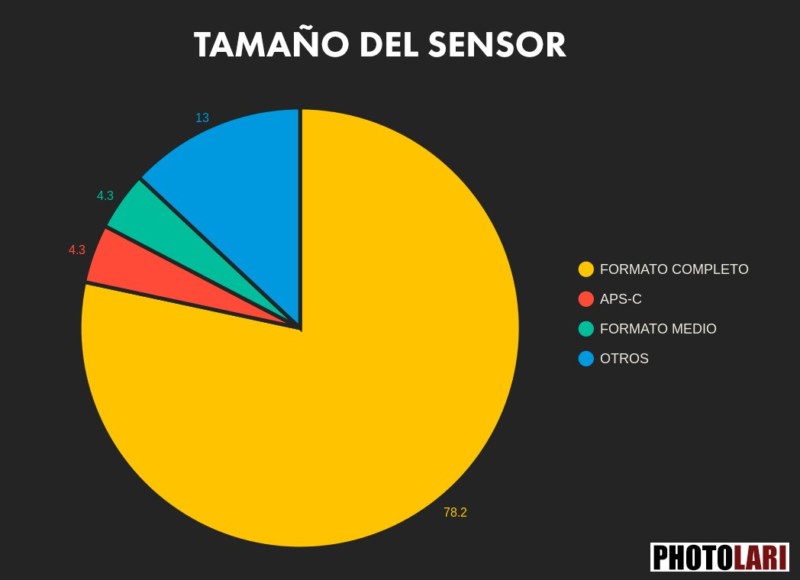 You can read more insights and see the full report on Photolari. What also might be of interest is to check out the previous years camera breakdowns and compare them. you can find the same information from previous years for 2020, 2019, 2018, 2017, 2016 and 2015 in our archives.