The Nikon Z9 Seen In Action at the Tokyo Olympics
While it is well-known that the Canon EOS R3 is being tested at the Olympics, Nikon has been a bit coyer with the status of its Z9. Over the past day, multiple photos have emerged that show that what is likely a functional prototype is indeed in attendance, however.
Photolari has published two separate sets of images that show that there is at least one functional model of the Z9 at the Olympics. These recent images grant a first look at what the rear of the camera looks like, something that Nikon has yet to officially provide.
Images that were posted to Twitter but have since been removed were nabbed by Nikon Rumors, and show a very close-up look at what the back of Nikon's upcoming sports-focused camera. The photo is still in use on Photolari as part of a larger story on the camera, however.
"Although before sharing them we make the pertinent checks — the photo is real, current and we believe we know its origin and have the green light — a misunderstanding lead us to make an unforgivable mistake for a media: we are actually using the photo without permission from its author or author," Photolari writes, explaining why the original tweet was removed.
La Nikon Z9 tambbién está en los Juegos Olímpicos. Y ya no es ningún secreto 🤭 Aquí la historia completa de las fotos que se han hecho famosas y lo que sabemos de la cámara https://t.co/Bwo21MwNU7

— Photolari (@Photolari) July 30, 2021
More recently, two additional images that show the camera set up and on tripods at a swimming event were published, which not only further lend credence to the belief that the prototype is functional but also provide another angle that Nikon has not yet officially shared.
Más fotos de la Nikon Z9 en los Juegos Olímpicos pic.twitter.com/u8UKyZmqND

— Photolari (@Photolari) July 30, 2021
It is unclear if these photos are of the same camera that was spotted the day before, but the inclusion of what Photolari calls "something weird" on the back of the camera is consistent between the two sets of images: the border of the LCD appears to be taped down for some reason.
Looking closely, it isn't actually clear if the LCD on this particular Z9 prototype articulates. Nikon's previous sports-focused full-size cameras have not featured either a simple articulating screen or a full vari-angle screen, so not having one on the new mirrorless Z9 would follow that trend.
These photos reveal a few other details that Nikon fans are probably excited to see. First, that aforementioned rear LCD is particularly large, so even if it does not articulate it does offer a lot of real estate for live view and for photo review. The design has a more hard-edged look to it, in contrast with the photos seen of the EOS R3, which is more rounded and soft. The button layout is quite similar to what is found on the Z7 II, but the increased size of the camera thanks to the integrated battery grip has allowed Nikon to add a second multi-directional joystick below the magnify buttons on the right side. There are also four additional buttons that are below the rear LCD.
PetaPixel reached out to Nikon for comment, but the company did not immediately respond.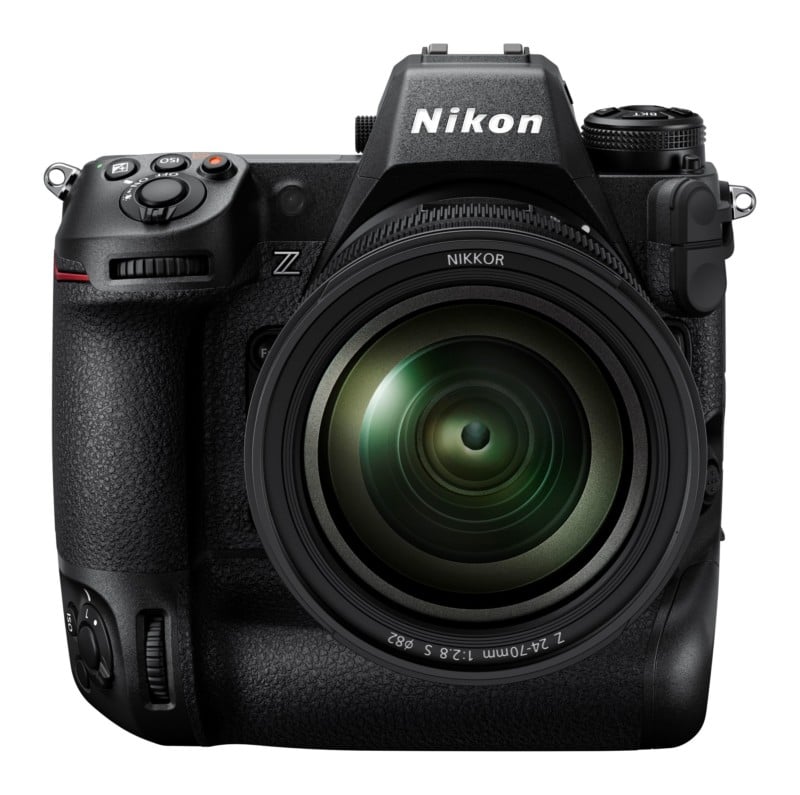 Nikon has been quiet about the Z9 camera since it announced its development earlier this year. Other than promising it will be able to shoot 8K video, will feature a newly-developed stacked CMOS sensor, and will have a new image-processing engine, no other details were provided. That said, Nikon seems to understand the enormous pressure to make the camera special. The Nikon Z9 is expected to be officially announced in November.