The Cameras That Shot the Winning Photos of World Press Photo 2020
World Press Photo just revealed the winners of its 2020 Photo Contest, and as they do every year, Spanish photography site Photolari has shared a detailed breakdown of the brands, systems, cameras, and sensors that won the day. Has the mirrorless revolution finally reached photojournalism?
This year's data shows the continued encroachment of Fujifilm, and to a lesser extent Sony, on Canon and Nikon's turf. Nikon's share of the winners dropped from almost 37% last year to just 26% this year, and Canon slipped from 46% to 38%, while Fuji increased its share from 10% of the winning images up to 16%, and Sony bumped their share up from 2.6% to over 7%.
Even DJI made the list this year, as did Mamiya and Hasselblad: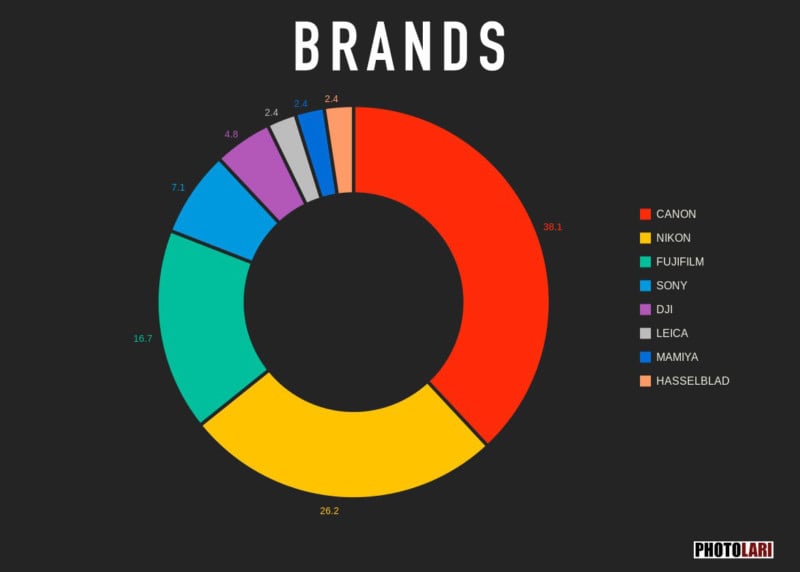 This is reflected in the most-used cameras as well. While the top three spots were held by the same three cameras as last year—the Canon 5D Mark IV, Nikon D5, and Canon 5D Mark III—spots #4 and #5 went to the Fuji X-Pro2 and the Fuji X100T, respectively.
This change—Fuji and Sony both gaining ground on the less-dominant Nikon and Canon—shows in the increase of mirrorless "market share," if you will, as it pertains to the winners of World Press Photo 2020.
Last year, mirrorless cameras made up just 4.4% of the winners. This year, that number jumped all the way up to 23.7%, and we expect it to keep rising in the years to come.
Finally, the last bit of data is also the one that has changed least. Full-frame still dominates, making up 73.8% of the winning images, with APS-C coming in second at 16.7%—an increase from last year, thanks to Fujifilm, but not a huge jump.
Head over to Photolari to dive deeper into this year's data. Or, if you're interested in comparing the above to previous years, you can find this same breakdown for 2019, 2018, 2017, 2016 and 2015 in our archives.