How I Built a Custom Charging Board for All of My Camera Batteries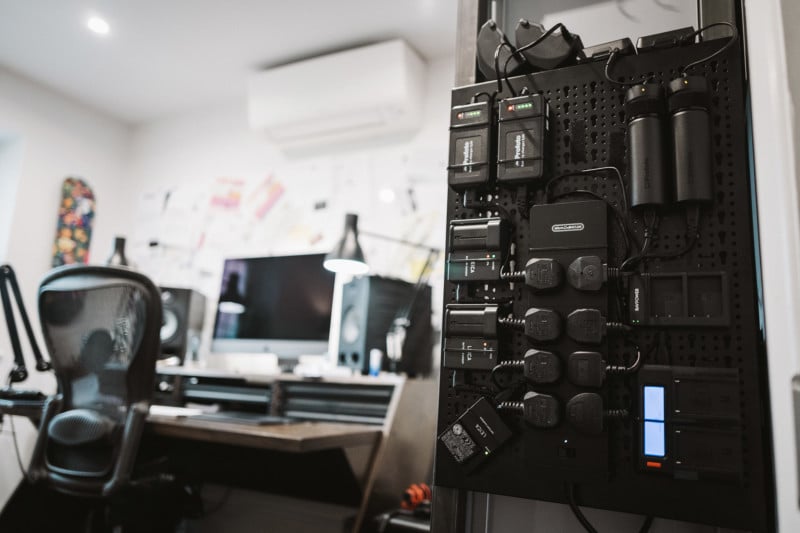 Recently I became—as I'm sure many of you already are—utterly sick of the endless chargers and cables in my studio. It's a mess of wires that always seem to get tangled and it always ends up looking like Medusa on a bad hair day.
I've tried various things over the years: I've tried hiding them in drawers, Velcro-ing them to the wall or under a desk, but it has always ended up in the same mess. They also tend to take up a lot of room. So I created a custom charging board that was extremely easy to set up and organize.
Now, I don't want to say this is the best solution as I'm sure someone else has made something neater (and if you have any ideas, please comment below) but for me, this setup works well and doesn't cost much.
I had seen various pegboard setups in the past and have tried out a mini version before using a guitar pedalboard, but this is the first time I've gone big and put all my chargers on one board.
The base of it needed to be big and robust, and since weight wasn't an issue I bought a Vonhaus Steel Pegboard on Amazon. It came as a set of three, so I shipped the other two off to friends rather than chuck them away—sharing is caring, after all.
I knew I would have to use longer cable ties, and after some measuring I bought 300mm ties to make sure they'd go around the wider chargers. I also ordered an 8-gang extension with USB ports and an on/off switch (this enables you to turn the whole thing off at the board rather than the mains, which is way more convenient).
To make the best use of the space on the board, I ordered a mix of short IEC C7 cables (0.5m)—some with straight ends and some with right angles. This allowed me to get the chargers closer to the power block.
After those had arrived, it was a simple case of laying everything flat and figuring out the best way of organizing the board. I knew I wanted to hang this up on the end of a shelving unit to take up the smallest area possible (and an area that wasn't being used). Hanging it like this also meant I could use the shelves to hold the larger Profoto batteries when they were charging.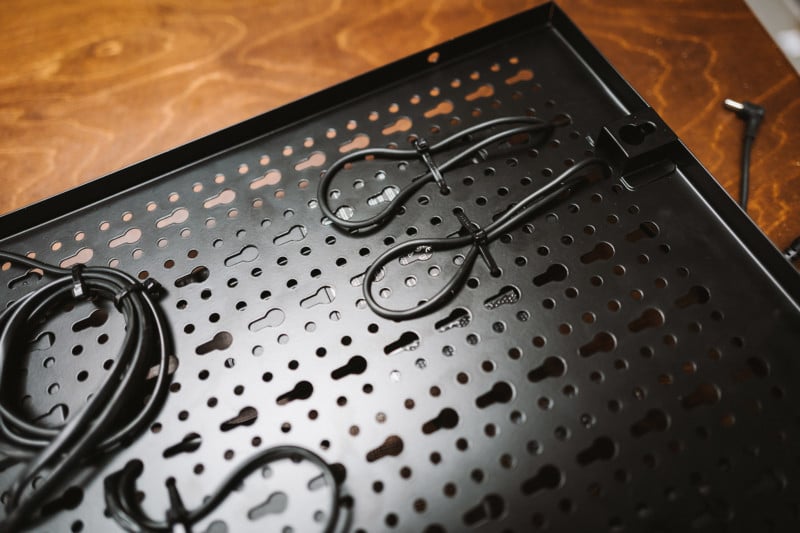 After laying it all out I started threading through the ties and securing the chargers. When you do them tight enough most blocks only need one tie—the larger Profoto chargers did need two to stop them from twisting.
To tidy up the board, I pushed the excess power cable through the holes on the board and zipped them using smaller ties to tighten up the extra.
And voila: a couple of hanging screws and there it was, a charger board that could be switched on and off, taking up space that I never used and getting this nest of snakes under control finally!
To the people who are asking how I travel with this, I don't. It's too big and too much of a faff, so I use a bunch of USB chargers from Nitecore for all my cameras and have separate travel chargers for my Profoto kit.
Travelling this way means I can take the Profoto chargers, the Nitecore bits and an Anker USB C hub rather than all the IEC cables and a massive extension. It does end up being a bit more expensive this way but the weight I save not dragging loads of cables about more than makes up for it. Here are my travelling camera chargers, as you can see they aren't much bigger than the battery and they are super light.
I've used this method for travelling for years as lightweight is the name of the game!
---
About the author: Tom Barnes is an award-winning portrait photographer whose work has taken him across the globe, working with the full spectrum of humanity from refugee camps in war zones to the highest arenas of politics. You can find more of his work on his website, or by following him on Instagram. This post was also published here.