ProMaster's USB-C Chargeable Camera Batteries: Why Isn't Everyone Doing This?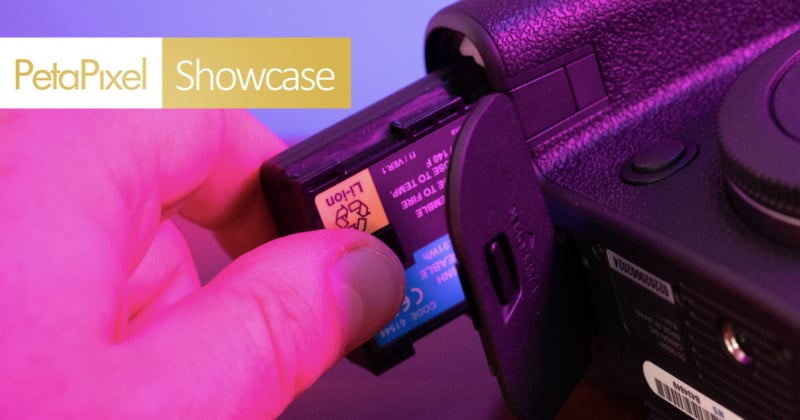 The battery is the least thought-about accessory a photographer or videographer depends upon to get a job done. These small hunks of chemicals allow electricity to flow through our gear, allowing our creativity to flow.
As a professional photographer and a camera reviewer, I have camera batteries strewn all over the place. Before going out to test a camera today, I counted five Sony batteries, three Nikon batteries, two Fujifilm, and a Canon battery.
There are also multiple battery chargers in my house, a surprising number of them, and there's even one next to my bed so that when I charge a battery overnight, I can grab it in the morning before going out on a shoot.
Years ago, when I was photo assisting a high-profile (missing subject here?) on a multi-day client shoot, one of my tasks was to recharge the camera batteries. The photographer had a hand-made battery "charging station" made with eight AC chargers attached to a pegboard. He'd hang this on the wall at a shoot, and we'd swap batteries in and out as we walked by.
That's the first time I remember thinking, "there has to be a better way." USB-Charging in mirrorless cameras helps reduce the number of AC chargers needed, but it turns the camera from a creative tool into a recharging station, which is almost worse.
Even so, when ProMaster approached PetaPixel about sponsoring a showcase, I was initially wary about offering to do the testing. ProMaster makes batteries for mirrorless camera systems with a built-in USB-C port for directly charging the battery without using an AC charger or charging a battery in-camera.
It seemed impossible to me that a battery could have an integrated charging solution and be powerful enough to be used on critical shoots.
I've tried the AA batteries with built-in USB charging connectors, which are always disappointing. I figured there was no way the ProMaster batteries would work any better than those AAs and no way I wanted my name attached to a review of them. I always returned to a bulk battery charger and standard rechargeables.
It turns out I was wrong about their performance, and here I am, not only writing this piece but ordering these for my use with money out of my pocket.
Wait, You Can Plug This In?
ProMaster sent me batteries that are compatible with cameras using the Nikon EN-EL15c battery, Canon LP-E6NH battery, and Sony NP-FZ100 battery. Since I own Sony gear, I tested the Sony Alpha 1, Alpha 7C, and Alpha 7R V. Voltage specs for the Nikon and Canon batteries are nearly identical, so they should have similar performance. ProMaster will be adding Fujifilm and OM System OM-5 batteries to their lineup, though they were not available while I was performing my testing.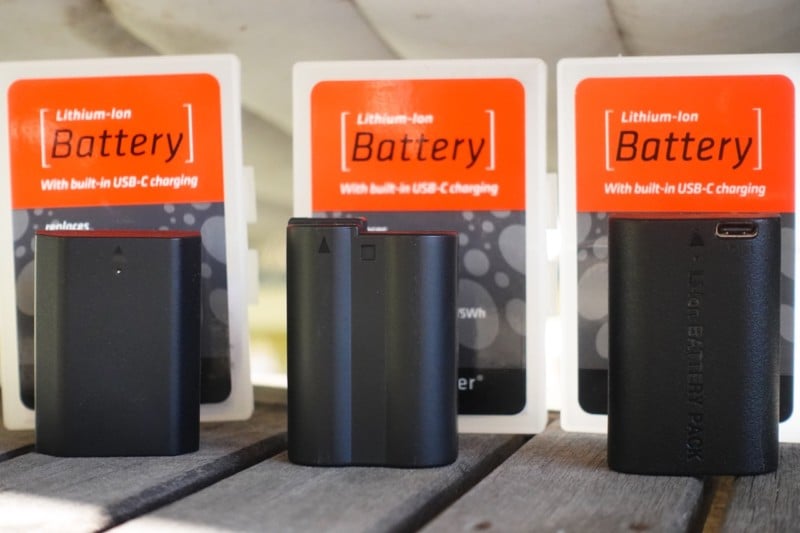 When DSLRs were king, some systems had extraordinary performance from their batteries. Unlike DSLRs and their separate low-power focusing modules, imaging sensors in mirrorless cameras need to be powered at all times since they provide not only image capture but also focus. There is a massive amount of computational data that comes from the sensor and all the image data.
Photographers don't think about batteries because they have a single task and perform it reasonably well.
Use a battery, plug it in while it's charging, and switch to a spare.
The charging issue is a bottleneck that's a tradeoff that anyone with a phone, tablet, or laptop is painfully familiar with. But with manufacturers leaving AC chargers out of many camera boxes, it's a bottleneck that ties up a photographer or videographer's most crucial resource, the camera.
I read an article about a family with multiple children, and the number escapes me. Still, it was probably one of the families made famous on reality TV with sextuplets or octuplets. The father calculated that the biggest bottleneck in their household was the dryer. The dryer took half an hour longer for a dry cycle than the washing machine took for a wash cycle. As a result, dirty clothes piled up, and there needed to be more clean clothes.
So he bought a second dryer. Problem solved.
Bottleneck Analysis is a significant part of manufacturing productivity optimization, and it simply looks for areas in a workflow where one step operates more slowly than before. A functioning workflow has a high Overall Equipment Effectiveness. Eliminating even a tiny bottleneck can have a considerable impact on a system.
Two bottlenecks in the image capture workflow are image transfer and battery recharging. In both cases, manufacturers have turned to the USB-C connector to solve the problem, which has worsened both bottlenecks.
Instead of relying on external devices (which potentially frees the camera up to continue capturing), a camera becomes dependent on a single cable to do two jobs, which prevents the camera from being used until both tasks finish.
My family went to Africa last summer on a photo safari. Between myself and my son (an aspiring wildlife photographer), there were two cameras and many batteries.
Weight and outlet availability were a constraint, so I didn't bring any AC chargers but brought a multi-port USB charge station about the size of a small hardcover book. When there were outlets in the rooms, we'd connect all the cameras, tablets, and phones to the charger, and then before bed, we'd take the fresh batteries from the cameras and do another set. But with only the two cameras acting as chargers and some rooms lacking electricity, we often scrambled to get the batteries charged before a fourteen-hour day in the brush.
Bringing AC chargers would have been faster (if we'd found outlets for them) but much more expensive, and I'd still need a USB charging solution for all the mobile devices.
The 'Second Dryer' Solution For Cameras
Unfortunately, I had yet to learn about ProMaster batteries at the time because they would have completely changed the charging equation.
With a USB-C connector built into the battery, there's no need to bring an external charger. Instead of being able to charge two batteries simultaneously via a 10-port USB hub, we could have charged ten batteries simultaneously. All the jeeps had USB connectors or 12V power, so we could have charged batteries in the field while using others.
No matter how powerful AC chargers are, charging up to ten batteries simultaneously is far faster than using a single or dual AC charger.
Even better, the ProMaster batteries can also charge in a standard AC charger, so even if you bring those, you can charge several in a fast AC charger and the rest over USB.
I've even tested charging them from a large battery power bank, the kind you can use to power your Mac or laptop, and I can charge several batteries at a time without AC power.
What You Get
Each ProMaster battery comes in a hard plastic case with a battery and a USB-A to USB-c connector. (The company says that USB-A is still more common, so the cable is the best choice.) Remove the cable from the case, which can fit two batteries simultaneously.
The batteries feel slightly lighter than the manufacturer ones, but not by much. The Sony brand batteries are 85 grams, while the ProMaster batteries are 82 grams.
The Promaster batteries have slightly lower capacities, but only by a little. The sony Z battery is a 2280 mAh capacity, and the ProMaster is 2250.
Before testing, I was worried about the safety of the batteries. Still, ProMaster said the batteries have overcharge and over-discharge protection, overvoltage protection via voltage regulation, overcurrent protection, and short-circuit protection
How Well Do They Work?
It's nearly impossible to do a battery comparison using still photography, so I tested them using the more strenuous task of recording video.
I set a Sony a1 to record 4K All-I at 30p. I locked focus, put everything on manual settings, and put in a card large enough to record non-stop for hours so that card swapping wouldn't affect the test.
The Sony Z Battery recorded for one hour and 52 minutes before it shut down from battery exhaustion, while the ProMaster ran for one hour and 36 minutes.
This test is what sold me on the batteries. I expected half the life from the ProMaster batteries as the Z battery. I'll take reduced runtime for the convenience of USB-C charging but not if it comes at the cost of significant performance loss.
To test charging times, I plugged the exhausted ProMaster battery into a standard USB-C power brick and another USB cable into the Sony a1.
The ProMaster battery charged to full in four hours and seven minutes. The Sony battery charged inside the a1 took three hours and forty minutes.
Of course, the ProMaster batteries can be charged in parallel simultaneously, no matter how many batteries you're charging. Charging the eight batteries I brought to Africa would have taken four hours and seven minutes, while charging them with the two cameras would have taken around fifteen hours.
ProMaster batteries can also be charged by connecting them to the USB ports on a laptop. If the laptop is connected to a power supply, it won't lose battery life while charging the camera batteries, and if it's not plugged in, it acts like a giant portable battery.
On remote jobs, I've plugged the battery into my car's built-in USB-A ports and charged the battery while I'm on my way to the shoot. My car has a total of four USB-A ports and two 12V chargers, so I can charge six batteries simultaneously and even more if I bring a power bank.
The one improvement I'd like ProMaster to see (and I've given them this feedback) is the charging status light on the battery. Currently, it's red while charging and green when full. It would be helpful to have the LED blink in a pattern to show its capacity. Instead, I start a stopwatch to see how close I am to the four-hour charge time.
In addition to the video tests, I've been blind testing the battery by shooting a test of the A7R V autofocus using one Sony battery and one ProMaster battery. I installed the battery with the camera in my camera bag, so I can't see which battery I'm using. Several thousand images later, I can't tell which battery I'm shooting.
I'm Amped Up (Pun Intended)
It still seems weird to be writing a sponsored post about a battery and feeling this enthusiastic. It feels like writing an article about the best lens-cleaning fluid.
But batteries are what powers everything a photographer or videographer does, and any advances in battery technology have a ripple effect of improved efficiency. That means more time to create and less time worrying about how you're going to complete your shoot without running out of juice.
I'm going to order several of these batteries for my cameras and a few for the brands of cameras I usually test. It is amazingly convenient—and sometimes job-saving—to have a battery that can charge from a simple USB power source, a battery power bank, a car charger, or a laptop.
To see the complete lineup of ProMaster batteries, chargers, and grips, visit their website at ProMaster.com.
---
Welcome to a PetaPixel Showcase, in which our staff gives you a hands-on with unique and interesting products from across the photography landscape. The Showcase format affords manufacturers the opportunity to sponsor hands-on time with their products and our staff, and it lets them highlight what features they think are worth noting, but the opinions expressed from PetaPixel staff are genuine. Showcases should not be considered an endorsement by PetaPixel.