This is the First Magazine Ad for Kodak Film in Many Years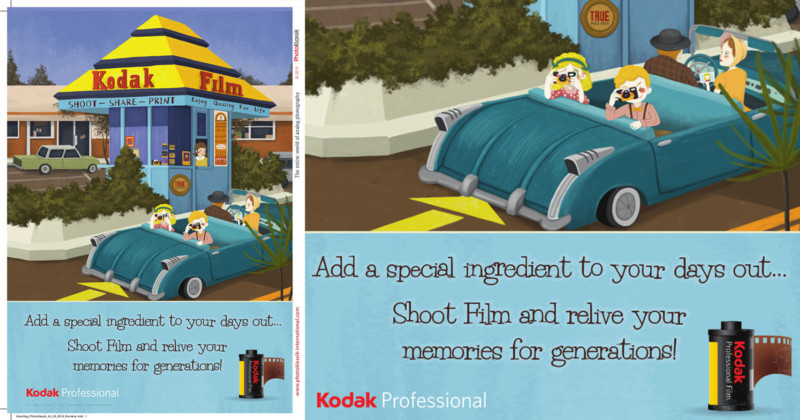 In the heyday of film photography, Kodak was a major advertiser in magazines — people flipping through all kinds of publications would see ads for its film. But over the past several years, both the camera film and the magazine industries have struggled to adapt to a changing and increasingly digital world. So news of a new Kodak film ad in a print magazine may seem anachronistic, but it's real.

Kosmo Foto reports that the latest issue of the German film photography magazine PhotoKlassik International contains a full back-page ad for Kodak film.
The ad shows a family driving through a Kodak-branded tourist kiosk — something you'd commonly see decades ago — with the kids in the back of the car shooting Kodak cameras.
"Add a special ingredient to your days out… Shoot film and relive your memories for generations!" the ad reads.
"Our contact with Kodak started at the Photokina 2018 when we launched the Inaugural issue," PhotoKlassik editor Marwan Mozayen tells Kosmo Foto. "And the business and sales departments were quite interested. They were very open and we could start with a lot of interviews with the people responsible for the Ektachrome manufacturing.
"And then suddenly they decided to advertise and we started to discuss this with them. What I know was that this specific ad was created during the time we discussed the ad."
After years of plummeting film sales and not being able to gain a foothold in the digital photography industry, Kodak filed for bankruptcy in 2012. It emerged from bankruptcy the following year as two different companies, Kodak and Kodak Alaris, the latter of which owns the film, paper, and chemicals businesses.
There has been good news for film photographers in recent times: Ektachrome film got a reboot years, and Kodak also announced a return of T-MAX P3200 film.
Kodak Alaris was reportedly shopping itself around earlier this year, and it pegged the value of its analog businesses at $34 million. It's unclear whether the company has found any potential suitors yet, but the fact that it decided to place its first print ad for film in many years suggests that things are looking up with the business.