The Best Photography April Fools' Jokes of 2018
April Fools' Day rolled through on a Sunday this year, but there was no shortage of tongue-in-cheek stories published in the world of photography. Here's a roundup of some of the best jokes put out by companies and publications.

Extreme Lunar Landscapes Photography Workshop
Aperture Academy announced a new landscape photography workshop on the moon. The 10-day workshop allows photographers to shoot famous features on Earth from a perspective that few have been privileged enough to enjoy. You'll need a Nikon DSLR, a weighted tripod, and some sunscreen. Dehydrated meals and lodging are included in the price of $1,225,000.
Retro-Style (Mirrorless?) Nikon Spotted
As pro mirrorless camera rumors are heating up, the folks over at Camera Jabber spotted what appears to be a retro-style Nikon mirrorless camera. Sweet.
Cat Prodigy Loves Photoshop
Adobe released a 3-minute video profiling the work of a 7-year-old named Christopher Timmons who has mastered Adobe Photoshop CC for digital photo manipulation art. Christopher's favorite (and only) word is "meow."
Sony A6700 Introduced
An introduction for the Sony A6700, a beast of a camera, was spotted by Chris Hunter and shared by sonyalpharumors.
The Nikon S1000's "Smile Filter"
Horn Photo in Fresno, California, shows off the handy new "Smile Filter" found in the Nikon S1000.
Day for Night Filters
National Parks at Night unveils new Day For Night Filters. Developed over 14 months, the set of 7 filters allows photographers to shoot night photography during the day.
A Preview of the Sony a7F
Photographer Jared Polin shared this 4-minute preview of the Sony a7F camera. "Honestly, leave it to Sony the only company innovating in the photo world to do something like this," Polin says.
Fujifilm Becomes FujiBlockChain
No Film School reports that Fujifilm has taken a page out of Kodak's book and joined the crypto craze. It has rebranded from Fujifilm to FujiBlockChain.
The Largest Cat Photo Library
The free photography service Pexels pivoted its business to become the world's biggest library of free cat photos.
Nikon Luggage Cover
Nikon Rumors highlights these Nikon luggage covers… that are actually available for sale.
Fujifilm X-T3: A Modular Camera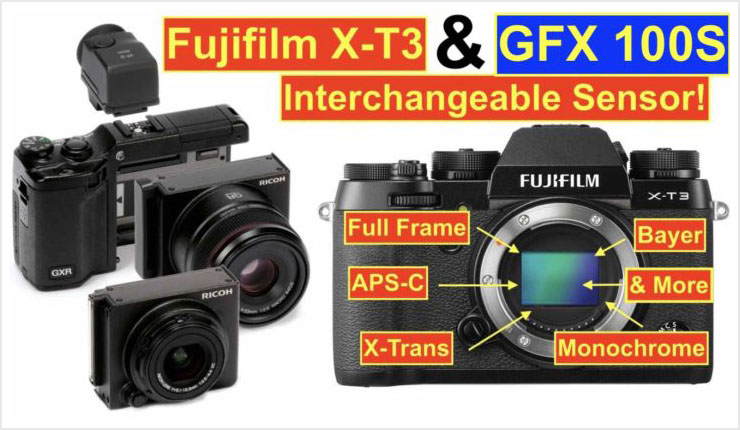 Fuji Rumors reports that the Fujifilm X-T3 will have an interchangeable lens, processor, and sensor system that lets you switch between full frame, APS-C, X-Trans, Bayer, and monochrome sensors.
Leica x Das Keyboard
La Vida Leica obtained information regarding Leica's partnership with Das Keyboard for a 0.95 Collection mechanical keyboard. "The keyboard has been simplified to its basest form so as not to distract in the tradition of "Das Wesentliche," Leica's designer is quoted as saying.
Sony Modular APS-C System
Sony Addict reports that Sony has developed a new interchangeable-sensor APS-C camera system based on the Sony ax000 series.
A DIY Fisheye Lens for $0
Photographer Mathieu Stern shares how you can make your own fisheye lens with a colander from your kitchen and the cardboard roll from toilet paper. "Why should you spend $800 on a fisheye lens when everything you need is to go in your kitchen?" he asks.
Pentax M-1 Unveiled
Pentax Rumors has the scoop on the upcoming Pentax M-1 microwave. Features include Wi-Fi, LTE, and studio-quality food photography.
LumoPro Unveils a Black Lighting Collection
LumoPro announced the LP BLACK collection, a limited collection of all black lighting products with "a revolutionary sable finish." The description reads: "All products are specifically designed for extreme low visibility, with the noir patina keeping others on set focused on you, and not your gear. The LP BLACK Collection's innovative formula is made with 100% pure dark matter, sourced from supermassive black hole 3C75."
GoPro Announces the Armie Camera Mount
"Do you want killer #FollowMe footage but have no one to follow you? Well stop pointing the finger and get ready to grab that travel life by the horns with Armie," GoPro writes. "Featuring FirmGrip technology and GoPro's proprietary 'Elbow-Up' camera placement joint, you'll swear your footage was touched by Midas himself. The best part? You only have to fist over $59.99 to bring home your own Armie."
Contax Digital Rangefinder
Photo Rumors leaks images and details of a new Contax digital rangefinder camera that will be announced at Photokina later this year.
The Ultra-Rare Cameras of the Finnish Ski Patrol
The St. Louis Photo Authority wrote an article about the ultra-rare camouflaged cameras designed exclusively for the Finnish Ski Patrol.
---
P.S. You can find our roundups from previous years here: 2017, 2016, 2015, 2014, 2013, 2012.