Samsung NX1 Review: Absence Makes the Heart Grow Fonder
The other day I was speaking with a friend and he was lamenting about having to deal with 2 minutes of aimless introduction at the start every review. "There's always something" he said. He now skips the beginning just to get the beans of the review and the conclusive notes.
By definition a conclusion must come at the end, but photography is about breaking the rules isn't it? So today that is what I'm doing. I'll start with the conclusion at the top and if you care enough after reading the TL:DR, you can keep going.

Odds are that if you're here you already know how many megapixels and customizable buttons it has. You don't need me to spell out what a BSI sensor is or sell you on its specifications so I'll leave those till last.
It's been more than a month since I packaged up the Samsung NX1 and returned it to the marketing firm that sent it to me on behalf of Samsung for review. I was dealing with a Terminator-style flu while I had the NX1, which kept me mostly bedridden and not paying a lot of attention to the camera other than to ensure it was in my bag for gigs and in my hand for snaps.
But something dawned on me just this week: I miss it. I miss it a lot. Since returning it there's been a month's worth of photography and at least once on every job I recall muttering "the NX1 would be handy right now" followed up with "I wish I still had it".
Standing on their own, each subtle feature didn't amount to much. Be it the ever-so-familiar pinch-zoom on the 3″ tilting Super AMOLED screen, the built-in Bluetooth and Wi-Fi (802.11ac no less, capable of 800Mbps), the 4K video recording or the i-Function button on the lens, none of those alone made me say "oh wow, golly" but collectively I found myself impressed.
No doubt about it, I love my Nikon and Sony A7 but the Samsung NX1 became my go to camera on every job and I've struggled to pinpoint exactly why that is. I know this sounds foolish as the whole point of the review is to tell you why I do or don't like something but in this case it just wasn't obvious to me.
Maybe it was the challenge that this foreign temptress of a camera presented to me. New territory to explore and claim as my own. A supple and almost silky soft appearance, but a new beast to tame.
Maybe it was the battery life, which was so good that I forgot I had been given a charger… and subsequently forgot to send it back to Samsung. Sorry about that Sammy!
Maybe it was the feel — gosh did it feel good. My pinky actually had somewhere to grab on to, a rarity for a non-gripped small-in-size camera. And the thumb rest worked, allowing my thumb to rest and grip the camera body as it should. My other fingers fell almost exactly where I'd hope they would and from the first moment I held the camera it just felt right.
But I'll dispatch with the "maybes", dig into the meat and bones of the camera and hope the reason I love this thing comes to me as I go.
The two metal dials sitting atop the NX1 were scrumptiously tactile and operated with a such a satisfying release on each turn I found myself turning the dial in moments of thought, almost like a mental second hand ticking away the boredom. The dials feature a knurling that made adjustments with even the most padded of winter gloves an easy task.
One dial offers the usual suspects of PASM but also includes two custom modes. The other controls AF, ISO, Metering and WB via the four well spaced but slightly skinny buttons sitting on the left dial.
If you size up the photos you'll notice these are rather slim and truth be told I'd much prefer it if they were a little larger. I must admit, though, their skinniness and height made it easy to make adjustments with my left hand while not having to take my eye from the viewfinder.
To briefly speak on the Samsung lenses, all I can say is that they felt Zeiss-y. More Zeissy than some of the newer Zeiss glass for the Fuji/Sony crop sensors. If you're someone looking to jump into this system fresh with no experience, you're going to instantly fall in love with the feel and high caliber image quality of these lenses. Heavy though they may be, they're splendid to use.
The mix of photography that I put the NX1 through ranged from sports to scenic to portrait — even shooting the artwork for my X100T review with this — and it functioned as perfectly as expected throughout all.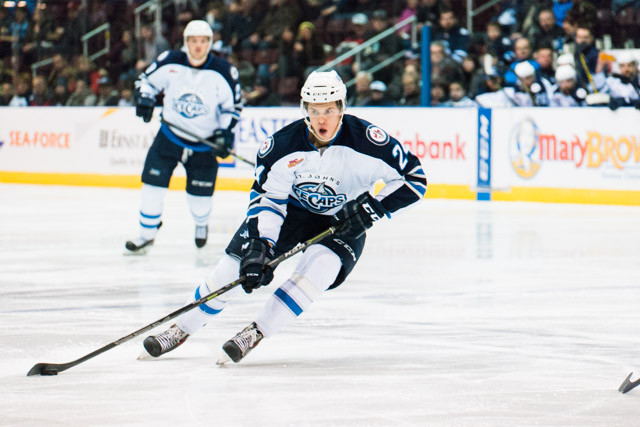 For sports, the 15fps combined with the continuous autofocus allows the the NX1 to sail through without a hitch… when it actually locked focus.
I gave the NX1's AF abilities a real workout when I took the dogs for a hike. Granted a black dog wearing an orange vest chasing a brightly colored tennis ball on an all white backdrop isn't exactly the greatest challenge for an AF system, but doing so at a 200mm (300mm given the crop factor) focal length with a dog that zigs-n-zags like an NFL running back is.
When shooting fast action, with lots of tweaks and minor focusing corrections required, it would on occasion miss and miss bad. When a DSLR misses, it usually gets it pretty dang close, especially if you're shooting with a large depth of field. Your focus will still be near sharp enough to print the picture pretty large if you absolutely have to.
Relative to what I'm used to — Nikon's top end sports oriented bodies — the AF skills of the NX1 had my brain working overtime to make sharp pictures when I needed them of super fast objects moving towards me at high rates of speed.
But Samsung is calling this "the best" AF system — a lofty claim no doubt. They call it the "NX AF System III" and it's comprised of 205 phase- plus 209 contrast-detection autofocus points that cover 90% of the frame with the ability to lock focus in 55ms.
From action I'll shift to landscape and again, the NX1's nimble size and heavy punch come in handy. While the lenses themselves are not necessarily lightweights, the body's size and weight are. The weather resistant NX1 is over 60% as heavy, 24% thinner and 20% shorter than the Nikon D800E.
If you're a landscape photographer already toting some heavy glass, those are some substantial savings in your backpack.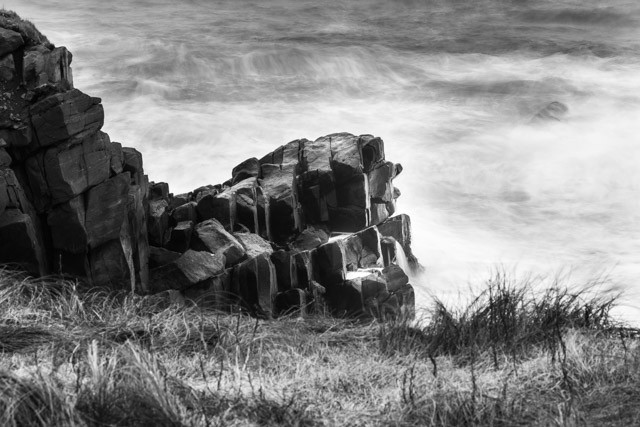 The 28.2 megapixel back-illuminated CMOS sensor of the NX1 is a pleasure to work with. Firstly, 28MP is massive and allows more than enough image size to crop (a lot) and not lose any resolution for the purposes of printing.
The image quality, color rendition and dynamic range all pass the test for me. High ISO could be slightly better but the character, look and feel of images in the normal range of ISO please me a lot. The focusing deficiencies experienced during fast action were not something that came up again under standard shooting.
In fact I found myself double checking the focus more than once — such as the portraits seen below, shot in a dark environment — as it had focused quickly enough to fool me into thinking it hadn't focused at all.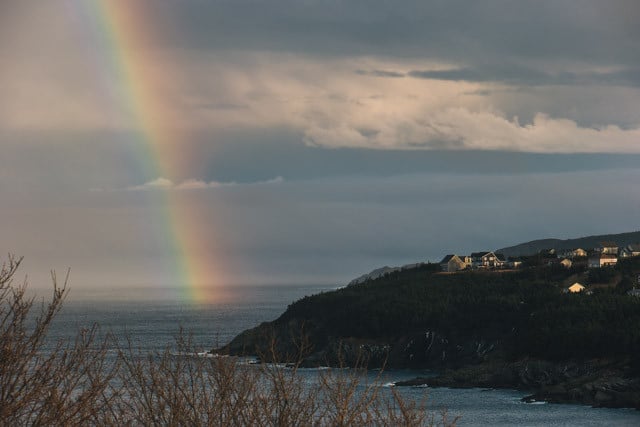 The body's tilting touchscreen makes minor adjustments easy in the precarious positions landscape photographers tend to find themselves working with.
The last little bit of work I did with the NX1 was some quick portraits of a few expecting friends of mine, making use of a few off camera strobes to lighten things up a little. The NX1 has a standard hot shoe that let me swap a PocketWizard from my Nikon to my NX1, which then triggered my Nikon SB800s.
Working in a cold environment, in somewhat of a rush (it was 20 minutes past our "lets get the heck out of here" time) and still not quite having become "one" with the NX1, I was pleasantly surprised with how easy it was to change gears with the NX1.
In what felt like an instant I was able to mount the Pocket Wizard, readjust the settings from the hockey I'd been previously shooting to the night before and begin making pictures. I found this impressive given the fact that I'm an NX1 newbie and with a cold mother-to-be's patience running thin in the chilly winter air, it's never a good idea to waste time.
Conclusion
Assuming you read the first few paragraphs you already know the conclusion: I love this NX1 and truth be told its redundancy with my current gear is what precludes me from placing an order on one myself.
At $1,299 for the body only and $2,799 with a dreamy 16-50mm f/2-2.8, the price point sits right at the crest of what is most people's limitations for a serious photographic commitment in the bank account.
Here come the specs that I promised I'd leave till the end: for that price you get a 28.2MP BSI APS-C CMOS Sensor, 15fps burst, video abilities in 4K/24, UHD/30 and 1080p/60, USB 3.0, Wi-Fi and Bluetooth, a 2360k-dot XGA OLED electronic viewfinder that I just love, and, oh yeah, a 3.0″ tilting Super AMOLED touchscreen.
In my mind the one major slight against the NX1 and its NX mount is the inability to use a Leica M mount adapter to shoot with Leica or Voigtlander manual focus glass. This really sucks if you're looking for a weekender system that has small body with smaller glass.
Despite this I still love this camera and want one. It would pale by comparison to my Nikon for sports and no it won't take my Voigtlander glass, but it was fun and made exceptional photos with out any fuss.
As sad as I was to send this back to Samsung, at least I got to keep the charger.
Good
– Size and feel, it was wonderfully comfortable
– 802.11AC Wi-Fi and you'll need it to transfer those massive files via wireless
– 15fps burst mode in raw is neat and great for action, when it hits focus
Meh
– Autofocus is great — in fact superb for a mirrorless — for still objects.
– A touchscreen that works well if you're into that, though the pinch-zoom was awesome
Bad
– Only truly weather (dust+moisture) resistant when the NX1 is combined with an S series lens, of which there are currently just two
– Heavy lenses and no Leica M mount adapter available, thus no cheap MF Voigtlander lenses.
Buy It?
If you're about to jump into your first camera and want quality now that you won't need to spend a fortune to obtain, yep. The feature set of the NX1 is amazing, simple as that.
If you're already in a system and want a second smaller body for weekends at the cottage and family gatherings, I have to say no. There are other, better options out there.