Hands On with the Samsung NX1: One Samsung Camera to Rule Them All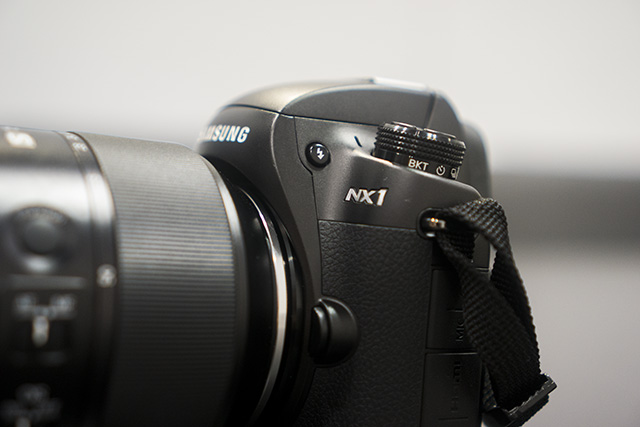 Samsung is making a statement with the recently announced NX1, and that statement is, "pros, we're ready for you." Up till now, any pros who wanted to use Samsung gear — and there are some that do — have had to settle for prosumer bodies designed more for the first time buyer than the seasoned pro.
With the introduction of the NX1, that status quo is no more, and a little bit of time with this incredibly powerful new body drives that point home splendidly.
We only had about 25 to 30 minutes to play around with the camera during our meeting with Samsung at PhotoPlus, but you don't need more than a few minutes to realize that this camera is Samsung's crown jewel.
Sturdy and solid in the hand, Samsung's first weather and dust resistant body feels every inch professional while maintaining a button and menu layout that is instantly familiar if you've ever used a Samsung camera, and incredibly intuitive if you haven't.
As far as we're concerned, Samsung's calling card when it comes to cameras has always been ease of use and connectivity, and we were happy to find that this applies just as well to the company's first truly professional grade body as it does to the NX300 and NX30.
Beyond build quality, layout and connectivity, the performance feature that immediately jumps out at you is speed… processor speed specifically. In exactly the area where the NX30 felt clunky compared to its competition, the NX1 feels like it's responding faster than you can tell it to do something.
AF is lightning quick as well, and that's the case whether you're shooting burst mode at 15fps or capturing 4K video. And though we didn't dive far into the video features, it's safe to say filmmakers will be drooling over this camera with as much gusto as the rest of us.
Finally, in addition to the camera — which we are now aching to get in for a full review — we also got to play around with the 50-150mm f/2.8 announced alongside it.
Like the 16-50mm f/2.0-2.8 in the $2,800 NX1 kit, this is a dust and weather resistant lens that was designed with the NX1 in mind. They're both solid, responsive, and the optics do the impressive body justice.
In the end, 30 minutes isn't enough time to really put a camera through its paces. We want to take it on the streets, try out the blazing fast AF in challenging environments, see how a pro likes it in the studio, and check how it performs in low-light, none of which was possible on the PhotoPlus showroom floor.
But if first impressions count for anything, and we're given to believe they do, the $1,500 NX1 is leaps and bounds ahead of anything you've ever seen from the company before.