AirDog: The Foldable, Autonomous GoPro Drone that Always Keeps You in the Shot
It looks like autonomous drones are the next fad, because just days after sharing the Hexo+ drone, we have for your consideration another very popular autonomous flying cameraman. It's called AirDog, and like Hexo+ it is currently in its crowdfunding stage a la Kickstarter.
Summed up in one sentence: AirDog is a small, foldable quadcopter that will automatically follow you around with some help from a piece of wrist-worn hardware.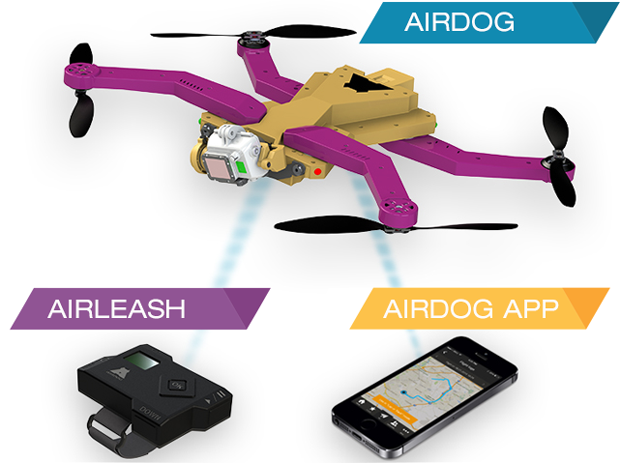 Although you can manually control the RC copter with a smartphone app, AirDogs' main draw is AirLeash: a wearable, waterproof remote system.
AirLeash combines a number of complicated technologies and sensors into a wrist-worn device, but as the name implies, the basic idea behind it is that it makes sure your AirDog is always there, ready to capture your daredevil antics or plan for the demise of the human race.
Built with action sports in mind, AirDog's stabilization gimble makes for easy mounting of GoPros on its gyro-stabilized gimbal.
And its complicated system features a number of different shooting modes that will ensure you capture exactly the kind of shots you're looking for no matter what kind of adrenaline junkie you happen to be.
The Kickstarter campaign has already surpassed its $200k goal, but 37 more days still remain for you to take advantage of special backer-only pricing.
An AirDog setup through Kickstarter will cost you $1200 now that the early bird deals are all gone, and although that's not cheap, it's $300 cheaper than the estimated retail price of the drone when it comes to market.
For a thorough run-through of the AirDog or to secure one of man's best aerial friends for yourself, head over to the Kickstarter campaign by clicking here.
(via Laughing Squid)